Road to Maloof Money Cup D.C.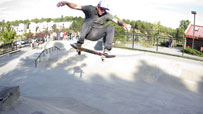 WIDTH="203" HEIGHT="114" BORDER="0" ALT="">
Toy Machine and Foundation riders drove cross-country to D.C. for the Maloof Money Cup. This is their journey. Gallery

With a $1 million bonus for the skater who wins four Maloof Money Cup events in a row, the world of competitive skateboarding is taking one push closer to that historic payday as the contest series hits Washington D.C. this Labor Day weekend. Zero pro Chris Cole closed last season with his third consecutive Money Cup victory and has since been anxiously awaiting his chance for a crack at that unprecedented payout.Cole, who has signed an exclusive deal with the Street League franchise, has been given a one-time exception to pursue the million dollar bonus by competing in one Maloof Cup event; his agreement with the Maloofs requires that he compete in the Orange County event. Meanwhile, Darkstar pro Greg Lutzka recently launched his campaign with a win in June at Maloof's New York installment.
"The truth is that I'm not even worried about the million dollars," Lutzka said earlier this week, just back in Southern California from a Darkstar filming trip in Canada. "I'm not going to D.C. saying, 'I'm gonna win this!' I'm just going to skate. But if I'm feeling it and I'm on point and I keep winning, that's great.
"I'm feeling pretty healthy right now," Lutzka added. "I'm looking to take it one step at a time and try to do the best I can this weekend. I gotta go out and scope the course, and I want to do the tricks that I know I can do, and I also would like to try other tricks that are harder but can really help you win a contest."
If Lutzka wins this weekend, the 26-year-old Milwaukee native would need another victory on September 30 at the Maloof Money Cup's South Africa event to make it a three-peat. Then comes the hard part. He'll need to beat Cole for that $1 million bonus. Problem is, there's no telling when that contest is going to happen.
Tentatively slated for November 5 at a brand new skatepark built by Vans in Huntington Beach, California, the Maloof Money Cup's Orange County contest -- which was scheduled to be the fourth and final contest of the 2011 series -- has hit a considerable roadblock. The city hasn't issued a building permit yet.
"We haven't made a determination [about the remainder of the Maloof season]," Maloof Money Cup General Manager Tim McFerran told ESPN. "We have to look at when the park is going to be done. We have to assess where we're at. Unfortunately, things don't always work out. It's not the end of the world if we're not able to complete this series on schedule."
"We had hoped to have the park open by the end of 2011. That's not gonna happen," said Doug Palladini, Vans vice president of marketing. "We're working with the city of Huntington Beach to complete all the assessments to receive the building permit. Our goal is to build a very large, world-class skateboarding facility that's open to the public and free of charge."
The delay has stemmed in part from an environmental impact report for the site, according to California Skateparks' Joe Ciaglia, the project's contractor. Since the estimated 30,000-square-foot skatepark is going to host events and have parking, public restrooms, lights, and a small retail space operated by Jack's Surfboards -- all of which could impact the surrounding neighborhood -- the scope of the project is much more than just building a skate plaza for a single contest.
"We started the process in time," Ciaglia said. "But the studies are taking a long time. The aim is to do the contest as soon as possible."
Best case scenario: Groundbreaking in March, and three months to build. In the world of competitive skateboarding, that's a ways off. But, according to McFerran, the $1 million offer still stands.
"A $1 million prize is a huge event for skateboarding; it's a milestone," McFerran added. "And Joe Maloof has committed to giving Chris Cole an opportunity to skate for a million dollars."
Reached by phone earlier this week, Cole explained that this year's OC event was supposed to be his one and only opportunity to go for the $1 million. When asked if he'd be allowed to skate D.C. or South Africa instead, he said no.
"Right now, I don't really know when it's gonna happen," Cole said. "We have to figure something out.
"I'm kind of just, whenever they're down for it," he added. "But I don't want it postponed indefinitely. I kinda just want to get in there and do what I have to do. I'm definitely excited for the opportunity, but with that excitement also comes the feeling that it puts a hold on what I can accomplish in other aspects of my skating. There are a couple things that I haven't done for my video parts, things I've put off because I don't what to get broke [before that contest]."
While the million-dollar question is already weighing on Cole's mind, Lutzka is trying to keep it in perspective.
"The best motivation for me is just progressing as a skater," he says. "That's really important to me. The money and everything else is just a bonus."