Photographer Dave Chami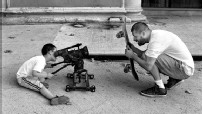 WIDTH="203" HEIGHT="114" BORDER="0" ALT="">
A look through the lens of one of today's master skate photographers, Dave Chami. Gallery

Though Dave and Samantha Chami would probably reject the term "glamorous husband-and-wife team" their overlapping professional lives are pretty appealing.
Native New Zealanders who have lived on Taraval Street in San Francisco since 2010, Dave Chami is a senior photographer at Transworld Skateboarding. Samantha Chami often contributes beguiling "motion graphic animation" to such skate-videos as Lucas Puig's, Adidas-sponsored, Riviera road trip -- a project for which she scoured French flea markets in search of antique maps and other idiosyncratic items. She also directs online videos for Transworld and has worked with skaters such as Silas Baxter-Neal, Corey Duffel, and Billy Marks. (Samantha's working title is "Suziie Wang" and almost all of her work is credited to her artistic alias.)
When we recently interviewed the Chamis in their home/office, Dave had just returned from a Habitat trip to Portugal, where he had been shooting Austyn Gillette for a "Pro Spotlight."
"Portugal has lots of really good plazas," says Chami.
A classic Thrasher magazine photograph of John Cardiel ollieing the nearby Ocean Beach seawall hangs beside Dave's computer, and suggests what initially beckoned the photographer to San Francisco -- as do the back issues of Slap magazine lying about their apartment.
"I started skating in 1990," says Chami. "Obviously, I was super stoked on EMB. FTC videos, particularly the first two, "Finally" and "Penal Code", really stood out to me. I really liked [the Girl video] Goldfish. You really notice the architecture here [in San Francisco]. When you're not from America, it's one of the few places that you can actually pick out. Anywhere else can be anywhere. I liked the way everything looked here. There were always those epic spots, like Ft. Miley, that looked like the best spot in the world."
Sam, meanwhile, showed a reporter a surreal LRG video she had created with Kyle Camarillo which made it look like miniature professional skateboarders were performing tricks on actual flowers.
"I really like being a girl and having a different perspective on things. I usually film everything and plan all the questions. I can concentrate on the whole look. Dave can bring his deep knowledge of skateboard history," says Sam Chami. "He's just such a skate nerd."
In their small downstairs guestroom the Chamis have hosted numerous skaters passing through the city -- including Walker Ryan, Mike Anderson and Jake Johnson.
"San Francisco is probably one of the best places I've lived. It's the perfect-sized mini-city. The food quality and choice is incredible and you can get out of the city and into some beautiful national parks within an hour," says Samantha. "My least favorite thing is missing out on a long hot summer and not being able to swim in the warm ocean every day like we did in Australia."
Of the many skaters she has documented, Sam looks back particularly fondly on her experience working with Ray Barbee in New York City.
"The whole experience was great. It was really inspirational working with such a positive, creative and encouraging person, who has achieved so much and is still creating and accomplishing wonderful things," she says.
And though Sam derives tremendous inspiration from skateboarding, she does not claim to be a skate-rat.
"I remember the first time Sam came skating in Australia," Dave recalls. "We went to this gap and this dude was trying a trick for five hours and she was like, 'This is the most boring thing ever.'"
"But," he adds, "it's fun to do stuff together, and not have your work-life completely separate."