Street League Arizona in Pictures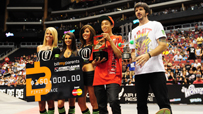 WIDTH="203" HEIGHT="114" BORDER="0" ALT="">
Check out photos from the third stop of SL 2011. Gallery

Nyjah Huston won his third Street League in a row at the Glendale, Ariz., stop, which took place this weekend. Ryan Sheckler came in a close second. "[Sheckler] definitely gave me some great competition," Huston said. "He's an awesome skater."
Chris Cole won the best trick of the contest -- a 360 flip to 50-50 on the hubba ledge -- and finished third.
In the tech section, skaters are given seven tries to perform their best trick. After flailing on a kickflip back Smith on the kinked rail, Huston regrouped and did a kickflip backside lipslide. Cole stomped a backside 360 lipslide on the same kinked rail, and Luan Oliveira, who ended up seventh, came through with a slew of technical tricks like a switch tailslide switch heelflip out on the ledge. Fourth place Paul Rodriguez squeaked his way into the line section with a switch backside tailslide switch heel to regular. Eric Koston and Chaz Ortiz were eliminated in the tech section.
Huston was ahead of the pack heading into the line section, but the battle between him and Sheckler was fierce until the end. Sheckler did a line that ended with long feeble to back Smith on the bump to bar. Huston answered back with a kickflip backside 50-50ing the square out rail and bigspin frontside boardsliding the round flat rail off the stairs.
Sheckler continued to stomp tricks like a massive 360 flip down the stairs and a fakie frontside flip. When Sheckler fell backside 360ing the stairs, Huston advanced his lead with a crooked grind down the hubba ledge. On Sheckler's last attempt, he spun his backside 360, landed, but at the last moment slipped out, securing Huston's third consecutive Street League win.
At this third stop of the 2011 Street League, the hubba ledge was bigger and the stairs were longer than at the two previous Street Leagues, held in Seattle and Kansas City, Mo., earlier this summer.
The Street League Championships take place in Newark, N.J., on Aug. 28. "I'll just keep trying to do what I'm doing," Huston said about the final stop. "That's the main one I'm trying to win."