Street League Kansas City Gallery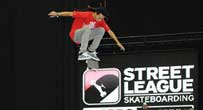 WIDTH="203" HEIGHT="114" BORDER="0" ALT="">
Take a look at all the action from the second stop of Street League 2011. Gallery

After another impressive showing today, Nyjah Huston finds himself at the top of the pack heading into finals tomorrow here in Kansas City, Mo. for stop number two of the 2011 Street League season. Huston looked extremely comfortable and said that he wasn't feeling nervous thanks to his big win in Seattle, Wash. last month. Huston was landing trick after trick and wowed the crowd with a huge nollie inward heelflip off the bump and over the hubba ledge in the big section. Nipping at his heels was veteran pro Chris Cole, who landed the highest scored trick of the contest, a perfect 360 flip 5-0 down the big hubba ledge in the big section. Cole was on fire today, and when he is on, there are very few things I would rather watch. But although those guys killed it today, the real story hits a bit closer to home.
"If you cut me I would probably bleed red and yellow," was the song that was on everyone's mind as we watched hometown favorite Sean Malto do Kansas City proud. He was unable to compete in Seattle due to a knee injury but came back swinging today. When I asked Malto if he was nervous he said, "I'm terrified, I just wanted to make it to the finals and then the pressure is off. I don't want to get too nervous where it ruins something like this. Since it's in Kansas City, it's already a win." Even his good friend Mikey Taylor was pulling for him. I asked if he wanted to beat Sean here in his home town and he replied, "Of course I want to beat Sean! He's such a jerk, always smiling at you and being nice. (Laughs) I want him to win, but I would love to come in second." Tomorrow he will have his chance, because both Taylor and Malto made it into the top ten and have a shot at the $150,000 prize. There were multiple times throughout the event when "Let's go Malto!" could be heard as the crowd was chanting at the top of their lungs. The Escapist crew was out wearing the Chief's colors and giving nothing but support for their man Malto.
Throughout the day, we watched the riders shifting around the leader board as always thanks to the ISX scoring system. Shane O'Neill had already made it into the top nine after the first section by landing seven incredible tricks in a row, including a nollie flip noseslide bigspin and on his last attempt, a bigspin backside tailslide on the ledge (earning him a score of 7.1.) Ryan Sheckler, who didn't make it into the finals, dazzled the crowd with a massive backside 360 off the bump over the hubba ledge and then followed it up with an even more gigantic backside kickflip on the same obstacle.
The skating today was insane and it was only just a taste of what is to come tomorrow. With $150,000 on the line, I can only imagine what these guys are going to pull off tomorrow. Can Malto do it for his city? Will Huston take two in a row? Or could this be Cole's first Street League victory? The answers to these questions and more will be revealed tomorrow here in Kansas City, Mo.