Stop one of Street League 2011 kicked off today here in Seattle, Wash. Things went according to plan and although we were missing a few riders there was no absence of action. There were four heats today and with the changes in the format as well as the tightening up of the street course from four sections to three it made for an exciting contest. In the end, Torey Pudwill qualified first, followed by Nyjah Huston in second and Shane O'Neill in third.
Street League Seattle Gallery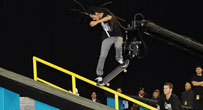 WIDTH="203" HEIGHT="114" BORDER="0" ALT="">
Take a look at all the action from the first stop of Street League 2011. Gallery


The course itself seemed as though it was made to promote the more technical side of skating and to allow for people to not have to rely on the stock tricks they were used to at last years events. And it was those who took the risks and used the obstacles to their fullest potential that made their way through to the finals.
Standouts from day one were Mikey Taylor who skated powerfully, consistently and quickly became a crowd favorite, Shane O'neil, who didn't have the highest consistency of the day but made up for it by doing some mind blowing technical tricks, and the battle between Nyjah Huston and Torey Pudwill for the top spot.
Nyjah came out of the gates swinging and didn't let up until it was over. He is looking more and more solid on his board with every contest and having a great time out there. Nyjah landed almost every trick in the big section, including a backside 360 lipslide down the nine-stair rail. With a solid lead, he attempted an insane backside 360 noseblunt on the rail, but couldn't pull it. And up until the last section it seemed as though he had it in the bag -- until things got grizzly.
Torey Pudwill moved his way up the leaderboard section by section with big backside 360s and incredibly precise flip-in-flip-out tricks. In the tech section, he did a kickflip backside lipside frontside 270 out. It was wild. And in the end, Torey did a perfect nollie flip down the nine-stair to bump him ahead of the pack.
Finals for round one of the 2011 Street League Series kick off tomorrow. Full results are below.