Josh Dirksen's snowboarding career might be the one I envy most. He's not on the cover of Rolling Stone or dancing with any stars, yet his light has burned bright for over a decade now with no sign of dimming. In fact, after 14 years in the pro game, and 22 on a board, this low-key ripper's established to the point where pointless PR trips and big airs to flat are no longer required: People who know snowboarding know he's good.
Lucky, lucky guy...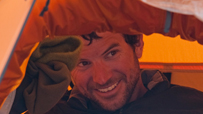 WIDTH="203" HEIGHT="114" BORDER="0" ALT="">
This is what happens when you've been a professional snowboarder long enough to say: "I just want to ride powder now." Launch Gallery

What this all means is that the underrated Oregonian is free to ride more pow than almost anybody and he does so with a loose, fast, light style that suggests he might well have been born in the stuff. How many pics have we seen showing Dirksen neck-deep with only a big smile and some goggles peeking through a 15-foot white room?
Exactly.
Currently, Dirksen's riding can be seen in movies that represent both ends of the snowboarding spectrum: "Deeper," populated by guys who eat big-mountain lines for breakfast, and "Respect Your Elders," an easy-going, fun project from Airblaster that pairs veteran shreds with rookies in a cool cultural experiment. This odd combo comes after four years of Dirksen readjusting his priorities when it comes to A) what he wants to ride and B) how he wants to film, all in an effort to stay true to who he is as a snowboarder and as a person who makes his living off the sport.
"My friends might think I am joking when I say that I want to do the world's biggest pow turn," he says, "but it's not a lie. All I want to do is slash. That outlook might come from surfing a lot..."
Stay Wet, Stay Inspired
Surfing a lot is something Dirksen has done to the point of "feeling guilty," and it shows in his powerful, fluid approach to the mountain: Slashes and hacks galore; smooth, drawn-out arcs at speed; hearty spins off the stump-and-slash-pile-shore-break of Hokkaido and the Cascades. From all his years at Mt. Bachelor, he also has the privilege of logging more than a few high speed pow days with Pipe Master Gerry Lopez, who is also a wintertime Mt. Bachelor local and hardcore snowboarder.
Lopez likes what he sees: "Josh is one of the best ambassadors snowboarding has ... He truly surfs the mountain with great flair, high speed and a boundless, soulful enthusiasm. And Josh is one of the nicest guys I know -- polite, thoughtful, humble and charismatic. All sports need more guys like him."
It takes eyes and ears, not just years... Dirksen's done it all -- the big contests, the film parts with Mack Dawg, the record-breaking backside air at June Mountain's hip that adorned many a dorm room's walls. More importantly, though, he's seen it all, including fellow pros blowing up or burning out after too many years in the show. In fact, he now counts himself part of a very select brotherhood: The Veteran Pros Still Crushing It Club that includes Todd Richards, both Jeremy Joneses, JP Walker, and Terje, when he feels like it...
"I have seen pros who are traveling the world for free, making tons of money, snowboarding the best mountains, who are still unhappy," says Dirksen. "It is just too easy to wish for something else. I know that I have it good with snowboarding, but I also realize that it doesn't mean much if you don't appreciate it along the way."
The Third Way, or, Appreciating Value
The snowboard industry tends to artificially split pro riders into two camps: Contest Pro and Video Pro. Admittedly, Dirksen has his own contest, The Dirksen Derby -- a fun-back-in fundraiser for Bachelor buddy Tyler Eklund who's on a quest to become the fastest quadriplegic Sit-skier in the world -- but nobody would mistake him for a "contest pro." That said, Dirksen must hold some kind of consistency record from placing third at the Baker Banked Slalom an unimaginable four times. Try it sometime...
He also knows the "three-minute winter" formula well, having boasted bangers in top-notch flicks "Lame," "From ___ With Love," and Kingpin's "Brainstorm," among others, but he's no longer sacrificing his entire winter for some quick blip: "About four years ago I was filming with [MDP] for 'Picture This.' Up until this time, I had always loved the classic style of pro snowboarding that is in all the movies [huge jumps, perfect weather, and a stoked group of bros to enjoy it with]. But this season, I spent the whole first half up in the B.C. interior filming with DCP. The terrain up there is incredible -- endless tree lines, pillow lines stacked 100-plus feet high, and cold blower pow. It was a whole new type of snowboarding for me... I followed behind DCP and watched as he rode the natural terrain with such confidence and creativity.
"So, after two months of amazing [riding], I traveled out to Montana to hit some cheese wedges and ended up getting injured. I was definitely disappointed ... yet with such an amazing start to the season, I felt that I would end up with something in the video. But in the end all [that] B.C. stuff got cut.
"When I looked back, it was some of the most fun snowboarding I had ever done, and it seemed like I must be doing something wrong if all of the footage was left on the cutting room floor. So, instead of trying to fit my current riding into the normal snowboard movies, I figured that my style had changed and I needed to find people who appreciated what I had to offer."
TGR's movie " Deeper," a two-year project anchored by Jeremy Jones, fit Dirksen's current career goals to a T: "It was exactly what I was looking for... We rode bottomless pow runs without seeing a single person. It was epic! Maybe I am just getting old or selfish, but I would rather have all the untracked pow for myself -- and some good buddies."
These days Dirksen splits his time between his homey house in Bend, Ore. -- dubbed Rancho Relaxo -- and Zurich, Switzerland, where he married longtime girlfriend and SLC Olympic halfpipe medalist Fabienne Reuteler this August. (When you hear the Oregonian bust into Reuteler's native German it's equal parts impressive and hilarious.) His last year has been insane -- not so much in any kind of reality TV, rock star way but rather in the manner of a man who truly lives life to the fullest: A few weeks around Tahoe filming for "Deeper" followed up by four weeks of snow camping deep in AK line territory with Jones & Co. He then promptly rallied over to Europe to spend a week with his fiance, did two weeks on a boat in Indo to replenish his vitamin D -- and his cutbacks -- with some Oregon shred buddies, and then more wedding prep and a move into a new apartment in Zurich.
Dirksen's style on-snow is much like his personality: honest, selectively exuberant, un-self-conscious, and mellow in the way many top athletes appear when they're doing something they do very well. "Deeper" filmer Garry Pendygrasse says: "You know when you're watching a rider at the top of a slope with multiple line options and you're choosing the line you hope he takes? Josh will nail that line and make it look more fun than you thought possible."
"Backies" off cliffs and huge one-footers are forever going in and out of style but Dirksen can do either at the drop of a hat. He can hit big drops with rock solid landings, fool around with the young'uns on park jumps or backyard quarterpipes, and light up any natural terrain at will. When things get steep and technical, he folds in a rallying skill born on the moto slopes of home break Mt. Bachelorand here's where he really makes the mountain his own. Riding with Josh is an absolute blast and I'd argue that he's one of the most underrated, well-rounded snowboarders ever to drop in. And it doesn't hurt that he usually has a smile on his face that's probably been the same since he was five years old.
"I don't think I have really broken any molds,'" he says. "Pro snowboarding has always been changing, and I have just taken advantage of the changes and the growth of the sport. Over the last 20-plus years there has been so much creativity coming in through new riders, products, and terrain and I am just lucky to be a pro who has been around long enough to appreciate all the different styles of shredding.
"There is no reason doing the same thing forever, and these days I just want to show that there are many ways to have fun on a snowboard. I am not trying to cover everything, just the stuff that I love the most. These days I love powder and going fast. There's a whole world of untouched pow out there. Somebody might as well track it up..."