Canada Day in Whistler was a mixed bag of stormy weather, yet spectators and riders had no issues shedding their flip-flops for snowboard boots and busting out toques before piling into the Whistler gondola to check out the first TTR contest of the season: The Billabong Ante Up.
2011 TTR Billabong Ante Up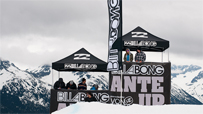 WIDTH="203" HEIGHT="114" BORDER="0" ALT="">
The first TTR contest of the season touches down in Whistler, BC on Canada Day. Gallery

Crowds gathered to take in the double-corked action off the 80 - 85 foot gap jump to death wall -- named after the wall's deck-top having to be moved back from eight feet to five feet the day priorwhen Whistler local Andrew Matthews slammed his back flat down into it. (Which didn't deter Matthews from coming back and stomping a front 1080 melon.) Although half the riders knuckled the wall due to what some said was too short of a landing, coupled with inconsistent weather, and a lack of speed down the run-in, overall the organizers did a decent job with the jump. Dave Fortin's huge front 1260 melon was enough to prove riders were there today to have fun.
"We're all just trying to figure out the jump because we haven't been snowboarding for a while," said winner Eric Willett, who four-days prior was in Georgia sporting flip-flops and shorts in 95-degree weather hanging with his lady's family. After not really coming close to landing anything his first run, Willett admitted that his day had been nerve-wracking. He even debated whether or not to even try what would land him first in thequalifiers: a switch backside double cork ten.
Sebastien Toutant also fell on his his first run, but stomped his second and qualified second with a backside late cork 1080 mute. Chas Guldemond's backside corked 1080 mute rounded out the top three.
"I can't complain," said Toutant, when asked about the jump. "The real issue is the landing is a bit short, so its easy to fly down the landing, which is why people are scared to go to fast. That's why people are hitting the knuckle. If you have a super long landing, you know that you can overshoot it because it's better to go fast than to come up short."
Today was Toutant's first time back on after his ankle injury a couple months ago, and overall he feels 100 percent. "It helps that I'm wearing snowboard boots and bindings. If I do a fliptrick on a skateboard, it's painful," he said. "But that doesn't matter because I'm not a pro skateboarder -- today's about snowboarding."
As for the finals, it was obvious who won the moment Willett threw down his switch backside double corked 1260. "It was a real fully-doubled cork that I haven't really seen before," explained head-judge Carter Smith. "Seb didn't cork it as much as last year when he won. He would have had to really cork his final run since his cab double cork 1260 melon was more of a flat spin in comparison to Eric going fully inverted onboth doubles."
"It was great to come out here and compete with all these guys," said Willett. "When I was standing up at the top before my second run and saw Seb stomp his. That was bittersweet. It put the pressure on me to go for it, even though I was stoked for Seb."
As for celebrating? "There was talk of hitting the driving range," mentions Willett ignoring the rain, "but I'm hitting the hot-tub and getting up for an early flight back home for my bro's birthday on Sunday, to celebrate fourth of July, and get back into summer ... and flip-flops."
2011 TTR Billabong Ante Up ~ Final Results