In the two-plus years since "That's It, That's All" came out, I've heard a lot of claims made in the snowboard community about how, "If I had a Cineflex camera and a huge budget and access to Travis Rice, I could make a movie just like that."
Art of Flight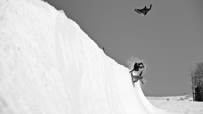 WIDTH="203" HEIGHT="114" BORDER="0" ALT="">
These are some of the only photos you might see of Travis Rice's crew not hitting some hairball Alaska spine or backcountry booter. Launch Gallery

It's as if people believe that some magical movie fairy popped out of the ether one day, bestowing technological and monetary gifts on Curt Morgan, the mastermind behind Brain Farm Cinema, that gave his production company an unfair advantage over everyone else. Like hard work, vision, determination and a sometimes maddening inability to accept "no" as an answer to any question had nothing to do with it.
Whenever I hear that comment, my response is always the same: "If I had a rocket ship, I also could go to the moon." Because the reality is, while the rest of us were over here getting on and off the same old snowboard movie bus all these years, those guys over there -- they actually figured out how to build a rocket ship. And until they started flying around in it, none of us even knew it was possible to go to the moon.
So now there are a bunch of companies trying to build their own rocket ships, so they can also blast off into this new snowboard movie production universe that Brain Farm has revealed for us. And that's fine. But don't hate while you imitate. And wouldn't it be cooler if, rather than a rocket ship, you worked on a submarine and went off in search of your own uncharted waters instead?
I, personally, have almost as much fun watching the gritty, street-level gnarliness of a Peep Show movie as I do watching the next-level cinematography antics of a Brain Farm production. Because there are so many different realities inside the world of snowboarding, it's awesome to watch a crew figure out an honest and unique way to portray what they see to the rest of us. It's not which cameras you use, it's how you use them to express your voice. That's the heart of real innovation.
Because the combined vision of Rice and Morgan is driven by a kind of relentless perfectionism and the idea that everything from riding progression to filming progression not only should be but can be bigger and better, being on a Brain Farm shoot can be a little overwhelming. There are cameras everywhere: mounted to giant swinging boom arms and the tops of dune buggies with snow treads on the wheels; attached to the bottoms of helicopters flying overhead; and glued to the tops of helmets. All the riders know what's on the line, so the pressure to perform is high.
Intense would be a good word to describe the experience, but it really only scratches the surface.
This recent shoot in Aspen, Colo., was different. I don't know if it was because it was a park and pipe shoot and not their usual gnarly backcountry production. Or maybe it was because Landvik and all the Frends kids were there. What I do know is I haven't laughed so much, for so many hours and days in a row, as I did two weeks ago on Brain Farm's private shoot up in Snowmass, Colo.
Since funny and lighthearted is rarely a side you get to see of these guys, outside of witnessing it in person, we thought it'd be fun to show you. So here it is: the other side of Brain Farm. We'll call it Part 2 in a series that started with the FrendsVision from last week that will continue throughout the summer. Really, we got so much hilarity captured on film, we have to break it out into separate videos to show it all. Enjoy.