Slopestyle Finals
Halpipe Finals
The 2011 TTR 6Star Burton European Open wrapped up in Laax, Switzerland today. Peetu Piiroinen was unstoppable this week, topping off his second place finish in slope yesterday with a first place finish in halfpipe today. The ever stylish Kazu Kokubo put down a beautiful run that edged out Iouri Podladtchikov for the second place spot.
Burton European Open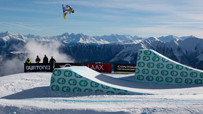 WIDTH="203" HEIGHT="114" BORDER="0" ALT="">
The final rounds, slopestyle and halfpipe. In case you're a visual communicator. Gallery

For the record, Kazu's run did not include a double cork (Piiroinen and IPod both had cab double cork 10s). For all the hype that uber technical double cork combo runs have been getting in the last year, it is heartening to know that style in the air still counts for something in halfpipe contests these days.
Podladtchikov's third place finish today earned him enough TTR points to boost him to the top of the World Tour leader board. As of today, he is the new number one.
On the women's side, Kelly Clark continues to dominate. Though rivals Farrington, Bleiler and Bright have not been at the last two contests Clark has won (she also took first at the O'Neill Evolution last week), Spain's Queralt Castellet has been stepping up to the challenge. She placed a close second behind Clark. The women's final was shortened to two runs, instead of the usual three, due to weather, so there's no telling if Castellet could have overtaken Clark on a final drop in. But Clark's got front 10s and front 9s in her bag of tricks, so it's hard saying.
"They made the right call," said Clark of the final change. "The weather was a bit difficult in the beginning. It was a really fun event I was really happy with my riding."
Pipe nerds, here are your winning run breakdowns:
1. Piiroinen: Frontside 7 indy to double cork 10 mute to frontside air to backside 9 mute to backside alley oop rodeo nose grab
2. Kokubo: Frontside alley oop to frontside 9 melon to McTwist to frontside 10 tail to cab 1080 backside grab
3. Podladtchikov: Cab double cork 10 indy to crippler to double McTwist 12 to frontside 10 tail
1. Clark: Frontside 9 to backside 540 mute to front 7 indy to cab 7
2. Castellet: back 9 to front 5 to backside 5 mute to front 7
3. Furihata: McTwist to crippler to backside air to inverted frontside 7 to cab 360 backside grab to lien air
January 15, Halfpipe Final Results:
Burton European Open: Men's Halfpipe Finals
Burton European Open: Women's Halfpipe Finals