Whitewater Ski Resort is just over two hours north of Spokane, Wash., in the interior of British Columbia, but when the snow flies, it might as well be a world away. Time, along with snow, seems a commodity that skiers and snowboarders here aren't concerned about running short of. It was a perfect January day, with two feet of fresh powder, when our group of snowboarders visited. We had just completed an out-of-bounds run off the top of the resort and were eager to find out what time it was -- hoping to get another run before the lifts closed for the day -- but none of us had brought along a watch. Neither had anyone we asked. It's a phenomenon locals call "Kootenay time," which, as it was explained to us, is a sense of temporality that is always "approximate."
Hall of the Gods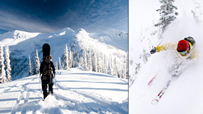 WIDTH="203" HEIGHT="114" BORDER="0" ALT="">
Snow, snow, and more snow. If you go looking for it, you may never come back. Launch Gallery

The Kootenay area that Whitewater is located in includes four major mountain ranges and claims the highest concentration of ski resorts, cat-ski and heli-skiing operations in British Columbia. Due to the treacherous road conditions that plague the area in the winter months, it is somewhat off the beaten path. Still, the area is world-renowned among dedicated skiers and snowboarders for its laid-back attitude, challenging terrain and deeper-than-deep snow.
Whitewater itself has only three lifts, but the 1,317 acres of in-bounds riding is stocked with bowls, glades, and cliffs, and is caked by an annual snowfall that often tops 45 feet. Situated at the end of a winding, mountainous valley, the resort's lifts also offer backcountry access to an array of steep alpine bowls and to well-spaced, old-growth tree runs.
Nelson, the town of just under 10,000 residents that serves as the main outpost and home base for area locals, is 20 minutes down the road. Set on a steep hill overlooking the Kootenay Lake, it provides a surprisingly rich hub of cultural activity for the Kootenay area.

In the '60s and '70s, locals welcomed Americans dodging the Vietnam War draft.
"What drew us here is the fact that we lived in a town that was six times the size of Nelson, but Nelson had six times as many things going on," said Martin Keyserlingk, the lead guide for Valhalla Powder Cat ski tours, when we visited his operation. Valhalla is the name of the domain of the Norse god Odin where, in Scandinavian mythology, it was said that warriors who had fought valiantly in battle got to go hang out and drink an unending flow of mead in the afterlife.
Valhalla the cat-ski operation lies 20 minutes west of Nelson, and serves up a neverending banquet of cliff-drops and waist-deep "Kootenay gold" powder snow. Still, Keyserlingk insists that powder is not all that keeps people in the area: "We actually have a viable community that is not strictly based on skiing."
Indeed, back in Nelson you can shuck off wet outerwear and sweaty thermals and proceed with a night of eating, drinking, and nightlife on par with much larger and more urban locales. Locals claim this vibrancy owes much to the influence of Italians, Irish, Russians and, most recently, American immigrants. In the '60s and '70s, the locals welcomed Americans dodging the Vietnam War draft. In 2006, Nelson was even slated to erect a monument commemorating the resistance of Vietnam draft dodgers, until American and municipal discontent made sure the idea was shelved.
With or without the contentious statue, Nelson is drawing a new crop of Americans who have come in search of deep snow and a different perspective.
Seven years ago, Ned Woods discovered the Kootenay area on a ski trip. "Something shifted in me," said the Vermont native, who was born to Canadian parents. "I decided that it was time to take advantage of my dual citizenship." Woods now lives in Nelson permanently. Woods' fellow Vermonter and travel companion on that trip, Brian Malley, has also taken up permanent residence.
"It had everything I wanted," Malley said. "And it so happened to be in another country that was politically a little more aligned with my beliefs." Malley, who is openly gay, says Canada's support of gay marriage was "an encouragement for sure."
Malley is also quick to cite the creativity of the local scene as another significant attraction. In the shadow of the rows of Victorian-style houses that dot the Nelson hillside lies Baker Street. This main street through downtown is lined with restored heritage buildings, their ground floors full of boutiques, restaurants, coffee shops, pubs, a theater and several music venues.
"You find it hard to believe they could even exist," said Steven Kaup, a Coloradan who recently relocated to Nelson and was impressed with how many unique businesses the area sustains. "But here they are, and they thrive in the middle of nowhere."
Asked if he missed his native Colorado, where the sun shines more regularly but the snowpack is notoriously unstable in comparison to the Kootenays, Kaup replied: "I miss the bluebird days, but it's nice to trade it in to be able to ski really steep and diverse terrain. Here, it's a really romantic, exotic adventure -- in the backcountry it never looks the same."
Pro crews roll through with somewhat regular frequency -- hiking Whitewater's backcountry for Absinthe, or touring via snowmobile with former pro and lifetime Kootenay resident Shandy Campos' BC Action Adventures for Poor Boys Productions. But riding powder for a week versus putting down roots are two different things -- full-on assimilation is a long-term, complex proposition.
"The closer I get to my Canadian friends," Kaup says, "the more obvious my Americanism is to them, and therefore to me."
Even with some of the best powder skiing in the country, moving to a different country can take its toll on connecting with "home." Woods and Malley both said they both had trepidations about crossing the border -- Malley especially in the years before his residency in Canada was "legit."
"Not only is the terrain and the geography difficult to get in or leave from, but you emotionally get into that mindframe, too," said Kaup of the difficulties of traveling from Nelson in the winter and keeping in touch with friends and relatives from the States. "It contributes to making the community more dense. It all gets more local, and reaching out just doesn't appeal, because it's something you can't easily do."