It's crazy watching professional snowboarders ride these days. If they're not hucking triple backflips or throwing back-to-back double corks, they're being choppered into some frozen spine land in Alaska with an IMAX 3D camera. In short, they're doing things practically no one can do. Also, they're almost all men.
Winter Wars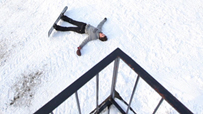 WIDTH="203" HEIGHT="114" BORDER="0" ALT="">
Step into the Peep Show world. Launch Gallery

Then there's Peep Show, which, according to its website, is "A group of female riders, filmmakers and artists focused on making videos that showcase progression, creativity and individuality."
What makes the Peep Show crew so inspiring is the simplicity of its program. All they need is a car, their boards, a camera and a whole lot of heart. Whether they're using shovels and a bungee cord to create an urban playground or beelining it through a snowboard park, Peep Show strips away the pretense and puts the soul of snowboarding on screen.
This past season, founders Esthera Preda and June Bhongjan put their lo-fi, soul-filled formula to the test as they ventured out across North America with the Peep Show girls to film "Winter Wars," their follow-up to 2010's (epically titled) female shred-fest, "Let's Make Better Mistakes Tomorrow."
The team went from Minnesota to California and back and managed a pilgrimage to Preda's homeland of Quebec City to boot. It also checked in at a contest in Colorado and a few other time-tested film spots along the way to get a blend of suburban and snow-bound for this year's flick.
As you would expect, when you get that many riders on the road seeking out new spots, not everything goes according to plan. "I think this year we've definitely had the craziest bails anyone has ever seen," Bhongjan said. "In Minnesota, one of the riders got hit by a car."
Other slams included violent scorpions (looks just like it sounds), a broken jaw, a broken wrist and assorted other girl-meets-gravity disasters. But it wasn't all bad. "It's also better and more organized," Preda said. "We have objectives. We're definitely learning from past years." Ah yes, learning from last year's mistakes.
Peep Show just released a teaser video with highlights from this year's filming missions in Minnesota, Tahoe, Quebec and Colorado. It also sent along an exclusive photo gallery, featuring outtakes of exploits from the season. Starring Desiree Melancon, Gabi Viteri, Bryn Valaika, Silvia Mittermuller, Joanie Robichaud, Jess Kimura, Darrah Reid-McLean, Colleen Quigley, Laura Hadar and friends, "Winter Wars" will premiere at a Peep Show signature session at High Cascade Snowboard Camp this summer.