Japanese snowboarder Ryo Aono won the 2011 Burton New Zealand OpenMen's Halfpipe finals on Saturday in a last-minute upset over event favorites Louie Vito (USA) and Iouri "I-Pod' Podladtchikov (Switzerland). Vito held the lead coming into the third of three runs in the pipe at the Cardrona Alpine Resort in Wanaka, NZ with a run two score of 89.30, but Aono still had some big tricks up his sleeve: His winning third run included a massive frontside 1080, Cab 1080, frontside 900, backside 900, and frontside 1080 Double Cork. Vito tried to answer with back-to-back-to-back double corks in his final run, but couldn't put it together.
Burton New Zealand Open Finals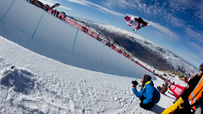 WIDTH="203" HEIGHT="114" BORDER="0" ALT="">
Check out highlights from the Burton New Zealand Open halfpipe finals. Gallery

"I have competed three or four times before with not the best results and am very happy to be on the podium this time around," Aono said, in a statement after Saturday's competition. His run three score of 92.96 was the only score above 90 in the competition. "During practice, I worked on a special run that I ended up hitting perfectly in competition. I am very happy!"
Aono's win may have come as a surprise to Western viewers watching the webcast, but he's been coming up fast since topping the FIS World Cup halfpipe standings in both 2007 and 2009, and he's part of rising contingent of Japanese riders who have become a force to be reckoned with in any international competition. Seven of the sixteen riders in Saturday's BNZO finals were from Japan, including fourth place finisher Taku Hiraoka and fifth place finisher Ayumo Hirano (the 12 year-old rider lead the competition after the first run and was blasting higher out of the pipe than anyone; get ready for the future). Kohei Kudo, another Japanese rider, won Best Trick honors, taking the MINI Creative Use Of Space award for his enormous frontside crippler tailgrab.
Vito's run two score held for second place, with a crippler, backside mute 540, frontside 1080 double cork, Cab 1080 truckdriver double cork, and frontside 1080. You know you're watching fireworks when back-to-back double corks are no longer enough to win a halpipe competition, nor is a backside 1260 double McTwist like the one that helped Podladtchikov in third place: The 2011/2012 season is about to get interesting.
There were less surprises in the women's finals, where American rider Kelly Clark continued her halfpipe domination streak with a big score of 88.10, ahead of fellow American Hannah Teter and Spanish rider Queralt Castellet. The BNZO win makes it ten in a row for the defending Burton Global Open Series champion, even without the 1080 that had become a signature of her runs last season. Clark's winning run included a frontside 720, Cab 720, backside 540, and frontside cork 900. After winning the 2010 Burton US Open, Clark told ESPN.com she has her sights set on landing the first double cork in women's competition; that frontside cork 9 may have been just be teaser of more to come as the 2011/2012 season is officially underway.
Norwegian rider Kjersti Østgaard Buaas won the Creative Use of Space award in the women's competition with a huge air to fakie on her first hit.
Aono and Clark each picked up $7,500 and 850 Swatch TTR World Tour event points for their wins on Saturday, and each now hold the top spots in both the TTR Halfpipe World Tour rankings and the Burton Global Open Series, which picks up again in Switzerland, January 7-14, for the 2012 Burton European Open.
2011 TTR Burton New Zealand Open ~ Men's Halfpipe Results
2011 TTR Burton New Zealand Open ~ Women's Halfpipe Results