Being open to unexpected detours in life is rooted in a personal belief that the unknown is just as likely to be as great as the known. Adventure, by definition, starts with wanting to know what's over that next hill. New sites, new friends, and reconnection to old friends who've drifted off on their own detours -- these have always seemed to bring more spontaneous adventures my way than I've bargained for.
Prospecting Idaho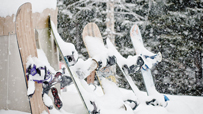 WIDTH="203" HEIGHT="114" BORDER="0" ALT="">
Behind the scenes at Smith's backyard playground. Launch Gallery

This past March, having just arrived back home to a warm fireplace, great circle of friends, and snow-covered resorts which all felt so good to see after weeks of jet-lagging travel, I found myself considering a departing on flight the very next morning. It would be a detour with a sharp turn, and it was veering 180 degrees away from my plans for some R&R. Damn these detours.
By the same time the following night, I had repacked, re-boarded, and found myself in that familiar position: face to face with new sites and friends. Arriving just before dark, with the cold night air on my heels, I settled in for the adventure, sitting campfire style in front of a warm wood-stove, with a tent-sized glow around me that appeared to be the only light source in the surrounding village.
Arriving after dark in new places always makes the next morning more of a mystery. I had no idea what this new place looked like and wondered if it was really as cool as it always sounded. Dozing off to the crackling fire, I wondered what this unexpected, remote backcountry experience would bring.
There's nearly 700 square miles of explorable freeriding terrain in Idaho's Sawtooth Mountains, and it's goods are protected for months by a persistent layer of cold air. Because of this, the place has become something of a Bermuda Triangle that freestyle skiers and snowboarders keep disappearing into. I'm told the region gets only 150 inches of snowfall each year, but the riding is said to be so good because none of it really ever melts until spring.
I'd known of the Smith Optics project, and known of the generous ways of Cory Smith and friends in pioneering the Sawtooths, and introducing their gem, the Vienna Cirque, to the world. I've always wanted to visit... who hasn't? The lure of wanting to see the iconic backcountry images burnt into our brains in the Robotfood era is like the feeling you get wondering if you'll ever see the bands you missed when they were at their peak. It's a feeling that's worth changing plans for.
Everything about my experience with the Smith crew was better than it had previously sounded. Life at the cabin was no exception. Of the many shredders, photographers, filmer/editors, friends and friends-of-friends who passed through while I was there, I noticed one unchanged theme: everyone who was invited to Smiley Creek Idaho was treated with amazing hospitality and left with high hopes of returning.
The Vienna Cirque, the yurt tucked into it's shadow, the village of Smiley Creek, and the people who made their own roadtrips in to Idaho, all have their own irreplaceable part in each others' story. Luckily, through the lenses of the talented personalities there to document the project, the storytelling of that detour-turned-adventure is presented for all to see via the Prospecting Idaho webisode series. Episode 1 and 2 just launched last week, and a new season of snow is already brewing out over the Pacific. Who's ready for some detours?