Relentless Freeze: Ski Big Air
On the face of it, London is an unlikely location for a snowboarding competition. But nobody seems to have told the stoked thousands strong crowd that witnessed Janne Korpi from Finland win the FIS LG London Big Air here tonight. Janne won with by dint of his sheer consistency, nailing a cab 10 double cork and a switch back 12 to beat Seppe Smits and Joris Ouwerkerk into second and third respectively.
"I had to try it" said a stoked Korpi after stomping the 12. After heading up a field that included hard chargers like Marko Grillc, Stale Sandbach and previous winner Seppe Smits, he had every right to be.
LG Snowboard FIS World Cup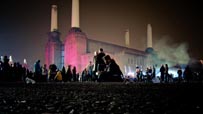 WIDTH="203" HEIGHT="114" BORDER="0" ALT="">
It ended up being Janne Korpi's night at the LG Snowboard FIS World Cup. Check the photos. Gallery

For the riders, the chance to throw down at an event that has the iconic Battersea Power Station as a backdrop, and combine the comp with a few days partying in London, is obviously a highlight of the early season calendar. That was reflected in a strong field of hard chargers, and the number of industry faces spotted wandering around.
London has a surprisingly lengthy pedigree as a big air/in the city spot. Things kicked off back in 1995, when riders including Jamie Lynn and Bryan Iguchi hit up a tiny jump squeezed into Covent Garden Market in front of thousands of bemused Saturday shoppers. That surreal spectacle was soon followed by an event called Board-X, which lasted around five years and became the traditional curtain raiser for the UK scene.
When Board-X was canned, the London Freeze was soon established, and in keeping with snowboarding's by now massive status this event claimed the Battersea Power Station location as it's own. This hulking, monolithic structure is well known to most UK residents, and certainly makes one of the world's most unique locations for a comp. Snowboarding is a spectacle, after all, and when thrust rudely into a setting like this becomes even more so.
As ever, Londoners took this year 's event to their hearts and packed the place out. Whether they appreciated the frankly bonkers display on riding from the assembled shreds is another matter. Competitive snowboarding is as we all know at a frankly ridiculous level right now, and if you haven't got the cleanest backside 10 double corks in the locker it really isn't worth getting out of bed.
It could have all got a little confusing for the crowd, but fortunately they had a homegrown success story to latch onto as Brits Ben Kilner and Jamie Nicholls both made the twelve man final. Kilner is an Olympic veteran, but it is the fast-rising Nicholls that has the UK snowboarding scene excited. Here as last is a Brit kid, school on the artificial Snowflex slopes of Northern England, who can hold his own among such a stellar field. After yesterday's Battle of Britain event, which saw another bright talent Billy Morgan take the win, the future is looking strong for UK snowboarding right now.
He proved as much by placing in fourth and nailing a switch frontside 10 on his final run, a trick he afterwards said he'd never tried before. Still, he couldn't quite match the artillery being wheeled out by Korpe, Tor Bergrem, Joris and Belgium's Seppe Smits among others. The latter's ridiculous pop and effortless style is marking him out as a standout at every event he deigns to enter. He's a previous winner here, but couldn't quite raise his game to pip Korpi to the win.
Full results follow.
Relentless Freeze -- LG Snowboard FIS World Cup, October 29, 2011