Preview
Day 1
Day 2
Day 3
Day 4
Day 5
Final
John John Florence is on a roll, Joel Parkinson is on a mission, Kelly Slater is still in the hunt, an impending 10-foot swell is on the horizon -- oh, how much more interesting the ASP World Tour is when it lives up to its Dream Tour billing. If "the best surfers in the best waves" is the mantra, we're about to see it come to life at the Volcom Fiji Pro, which starts this weekend.
Gallery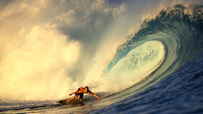 WIDTH="203" HEIGHT="114" BORDER="0" ALT="">
Eyeballing the 2012 Volcom Fiji Pro. Gallery

The much-discussed return of Tavarua to the schedule, an event that hasn't been run since 2008 when Slater won it, would be enough to get excited about. Boasting two world-class waves in Cloudbreak and Restaurants, it's the first time this season that the competitors will face a more powerful wave of consequence. Similar to what happened last year in Tahiti, this could be an event that separates the men from the boys. But the intrigue continues.
Surfline forecaster Kevin Wallis reports: "We've got a ton of swell lining up for the first week of the Volcom Fiji Pro. The event will get off to a quick start on Sunday the 3rd, with a solid southwest swell at Cloudbreak along with favorable easterly wind. Wind will remain favorable for the first half of the following week as the swell tapers down. Long-range charts point to a larger southwest swell for the 8th-10th, if forecast models prove to be correct."
Then there are the surfers themselves and all their respective motivations. Mick Fanning, Taj Burrow and Joel Parkinson are looking to shake their South Pacific curse and post a big result. For Parko, a first world title could hang in the balance; for Fanning a third. Florence seems to be the clear favorite, which makes sense given how well he performs at Pipeline.
And the surfers on tour all seem to be pointing to the Hobgood brothers [C.J. and Damien] as potential winners. Of course, Slater looks to get back on the horse after skipping Brazil last month. In a conversation at the Channel Islands Surfboards factory Thursday, I was assured that Slater has his game face on.
"He's been spending a lot of time there and has been really focusing on the contest," said Channel Island's board guru Travis Lee.
"He's been getting some great waves the last few days," assured Slater's longtime girlfriend, Kalani Miller, who was at Channel Islands and will join Slater in Fiji this weekend.
Speaking of the surf, how good has it been the past few days? ESPN Surfing contributor Peter "Joli" Wilson has been on the neighboring island of Namotu for the past couple of weeks and offered the following report:
"The 'best ever' session must be one of the most overused clichés in the surfing world," Wilson said. "How many times have you heard it used to describe that latest session of hot surfing or a recent swell? I'd suggest too many times to count -- but right now John Florence had the best of the pre-dawn session before Mick Fanning and Ace Buchan joined him around 6:30, with Slater arriving about an hour later. Fanning was already into his second board by then and broke another by the end of the morning.
"The conditions were perfect, light offshore winds grooming a clean 8-foot plus of south swell. The tide was low early and as it filled in, the barrels moved off the reef and into deeper water and stayed open and throaty. By the end of the day, the clichés were running thick and fast.
"Mick Fanning claimed: 'That's the best session I've had all year, anywhere! I've never seen Cloudbreak as good as that before.'
"Slater, who surfed all morning at Cloudbreak, and then had an afternoon session at Restaurants until dark, was claiming he'd had an A-plus day with Cloudbreak possibly the best he'd ever seen it.
"One of Slater's waves really stood out. He didn't make it out, and broke a board in the process. 'That wave was so messed up,' he said, holding just the tail of his board in his hands. 'It just grew and spat, then spat again and even when the foam ball caught me I still thought I could make it, but then it just got [messed] up, it just grabbed me,' before adding, 'Oh well, that's one board down.'"
As of publishing time of this post, this word came in from Channel Islands that Slater is looking to add some length to his quiver at the last minute. "I just found out he wants bigger boards by Sunday, so now we have to figure that out," Lee said. "I guess we're working this weekend."
VOLCOM FIJI PRO ROUND 1 MATCH-UPS:
Heat 1: Jordy Smith (ZAF), Brett Simpson (USA), Fredrick Patacchia (HAW)
Heat 2: Josh Kerr (AUS), C.J. Hobgood (USA), Patrick Gudauskas (USA)
Heat 3: Taj Burrow (AUS), Damien Hobgood (USA), Taylor Knox (USA)
Heat 4: Adriano de Souza (BRA), Bede Durbidge (AUS), Willian Cardoso (BRA)
Heat 5: Kelly Slater (USA), Kai Otton (AUS), Mitch Coleborn (AUS)
Heat 6: Joel Parkinson (AUS), Raoni Monteiro (BRA), Isei Tokovu (FIJ)
Heat 7: Owen Wright (AUS), Tiago Pires (PRT), Yadin Nicol (AUS)
Heat 8: Mick Fanning (AUS), Adrian Buchan (AUS), Matt Wilkinson (AUS)
Heat 9: John John Florence (HAW), Miguel Pupo (BRA), Kieren Perrow (AUS)
Heat 10: Julian Wilson (AUS), Heitor Alves (BRA), Kolohe Andino (USA)
Heat 11: Jeremy Flores (FRA), Gabriel Medina (BRA), Travis Logie (ZAF)
Heat 12: Michel Bourez (PYF), Alejo Muniz (BRA), Adam Melling (AUS)