Gilmore is gold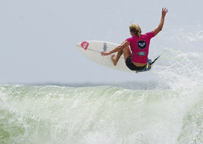 WIDTH="203" HEIGHT="114" BORDER="0" ALT="">
A look at Steph's 2012 title. Gallery

As Steph Gilmore passed the world title to rival Carissa Moore at the 2011 ASP banquet, she quipped that it was merely a loan. A joke? A threat? A promise? Whatever you called it then, Gilmore just turned it into something infinitely more meaningful: the truth. She couldn't stop grinning and laughing as she was crowned with roses and carried up the beach by friends after winning her second consecutive Roxy Pro Biarritz and her fifth ASP women's world title.
At the outset of this Tour season, Gilmore told ESPN that the leap year (2011) was one of the most valuable of her career.
"It really opened my eyes to what you can achieve and how having little hurdles in the journey makes the whole experience, and the wins, that much more rewarding," she said.
When she claimed 2012's first event, the Roxy Pro Gold Coast, there were murmurs about a "comeback." Gilmore herself was unsure whether a single year's slip from surfing's top spot -- to third in the world -- constitutes a proper hiatus, and in turn, a comeback. In fact the comeback may have been from the anguish and physical injury she sustained in a freak attack outside her apartment in late December of 2010. Either way, she was visibly moved and appreciative of the freshly reclaimed championship today in France.
"I woke up this morning and was thinking, 'Nah, it's not going to happen today.' I didn't really feel it. As the day progressed, things just fell into place and ... oh my goodness, this is so crazy!" Gilmore exclaimed in her post-win interview. "It was about being consistent, but staying focused at the same time. There was so much hype -- everyone was saying, 'Are you excited for what's going to happen?' and I'm like, 'No! Are you a fortune teller?'"
"What an incredible week," she continued. "To come back and really fight hard for this one is so much more rewarding. I mean, I've loved every minute of every world title, but this one was just such a challenge, I think, because all of the girls are surfing so well. I really had to give it 200 percent, every single heat that I went out in, so I feel really proud of this moment."
Gilmore also predicted multiple rivalries throughout the ranks of the Top 17 in 2012 and they certainly developed, which has made this year one of the most riveting in a long time. Before Saturday's all-out war of a final, the ever-laid back Wright said she'd "just go out and try stuff." Despite her nonchalance on land, she adopted a "do or die" mentality in the water, turning the 35-minute heat into un-petit air show. Gilmore looked right at home in the 4-foot D'bah-esque conditions at Biarritz's La Grande Plage on Saturday. When she had all but clenched the win, Wright effortlessly pulled out an 8.0 -- just in case anyone needed reminding that she was still present. Unfortunately for her, it wouldn't be enough to climb out of the combo hole.
Gilmore also had the unenviable task of conquering Carissa Moore, who I'd venture to say put on her best performance this year. Earlier, Wright had to overcome fiercely motivated Courtney Conlogue and Coco Ho. Ho caused a major upset when she eliminated second-seeded Sally Fitzgibbons in the second quarterfinal.
Up until today, any of the top four could have emerged at the apex of women's surfing, and just because our world champion has been decided, that doesn't mean the final Tour event is moot.
The Nike U.S. Open of Surfing (July 30-August 5) will still have a bearing on the women's ranking and total prize money. Iconic and notoriously fickle Huntington Beach, Calif., will provide an exciting venue for the conclusion of the women's Tour.
ROXY PRO BIARRITZ FINAL RESULTS:
1. Stephanie Gilmore (AUS) 18.53
2. Tyler Wright (AUS) 13.10
ROXY PRO BIARRITZ SEMI-FINALS RESULTS:
SF 1: Tyler Wright (AUS) 14.66 def. Coco Ho (HAW) 9.37
SF 2: Stephanie Gilmore (AUS) 17.10 def. Carissa Moore (HAW) 12.50
ROXY PRO BIARRITZ QUARTER-FINALS RESULTS:
QF 1: Tyler Wright (AUS) 11.37 def. Courtney Conlogue (USA) 10.53
QF 2: Coco Ho (HAW) 12.60 def. Sally Fitzgibbons (AUS) 8.76
QF 3: Stephanie Gilmore (AUS) 13.57 def. Malia Manuel (HAW) 10.00
QF 4: Carissa Moore (HAW) 16.33 def. Laura Enever (AUS) 12.07
ROXY PRO BIARRITZ ROUND 4 RESULTS:
Heat 1: Courtney Conlogue (USA) 11.40 def. Lakey Peterson (USA) 9.50
Heat 2: Coco Ho (HAW) 11.67 def. Rebecca Woods (AUS) 8.77
Heat 3: Malia Manuel (HAW) 12.10 def. Paige Hareb (NZL) 9.16
Heat 4: Laura Enever (AUS) 12.13 def. Sofia Mulanovich (PER) 8.66
CURRENT ASP WOMEN'S WCT TOP 5 (After Roxy Pro Biarritz):
1. Stephanie Gilmore (AUS) 48,400 pts
2. Sally Fitzgibbons (AUS) 42,100 pts
3. Carissa Moore (HAW) 36,700 pts
3. Tyler Wright (AUS) 36,700 pts
5. Courtney Conlogue (USA) 34,800 pts