Preview
Rd of 98
Men Rd of 48 / Wmn Rd 3
Men Rd of 24/ Wmn Rd 4
Men Rd of 24 / Wmn Qrts
Men Rd of 16
Men/Wmn Final
It's not your average surf contest. In fact, there's absolutely nothing normal about it. "Circus," "freak show," "spectacle" and "sacrilegious" are terms bandied about by surfing purists and cynics when talking about the Nike U.S. Open of Surfing at Huntington Beach. The thousands of beachgoers bearing oddly placed piercings, multicolored hair and Inland Empire ethos would support those descriptors, but at the heart of it all is one of the most competitive, highly sought prizes in surfing.
Gallery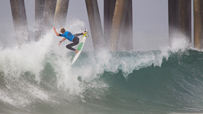 WIDTH="203" HEIGHT="114" BORDER="0" ALT="">
The contenders of the 2012 Nike U.S. Open of Surfing. Gallery

Last year it was 11-time world champion Kelly Slater who rode to glory. The two years ago local Huntington hero Brett Simpson became the first person in the event's 53-year history to win back-to-back titles. And while that's noteworthy in itself, the fact there's a $100,000 check up for grabs in this year's contest makes winning here all the more enticing.
"There's no other event that attracts so many people. To surf in front of a stadium audience like this, nothing compares," Slater said. "It's surfing on the main stage."
Sally Fitzgibbons, the 2011 women's Open champ, has echoed his sentiments. "I've always wanted to be champion and get carried up the beach here -- it's just unbelievable," Fitzgibbons said when she won the event last year. "The waves here are challenging ... so you just got to love it for what it is, and that's what makes this trophy extra special."
For all the pomp and circumstance, Huntington is hardly the best wave on the ASP World Tour. To its credit, the beach is exposed to swell angles from just about every direction, which means if there's even a hint of a pulse in the water, you're going to see it here. On the flip side, the surf can be small and slow at times, forcing competitors to apply the "Huntington hop," pumping aggressively from the outside peak to the reform on the inside shorebreak. It's not always the most aesthetically pleasing form of surfing but is a necessary evil to tally up points with the judges. And should the surf start pushing four-to-six feet and up, sweeping current and closed-out sets become an issue.
As for the forecast for the upcoming week, Surfline.com is calling for "an overlapping series of small Southern Hemisphere Southwest and South swells and small, local Northwest windswell that will provide contestable waves for the first few days of the event. A slightly better South-southwest swell is on track for the last few days of the event."
Obviously, last year's champions, Slater and Fitzgibbons, come into the event marked, but there's no shortage of contenders. With 30 of the top 32 surfers on the ASP World Tour seeded into the event, the talent level is extremely high. Simpson is always going to be hard to beat, and with their progressive array of aerial maneuvers, youngsters such as Gabriel Medina, John Florence and Filipe Toledo are going to be hard to beat in the shorebreak conditions. And then, of course, there are heavyweights such as Jordy Smith and Julian Wilson, who are very focused on making an impact.
"I'm looking forward to it," Wilson said. "It can be a tricky, challenging wave, but that's what makes it fun.
In terms of grizzled vets, Mick Fanning, Joel Parkinson and Taj Burrow are always threats. Parkinson will be coming off the 32-mile Molokai to Oahu paddle that takes place this weekend. So if he does indeed decide to enter, fatigue may be an issue with him.
The U.S. Open marks the final stop of the women's ASP World Tour season. And while the title was recently clinched by Stephanie Gilmore in France, things won't be any less competitive at Huntington. Fitzgibbons is hungry to win any time she dons a jersey, and after a somewhat disappointing season 2011 world champ Carissa Moore is keen to give the girls a run for the money.
"We're great friends on the beach, we've known each other for ever, but in the water it's every girl for herself," Fitzgibbons said.
It's go time in Huntington Beach, so hang on tight. It's going to be a crazy week.