Preview
Rd of 98
Men Rd of 48 / Wmn Rd 3
Men Rd of 24/ Wmn Rd 4
Men Rd of 24 / Wmn Qrts
Men Rd of 16
Men/Wmn Final
Julian Wilson won the 2012 Nike U.S. Open of Surfing on Sunday, and took the $100,000 first place check, knocking out Brazil's Miguel Pupo in the final.
Gallery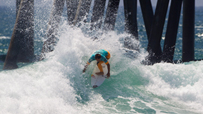 WIDTH="203" HEIGHT="114" BORDER="0" ALT="">
Highlights from the 2012 Nike U.S. Open of Surfing. Check the photos. Gallery

"I feel like I was peaking at the right time," said Wilson. "I had a little shaky start at the beginning of the year with an ankle injury, but I really feel like my surfing's coming into form now. And my boards have felt great all week. I've struggled here in the past, so I just told Matt Biolas (from ...Lost Surfboards) to make me something he thought would work. I put a lot of trust in that, and it worked. It's been an amazing week."
In the semifinals, Pupo left Kelly Slater scratching his bald head, looking for a nine-point ride. Wilson's semi against Gabriel Medina was a different story. Wilson's varial revert into the pier pilings got the crowd's attention, but Medina fired back with a seven-point air out the back. Wilson countered with an air of his own in the closing minutes and ended it.
On the women's side of the draw, the power and experience of Carissa Moore had the oddsmakers piling up points in her favor, but Lakey Peterson, who finished runner-up at the Open in 2011, has now officially arrived.
"It's been a crazy ride. Carissa is one of my favorite surfers and I'm just so stoked to win right now," said Peterson. "My family's here and it's all just so special. To win in front of a crowd like this, it's hard to explain."
By the time the men's and women's finals rolled around, the sun was out, and a new south swell filled in with the tide. But the day didn't exactly start the day as such. Low tide, gray skies and south wind, not exactly how you want to finish the U.S. Open, but between a cup of coffee and the early-morning quarterfinals lineup there was enough to get excited about.
It started with a Brazilian duel between Pupo and Filipe Toledo. Pupo didn't hesitate. Toledo's a competitor, but he's young and more opportunities are bound to present themselves. Pupo, who won the Nike Lowers Pro in 2011, surfed with more purpose.
Then came the heat of the morning, Slater versus Dane Reynolds. Traditionally early-morning heats don't bode well for Reynolds. Today was no exception. While Slater probably had a macrobiotic dinner and 12 hours of sleep in a hyperbaric chamber, Reynolds probably did whatever he does.
"My best scoring wave was a one-maneuver wave, so that tells you what it's like out there today, it's definitely not exhausting," told Slater. "I don't think the energy level should be an issue today."
Continuing on, he noted a little reported rib injury. "I got hurt, took two weeks off, then got hurt again, and took another week off. Then went on a trip and got hurt again," he described. "So I've been out of the water for about six weeks ... I'm glad we're not at Jeffreys Bay."
Slater spent yesterday afternoon down at Lowers, just to "get my feet into the board."
"If I didn't like Bob Hurley I probably wouldn't be here," he joked. Hurley's an easy guy to like, and deserves credit for taking the U.S. Open to a very premium event.
The second Brazilian duel came in the form of Adriano De Souza versus Gabriel Medina. Enough can't be said about Medina's talent as he posted the contest's first perfect 10. He ran away with it, finishing with a 19.20 heat score.
"I feel really good. It was a hard air to make it," he said about the 10-point ride. I knew it was going to be a hard heat against Adriano, he's just so competitive. I can't believe I made that air, I'm stoked to make the contest's first 10."
Rounding out the quarters was John Florence vs. Julian Wilson, an aerial battle on paper if ever there was one. Unfortunately the surf had other plans. Wilson literally squeaked through in the last five minutes of the heat with only two scoring waves.
"Slipped through that one," smiled Wilson back at the hotel lobby, relief beaming from his face.
And just when you figured Medina might be the only surfer to drop a 10 in the event, the first women's semifinal took the water, Lakey Peterson vs. Malia Manuel. Peterson, in form all week, promptly dropped a perfect score.
"I've wanted this all week, and just going to keep pushing," said Peterson afterwards.
Peterson has been working more with Mike Parsons lately, who also coaches Kolohe Andino, and her surfing has really matured as a result. She's smoothed things out and connects the sections of the waves much more seamlessly.
If surfing has a true rivalry right now it's Carissa Moore vs. Sally Fitzgibbons. It's a wonderful thing for women's surfing, it's a wonderful thing for surfing. That made semifinal two a wonderful thing ... just not for Fitzgibbons, who was leading throughout most of the heat, before Moore made an inside connection, got the score she needed, and put herself in the final.
On this final day thousands and thousands of people littered the beach -- Huntington was a virtual mad house, the proverbial circus. The U.S. Open, love, hate it, whatever, it's still the craziest show in surf.
NIKE US OPEN OF SURFING FINAL
1. Julian Wilson (AUS) 17.53
2. Miguel Pupo (BRA) 14.76
NIKE US OPEN OF SURFING SEMIFINALS RESULTS:
SF 1: Miguel Pupo (BRA) 16.33 def. Kelly Slater (USA) 13.33
SF 2: Julian Wilson (AUS) 14.70 def. Gabriel Medina (BRA) 14.37
NIKE US OPEN OF SURFING QUARTERFINALS RESULTS:
QF 1: Miguel Pupo (BRA) 14.57 def. Filipe Toledo (BRA) 8.83
QF 2: Kelly Slater (USA) 15.00 def. Dane Reynolds (USA) 9.84
QF 3: Gabriel Medina (BRA) 19.20 def. Adriano de Souza (BRA) 16.13
QF 4: Julian Wilson (AUS) 8.84 def. John John Florence (HAW) 8.17
NIKE US OPEN OF SURFING FINAL RESULT:
1. Lakey Peterson (USA) 10.90
2. Carissa Moore (HAW) 8.64
FINAL 2012 ASP WOMEN'S WCT RATINGS:
1. Stephanie Gilmore (AUS) 48,400 pts
2. Sally Fitzgibbons (AUS) 43,400 pts
3. Carissa Moore (HAW) 40,700 pts
4. Tyler Wright (AUS) 36,700 pts
5. Courtney Conlogue (USA) 36,000 pts
6. Malia Manuel (HAW) 34,100 pts
7. Lakey Peterson (USA) 33,700 pts
8. Laura Enever (AUS) 32,800 pts
9. Coco Ho (HAW) 31,850 pts
10. Paige Hareb (NZL) 25,450 pts
11. Rebecca Woods (AUS) 22,000 pts
12. Sofia Mulanovich (PER) 21,750 pts
13. Pauline Ado (FRA) 16,200 pts
13. Sage Erickson (USA) 16,200 pts
13. Sarah Mason (NZL) 16,200 pts
16. Silvana Lima (BRA) 13,950 pts
17. Justine Dupont (FRA) 12,750 pts
18. Jacqueline Silva (BRA) 10,500 pts