There was no way the 2012 Billabong Pro Tahiti was going to compare to last year's historic, freak-of-nature event. The swell of the century, Nathan Fletcher's wave, Bruce Irons' trunks ripped off, and that wasn't even during the contest. The ASP's best were treated to 12-foot perfection en route to Kelly Slater's victory, a win that eventually catapulted him to his 11th world title.
Billabong Pro Tahiti Preview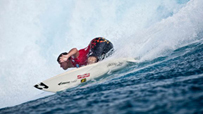 WIDTH="203" HEIGHT="114" BORDER="0" ALT="">
Will we ever see an event like Teahupoo last year? Gallery

Last year was a once-in-a-lifetime spectacle. This year, the 6-foot surf that's forecast just seems so, well, mundane. Especially after what happened last month at the Volcom Fiji Pro, we've become somewhat desensitized to the violent nature of massive surf, so in the case of the 2012 Billabong Pro Tahiti, it's all about managing expectations. And, conditions providing, you can expect the contest to get under way pretty much right away on the first day of the waiting period on Aug. 16. The official forecast released by Surfline last night reads:
THURSDAY 16th
SWELL/SURF: Longer period, inconsistent/lully SW swell filling in through the afternoon with 5-6' faces and occasional max sets up to 7-8'. Local, shorter period south windswell in the mix to give the surf a jumbled up and somewhat stormy feel.
WIND: SE trades 8-14kts, building and strongest in the afternoon.
FRIDAY 17th
SWELL/SURF: SW swell eases with more 5' faces (head high) and occasional sets running up to 6'+ (slightly overhead) in the morning. Local south windswell also easing so surf gradually cleaning up.
WIND: ESE trades 10-14kts.
SATURDAY 18th
SWELL/SURF: Smaller leftovers from the SW as small South swell fills in with surf hanging in the 4-6' range on the face and possibly larger. Stay tuned, the small south swell is still dependent on storm development.
WIND: Lighter ESE trades 7-10kts.
SUNDAY 19th
SWELL/SURF: Mid period south swell continues with 4-5-6'+ faces and possible larger sets. The swell is still pending storm development, so stay tuned.
WIND: SE/SSE wind building 9-13kts.
MONDAY 20th
SWELL/SURF: Smaller, fading south swell in the 4-5' range on the face in the morning, with some leftover larger waves in the morning. Decreasing swell/surf through the day.
WIND: SE trades 10-15kts.
After that it would appear there's some easterly funk on the distant horizon, which Teahupoo doesn't like. If I were a contest organizer, I would be pushing to get heats run all day every day during that first run of southwest swell the first three to four days of the contest.
But we don't need no stinking waves to make this thing interesting. We're in the grips of what's arguably the most interesting world title chase in recent memory. Mick Fanning, Kelly Slater and Joel Parkinson are stacked first, second and third, respectively. The Billabong Pro Tahiti marks the fifth stop of the tour, and honestly, anybody in the top 10 could put a run together during the back half of the season.
"Yeah, it's tight, there are a lot of guys in the mix," said Fanning in an interview with ESPN during the U.S. Open of Surfing. "There are a lot of people that are really surfing good right now, and I think a lot of people that are just hitting their stride, so it's going to be a tough race all the way, hopefully, to Hawaii."
Monday, the final two wild-card spots were decided at the Von Zipper Trials, with Brazil's Ricardo Dos Santos winning this year's trials, followed by local fixture Alain Riou. Wild cards are dependably dangerous at Teahupoo, and both Riou and Dos Santos are previous trials winners and have experience in the main event. In fact, they have so much experience that last year Dos Santos beat Slater in Round 1.
"Teahupoo is about finding the best barrels, it doesn't matter if you have Kelly, or Parko, or Alain. I'm ready, I'm happy, I'm living the dream," Santos said after the final.
And when it comes to finding the best barrels, let's talk for a second about John Florence. He's hovering in equal fifth with Taj Burrow, but looking at the schedule for the rest of the year, you have to like his chances. He'll sit further back on the foam ball at Teahupoo than just about anybody; anything short of a semifinal or finals appearance would be a surprise. To be sure, every surfer is at the mercy of the ocean during his heat, but if Florence gets the waves he's going to get the scores. And with Trestles, France, Portugal and Pipeline still coming up, the deck's stacked in his favor.
But you can't discount guys like Josh Kerr, who's back in the water after an ankle sprain sustained during the Fiji event. Jordy Smith and Owen Wright have yet to hit their stride, and moderate size Teahupoo might just be what they need to help them find their flow. And then there's Julian Wilson. Hot off his U.S. Open win, he sits 10th on the ratings, but has all the momentum in the world and would love nothing more than to prove himself in Tahiti.
"It's one of those events, it means a lot to have your name on that trophy," Wilson said in a recent interview.
Big waves, small waves, it doesn't really matter, the world's best are in Tahiti at one of the most beautiful setups on the planet, and we have a world title race that's actually worth watching. How could this not be good?