"2000, that was the last time I won any prize money ... against Occy," smiled Damien "Dooma" Hardman, "I guess I'm a pro surfer again."
Gallery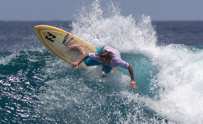 WIDTH="203" HEIGHT="114" BORDER="0" ALT="">
Five former world champs battle it out in the Maldives. Gallery

With five former ASP world champions gathered in the middle of the Indian Ocean for the 2012 Four Seasons Maldives Surfing Champions Trophy, it was the first day of one of the more unique surf events in the world. And the list of invitees, it reads more like a hall of fame than a contest lineup: Damien Hardman, Tom Curren, Martin Potter, Mark Occhilupo and Brazilian longboard champ Phil Rajzman.
And while Curren, Occy, Pottz and Hardman would be enough to enrapture just about any surfer's attention, the format is what really separates the event from the every other contest. Round one, in which Hardman edged out Potter in the final, was all about performing on single-fins. Harkening back to a simpler, some may say more pure, period in the evolution of surfing, jumping back on the old school equipment proved to be more of a challenge than one would have guessed.
"I was just trying to channel Cheyne Horan," told Curren. "When he was in his prime he was one of the best on a single-fin, and I had that in my head the whole time."
And while all of the surfers, save Rajzman, could be considered fierce rivals during their prime, things remained relatively gentlemanly in the water.
"Yeah, it was very civil out there today," told Pottz, who was renowned for being one of the most aggressive competitors in his heyday.
"I gotta go up against the Iceman," he laughed before the final. Hardman, who owns two ASP titles, was reputed for his contest savvy and tactical approach in heats. These days he's applied that intelligence to a successful career as a contest director for Rip Curl and owns a pair of surf shops around his hometown of Narrabeen, Aust.
Last year was the inaugural running of the Four Seasons Maldives Surfing Championships, which Occy won handily. But faced with much stiffer competition he has his work cut out for him this time around.
"All these guys, they're great surfers. We're a little bit older, but that fire's still there when you get the jersey on," told Occy.
Even Curren, who had a flirtatious relationship with the ASP tour during his career, was excited about the idea of rekindling old flames.
"It's great, we all get to go up against each other on a bunch of different boards, and in the end the best overall surfer wins, so that makes it really interesting," said Curren, who as of late has been working on a new music album.
The forecast for the remainder of the waiting period looks solid, and should finish in proper surf at Sultan's, a friendly, rippable right-hander. Up next is the twin-fin round, which should be interesting. After that the boys will step on to more conventional thrusters, and the final will be decided based on who's accumulated the most heat wins throughout the week long comp.
"I didn't even bring a twinnie, so I'm going to have to figure that out," said Curren, in his ever-classic fashion.
But to be sure, watching Curren, Occy, Pottz, Dooma and Rajman go out and do their thing never gets old. They're legends for a reason, and an event like this is a perfect showcase for their iconic talents.