A few days every summer, it happens. The mutant, ugly, beastly, freak of a wave at the south end of the Newport Beach, Calif., peninsula known as the Wedge comes alive and crowds gather to watch from the sand like moths to flame. Combine the biggest swell of the summer with a warm, sun-drenched Labor Day weekend, and you've got a recipe for lookie-loos galore.
The Wedge Session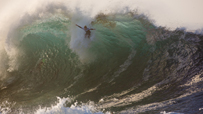 WIDTH="203" HEIGHT="114" BORDER="0" ALT="">
J.O.B and Newport locals got sandy on Sunday. Gallery

While it wasn't exactly Pipeline-esque on Sunday, the swell still drew the attention of Oahu's Jamie O'Brien, who paddled out for a sunset Wedge session. O'Brien's every move was documented by his sponsor Red Bull's cameras on the beach, in the water and even in the air via a Canon 7D mounted to a remote-control helicopter for an event that was supposed to be webcast live online but wasn't after locals cried foul.
Bruce Irons was scheduled to appear, as well, but didn't make it. No word on why. Despite the hype and hoopla, the waves didn't really deliver. There were a few sets that doubled up outside into 15-foot faces, but they were few and far between, leaving O'Brien and a group of locals to spend most of their time pulling into hopeless shore break dumpers right on the sand. But then you have guys such as Spencer Pirdy and Jason Rhodes, and an appearance by Nathan Fletcher, and it's still a party.
It was a beautiful evening, though, and the crowd looked thoroughly entertained and happy. O'Brien seemed stoked, as well, signing autographs and posing for pictures afterward even though he's still probably got salt water draining from his nose and sand stuck in his ears.