Preview
Day 1
Day 2
Day 3
Day 4
Day 5
Final
As the ASP World Tour embarks on the European leg this week with the start of the Quik Pro France, there's an actual title race going on. There's no talk of surfers not showing. Dissatisfaction among athletes has been quiet. Webcast viewing numbers are up. Each of the major surf regions of the world has a dog in the hunt.
It's been a damn good season.
2012 Quiksilver Pro France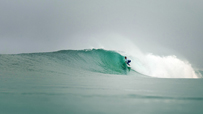 WIDTH="203" HEIGHT="114" BORDER="0" ALT="">
How will France look in a great year of World Tour waves? Gallery

And a lot of that has to do with the surf. Let's face it -- from title contenders to superfans, surfing's governing body to sandy-haired groms, everyone stays pretty happy when the waves are good and hollow. The swell has been solid at every venue in 2012, and in some cases, it's been epic bordering on historic.
Granted, the Quiksilver Gold Coast Pro wasn't terribly special, but there were those memorable first rounds. The Rip Curl Pro Bells was a treat from start to finish for both the men and the women, with Rincon and the Bells Bowl both turning on.
The Billabong Pro Rio, which is the only "city" stop remaining from the 2011 schedule (bemoaned for lousy waves, but turning on when they were in the spotlight), actually went mental on the day of the final, producing those throaty blue tubes that dream tours are made of.
John John Florence barely had time to get his Brazilian sculpture home before the tour headed to Fiji, where the boys found global big-wave chargers waiting for the biggest swell ever to light up Tavarua. Even if the event didn't run at the height of that once-in-a-lifetime swell, the money Volcom had invested into its first World Tour event proved to be well worth it, as the event of the year unfolded.
No one will ever remember that Teahupoo was flat for eight consecutive days during the Billabong Pro Tahiti. What we'll all remember were the new lines drawn at that man-eating reef in stellar surf and the confidence everyone had after 2011's Code Red situation. And then it was on to Lower Trestles, which, of course, was basically flawless as Kelly Slater sashayed his way to yet another tour win.
It's been a great season thus far, fantastic even, with more barrels than a prohibition rumrunner operation. And now we're arriving at the famously hollow beach break, before a spot called Supertubes and Pipe. In 2012, in the tube is still where it's at.
"There is some pressure for it to be good. You don't know what to expect. Every surfer is coming here looking for Hossegor barrels," admitted Quik event director Miky Picon today. "We're crossing our fingers. The forecast was looking pretty bad earlier in the week, but it has changed for the better. Now it's looking pretty positive."
There's a very good chance that the event will kick off on the first day of the waiting period, with a modest northwest swell on tap. We could see a lay day or two late in the week depending on the outcome of a forecasted windswell. But then early next week, the models have a strong autumn swell pulsing down toward those magic beach breaks.
Picon added that while the swell should be solid, the winds may still be an issue. But he's confident that the mornings when the swell peaks the winds should be offshore. He hinted that there could be a few consecutive half-days of action.
"The banks are set up really good right now -- world class," added Picon, who lives right across the street from Hossegor. "And we have some backup spots picked out that are really good for smaller days. We feel like this will be another really good contest."
Yep. We all do.