Tarheels in Mexico Gallery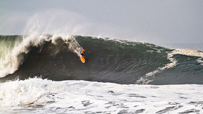 WIDTH="203" HEIGHT="114" BORDER="0" ALT="">
North Carolina surfers measure risk and reward in Mexico. Gallery

Whether it's blowing off jobs, girlfriends, or mortgage payments, surfers are willing to do just about anything to score perfect waves. Like drug addicts, we go to extreme measures to get a dose of the surfing drug. A handful of North Carolina's best surfers recently ventured to one of the most dangerous regions of Mexico chasing the biggest, heaviest beach break barrels on the planet. With waves the size of small buildings that form mile-long rip currents, kidnappings, hellacious stomach viruses, polluted water, and little to no connection with the outside world, it's safe to say the trip was risky. But, with risk comes reward, and the Tarheel Allstars scored pumping Southern Hemi surf for two weeks straight with only a few other surfers around.
Outer Banks kingpins Jesse Hines, Joey Crum, Dana Quinn, and Emerald Isles' Fisher Heverly are no strangers to punchy beach break barrels. Last season, they hopped on a flight south of the border to a remote region of Mainland Mexico for a much larger version of North Carolina's sand bottomed tubes. Unlike the Outer Banks however, this particular beachbreak has a deep canyon just offshore allowing the long period southern swell to travel all the way to the beach unobstructed and explode on the sandbar with size, shape, and power unlike anywhere else in the world.
Buxton's Brett 'Gnarly' Barley was already in Mexico for a contest at Puerto Escondido, and booked a last minute flight to meet us a few hours north. "It was the best last minute decision I've ever made. I got more barrels during my first session than I did all 11 days of my trip at Puerto. It's definitely the best beach break I've ever surfed," claimed Barley.
But Mainland Mexico is not exactly a spring break dream setup with rum drinks, 5-star hotels, and sorority girls frolicking about. A few of the risks these days include drug cartels, kidnappings, murders, crooked 'cops', and the infamous 'Montezuma's Revenge', a stomach virus that can kill you from just brushing your teeth with tap water.
Joey Crum has been to this spot a handful of times now, and knows just how dangerous it is, in and out of the water.
''It was pretty hairy hearing about the kidnapping that happened to those surfers a few months before we got there. And the two villages fighting each other for land the year before was scary. But to be honest, I was more scared of the beach break than anything else. Watching Dana take that cleanup set on the head the bigger day was pretty intense. It made my stomach turn upside down for sure."
Jesse Hines has traveled the globe as a professional free surfer for over a decade. He was the oldest and most experienced surfer on the trip, having nailed covers of every major publication and video parts in a number of surf flicks.
"I love going to Mexico -- heavy beach breaks, good coffee, and Mexican food. You can't really go wrong, but it did when Dana Quinn and I innocently rented a hotel to get a few hours of sleep. We quickly found out the so-called hotel was actually meant for secret sexual excursions," Hines recalls, "Besides that sketchy experience, this trip was amazing. It was a crew of us from North Carolina that I surf with all the time, but had never been on a surf trip with and it was like surfing bigger, better home every day. I enjoyed heckling the younger guys and watching them get pitted. I was really impressed with everyone's surfing. I'm definitely ready to go back this summer."
Fisher Heverly was the trip grom and "might be the best surfer from North Carolina," claims Dana.
"I love Mexico. I had the best fish I've ever had for $2 and scored the biggest and best waves of my life," remembers Fisher.
After a few weeks without air conditioning, eating the same three meals a day at the only restaurant in the area, UV-induced delirium, and catching the best waves and worst beatings of their lives, the crew had officially gotten their fix and returned to good ol' North Carolina.