Think of the Billabong Pro Jeffreys Bay as a reunion for the walking wounded. As the ASP World Tour regroups for the fourth stop of the year after a two-month hiatus, those that suffered injuries at the onset of the year have been able to right themselves. And proving that idle hands are the devil's workshop, some of the more fit humans have gone and hurt themselves.
Topping the list, J-Bay was going to see the long-awaited return of Dane Reynolds. The consensus from the surfers on tour was that he'd be back, as one surfer joked, "as sure as we can be."
2011 Billabong Pro J-Bay Preview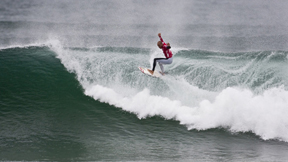 WIDTH="203" HEIGHT="114" BORDER="0" ALT="">
After nearly two months off, the ASP World Tour grinds back to life with the Billabong Pro at Jeffreys Bay, South Africa. Gallery

Alas, the news from the contest site this morning was that Reynolds withdrew late last night. At this stage, there's no official reason for the withdrawal.
But for those who are ready to rock, current World No. 1 Adriano de Souza limped into South Africa three days ago looking pasty and jet lagged.
"I haven't surfed in three weeks," offered up the man currently leading the ASP World Title ratings -- and the first Brazilian to ever do so. "I've been stuck in a big city with no surf trying to get my knee better. I've been having six hours of [physical therapy] a day, three in the morning and three in the afternoon trying to get it right."
De Souza's first surf was away from prying eyes at Magna Tubes, a spot well away from the main contest site at Supertubes.
"It felt OK," he said later, "but my left hip was aching after the session because I was trying to keep the pressure off my right knee."
Since winning the Rio event, De Souza had been on back-to-back surf trips with his sponsors, first with Red Bull to Indonesia, followed up by an Oakley trip in the Maldives, where he subsequently injured his right knee on the first day. To say he's not feeling the pressure of being No. 1 in the world would be inaccurate. A whole country is riding on his back, plus he has to justify his current ranking to the rest of the world. Coming into an event burdened by injury was not the preparation he needed, hence the intense rehabilitation program.
Brett Simpson has been another on the tour's injured list this year. He's been here in J-Bay since he lost his heat in the Mr. Price Pro in Durban early last week.
"It was good to be back in competition," he said about the Mr. Price. "I broke three boards in one heat and lost, so I headed straight down here. I've had some pretty decent waves and my knee is feeling pretty good. I'm ready, maybe even over-ready."
"You sit and watch the other guys in events, wanting to be out there, but I've got to take it slow or I'm going to overamp in my first heat," he added.
Fred Patacchia is also ready for his first heat in awhile after a bad wipeout at Pipe earlier this year took him out. He'd returned home after the Quiksilver Pro at Snapper and promptly wrecked his knee in a free surf session.
"I've been working out in the gym and training hard and I'm feeling pretty good," he said while checking the surf.
He gave his knee a solid workout in the small surf, smacking the lip with his trademark backhand snaps and even trying to get above the lip for the odd punt.
Whispers have indicated that Owen Wright had injured his ankle and might not compete, but they turned out to be just half right.
"I didn't even tell anyone I was hurt," he laughed when asked about his ankle. " I guess one person saw me in a moon boot and that's all it took for the whole world to know that I had a sore ankle. It's all good and I've got no problems now."
For the past month the surf here has been pumping, but as luck would have it, it looks like the contest could get off to a slow start. This could be good, giving the injured guys more time to get back on two legs. Billabong's media manager Brendon Kegel said, "We've had 20 days of contest surf this past month, we could have run the contest a few times over!"
With two days to go before the waiting period begins, it's unseasonably hot and Supertubes is dead flat. We'll just have to wait and see what happens.