Preview
Day 1
Day 2
Day 3
Day 4
Day 5
You can blame it on Rio if you want, but right now they're dancing in the streets of São Paulo. The Nike 6.0 Lowers Pro and its 14-karat golden spike was Brazil's for the taking, and that's exactly what 19-year-old Miguel Pupo did today -- albeit by the slimmest of margins. A mere six one hundredths of a point was enough to give Pupo the win over San Clemente hero Tanner Gudauskas.
2011 Nike 6.0 Lowers Pro Finals Gallery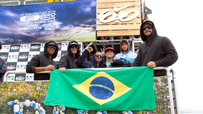 WIDTH="203" HEIGHT="114" BORDER="0" ALT="">
Brazil dominates the Nike 6.0 Lowers Pro. Gallery

"I don't know what to think right now," said Pupo afterwards. "I'm just so happy. At least one Brazilian was going to make the final today, and I'm proud to be that guy. Tanner Gudauskas surfed incredible, he's the local guy here, but I don't know, it's just amazing to be here, and to be here with my father."
It was a family affair down at Lowers through and through. Pupo's father, Wagner Pupo, a former professional surfer himself, made the trip up from their quaint hometown of Camburi Beach on São Paulo's North Coast. It was his first time watching his son on such a global stage, and he certainly picked the right contest to attend.
"It's very special to have him here," said Pupo. "My father raised us in the ocean, this means a lot."
Meanwhile, down the beach the Gudauskas clan amassed under their beach umbrella. Patrick and Dane served as Tanner's coaches and pit crew, while Mom and Dad sat back and watched their youngest boy go to work.
"It's a total team effort," smiled Gudauskas as he walked up the trail at day's end.
The final morning dawned gray with a touch of south wind funk. The tide was drained out, and what little there was left of the week's south swell was inconsistent at best. But these are some of the best surfers in the world, they're paid handsomely to make marginal conditions look appealing. And more or less, that's what they did.
Gudauskas started the quarterfinals strong, making short work of Heitor Alves. Then in Heat 2, call it an upset if you will, but Kolohe Andino, who's been so inform all week, couldn't find a scoring wave to get past relative unknown Jesse Mendes. It wasn't exactly Andino's fault, the heat had to be restarted once for lack of waves, and even then there wasn't much more than a few ripples that came through in the 50 minutes they were in the water.
"I got cold, and I couldn't put anything together out there," said Andino afterward.
The next two quarterfinal heats were stacked with Brazilians. Thaigo Cameron would best Junior Faria, while Pupo slipped by the always tricky Jadson Andre. Gudauskas and Pupo kept up their winning ways going in the semis, and by 1:00 in the afternoon the final was set.
But if I may, an aside on all this Brazilian dominance, if I ever see another flicky, powerless air reverse it will be too soon. I get it, the waves today were small and mushy, and that maneuver lends itself to those kind of conditions very well, but isn't three on one wave a bit excessive? Aren't the judges looking for variety and high risk? After watching Pupo and Andre uncork air reverse after air reverse on the knee-high close-out section on the inside, my contention is that they're no more risky than a chop hop. Gudauskas earned his scores primarily with turns. Andino, a tried and true aerialist, also mixed up his routine with wrapping turns and vertical tail blows. Don't get me wrong, Pupo and Andre both ripped, but seems like their brand of surfing isn't going to translate too well when it's a few feet overhead and hollow.
All told, what a long, strange week it's been. Slater no-showed at the last minute, Dane Reynolds not-so-triumphantly returned, Andino came of age, and the economic engine that is Brazil asserted itself as the next great surfing super power. Heaven help us if China ever takes to the lineup.
Nike 6.0 Lowers Pro Final Results:
1. Miguel Pupo (BRA) 13.63
2. Tanner Gudauskas (USA) 13.57
Nike 6.0 Lowers Pro Semifinals Results:
Heat 1: Tanner Gudauskas (USA) 12.03 def. Jesse Mendes (BRA) 11.33
Heat 2: Miguel Pupo (BRA) 16.70 def. Thiago Camarao (BRA) 12.67
Nike 6.0 Lowers Pro Quarterfinals Results:
Heat 1: Tanner Gudauskas (USA) 16.37 def. Heitor Alves (BRA) 11.76
Heat 2: Jesse Mendes (BRA) 11.60 def. Kolohe Andino (USA) 8.33
Heat 3: Thiago Camarao (BRA) 14.50 def. Junior Faria (BRA) 11.47
Heat 4: Miguel Pupo (BRA) 15.24 def. Jadson Andre (BRA) 14.93
Oakley Pro Junior Final Results:
1. Keanu Asing (HAW) 13.70
2. Jack Freestone (AUS) 13.43
3. Kolohe Andino (USA) 13.30
4. Nat Young (USA) 11.53
Oakley Pro Junior Semifinals Results:
Heat 1: Kolohe Andino (USA) 12.00, Jack Freestone (USA) 9.73, Dylan Goodale (HAW) 9.37
Heat 2: Nat Young (USA) 14.77, Keanu Asing (HAW) 11.47, Conner Coffin (USA) 10.73, Andrew Doheny (USA) 9.14