Preview
Day 1
Day 2
Day 3
Day 4
Day 5
Rip Curl Bells Final Gallery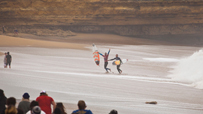 WIDTH="203" HEIGHT="114" BORDER="0" ALT="">
Joel Parkinson just won the Bells trophy and got so excited he pulled the string off. Gallery

The final chapter in the 50th anniversary of the Rip Curl Pro at Bells Beach contest has been written and winner Joel Parkinson rang the bell trophy so hard and long, he broke the rope right off.
Parkinson laughed later, "It's such an awesome feeling ringing that bell, I just wanted to keep ringing it, but I broke the rope right off. I put it back on but I had to stop ringing it. I'll give a few rings later tonight."
Parkinson and his good mate Mick Fanning have been the in-form surfers of the contest and it seemed only fitting that they had come from opposite sides of the draw to meet in the final. Parkinson handled Adriano de Souza, who was rolling with the momentum of beating No. 1's Kelly Slater in his semi. Fanning had a closer match with Jordy Smith. The pair came down onto the beach together and made the long walk side by side under Bells' sandstone cliffs to the paddle out spot.
The crowds were all standing due to the huge Easter full moon tides that had been washing up to the cliff's edge, leaving no beach on previous days. The anticipation of who was surfing in the final, the magical six- to 10-foot waves pouring through the lineup, plus AC/DC's "Hells Bells" pounding sent shivers down everyone's spines.
"Right from the start, I had that song buzzing around in my head for the whole final," said Parkinson. "It got me so pumped up!"
Parkinson grabbed the first wave of the final. He was sitting just a little deeper than Fanning and took the opportunity to draw first blood. An 8.53-point ride was the result. Fanning took the next wave. In virtually every previous heat he'd nailed a score in the high eights or low nines, but his first wave was an uncharacteristic 5.33. Watching that wave, it seemed like Parkinson already had one hand on his third Bells trophy.
As the final progressed, the crowd felt the same way. The buzz was behind Parkinson, but as he said later, he was never comfortable.
"I knew I was leading, but Mick didn't need very much to get back into the heat. For him, an 8.2 isn't a big score -- for some guys it is, but not for him. He'd been dropping eights and nines all event. He'd even been throwing away eights out of his scores, so to have him chasing me down was a scary feeling."
As it turned out, Parkinson's last wave left no doubt. With priority, he had to take the wave to keep Fanning off and as the horn sounded, he was pulling into a quick Bells tube. While he didn't know what the wave had scored he felt it was a good one. Were it not for one spoil sport of a judge, the last wave ridden on the 50th anniversary of the Bells event would have been a perfect 10. As it went, Parkinson settled for a 9.5
"I didn't know if it was a 10, I knew it was a good wave and it was really heavy on the inside but I couldn't hear a thing," Parkinson said.
It's been a long time between World Tour wins for Parkinson. It was only last July when he nearly slashed his heel off, surfing at home in Coolangatta, Australia. He has completely rehabbed, won the Vans Hawaiian Triple Crown and is now in the No. 2 slot behind Kelly Slater in the world title chase.
"I'm so stoked right now," he said with his face adorned with the traditional aboriginal markings. "Bells is such a prestigious event to win, but to win the 50th anniversary bell feels like I've scored a gold-plated one."
RIP CURL PRO BELLS BEACH FINAL RESULTS:
1 -- Joel Parkinson (AUS) 18.53
2 -- Mick Fanning (AUS) 13.26
RIP CURL PRO BELLS BEACH SEMIFINAL RESULTS:
SF 1: Joel Parkinson (AUS) 16.33 def. Adriano de Souza (BRA) 12.00
SF 2: Mick Fanning (AUS) 18.87 def. Jordy Smith (ZAF) 17.23
RIP CURL PRO BELLS BEACH QUARTERFINAL RESULTS:
QF 1: Joel Parkinson (AUS) 16.66 def. Owen Wright (AUS) 13.16
QF 2: Adriano de Souza (BRA) 18.00 def. Kelly Slater (USA) 11.24
QF 3: Jordy Smith (ZAF) 14.16 def. Chris Davidson (AUS) 11.10
QF 4: Mick Fanning (AUS) 17.46 def. Jadson Andre (BRA) 14.03
RIP CURL PRO BELLS BEACH ROUND 5 RESULTS:
Heat 1: Owen Wright (AUS) 14.17 def. Bede Durbidge (AUS) 9.26
Heat 2: Adriano de Souza (BRA) 13.97 def. C.J. Hobgood (USA) 13.66
Heat 3: Chris Davidson (AUS) 16.03 def. Michel Bourez (PYF) 15.37
Heat 4: Jadson Andre (BRA) 14.37 def. Tiago Pires (PRT) 13.93
ASP WORLD TITLE RATINGS (After Rip Curl Pro Bells Beach):
1. Kelly Slater (USA) 15,200 pts
2. Joel Parkinson (AUS) 14,000 pts
3. Jordy Smith (ZAF) 13,000 pts
4. Adriano de Souza (BRA) 10,500 pts
4. Tiago Pires (PRT) 10,500