Preview
Day 1
Day 2
Day 3
Day 4
Day 5
"They're calling it 50 years," said 64-year-old Nat Young over a hot plate of kung pow chicken and broccoli beef. "50 years since the 'birth of pro surfing,' whatever that means or however you want to define it."
A four-time winner at Bells Beach himself, Young, who recently passed through Southern California while watching his son compete in the Ultimate Boarder event, says, "I'll be there. They're getting all the past champions together for this golden anniversary. It'll be good to see everybody ... or at least it'll be a good photo op."
Rip Curl Pro Bells Beach preview gallery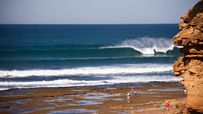 WIDTH="203" HEIGHT="114" BORDER="0" ALT="">
For 50 years, Bells Beach has crowned a surf champion. Here's a look back. Gallery

A lot has happened in the half century since the inception of the Rip Curl Pro at Bells Beach (formerly the Bells Beach Easter Classic). In its lifespan the contest has seen Young and company pioneer the first-generation vee bottoms in the mid '60s, Mark Richards introduce his twin-fin in '78, and Simon Anderson bust out his Thruster in '81. Peter Troy, one of the event's founders, went out and pioneered surfing in just about every corner of the world, while former champ Michael Peterson and his aviators and fang-tail have become an the stuff of dark legend and lore. The formerly dapper Peter Drouyn converted himself into a sassy lass called Westerly Windina ("You know why he calls herself 'Westerly' don't you," says Young. "Because of the west wind."). And in more recent decades Tom Curren, Mark Occhilupoo and Kelly Slater have all had their chance to ring the iconic bell. It would seem that in some way, shape or form, just about every sliver of surf history reaches back to Bells.
But that was then, this is now. After a month-long hiatus, it's time for the boys to get back to business, and with history on everybody's mind, all eyes will be on one Robert Kelly Slater. Winning the first of his four Bells titles back in 1994, the champ was oddly absent from the podium for a dozen years, not winning again until 2006 (and then again in '08 and '10).
"A good result at Bells usually makes me feel like I'm ahead of the pack because it's not one of my better events as far as results go," Slater confessed in a pre-event statement to the ASP. "So when I do get a good result I kind of feel like I have one up on the other guys. The last five years have given me a lot of confidence because I've had three wins in five years. Before that, it was a struggle for me to do well there."
Coming off of his win at the Quiksilver Pro on the Gold Coast in early March, an event that some thought might be his last stand on tour, it's fair to say that if Slater posts a good result in Torquay he's bound to leg out the rest of the year in an attempt to further cement his legacy with an eleventh world title.
But nobody's going to just hand him the record. Mick Fanning's been quietly at home, getting even more fit, testing out new boards, and enjoying his "training" at Snapper Rocks. Jordy Smith's been posted up in South Africa, presumably hunting lions and boosting airs. Other frontrunners like Joel Parkinson and Taj Burrow kept their competitive acumen sharp by competing in the Drug Aware Pro at Margaret River.
Unfortunately Dane Reynolds bum knee hasn't come around as quickly as he would have liked and he was forced to withdraw from the event.
"Dane will not be attending Bells, but he is hoping his knee will be better by the time the Prime event comes to Lowers in May," confirmed Blair Marlin, Reynolds' Manager.
As for the forecast, judging by Surfline.com's 14-day Lola model, the Rip Curl Pro won't be blessed with phenomenal surf for the first few days of the waiting period as it looks pretty small. But then come mid-week the numbers spike a little, withsome solid -- or at least contestable -- surf.
From rookie performers like Julian Wilson to wildcards like Gabriel Medina, to journeymen like Fanning and Parko and icons like Slater and Young, this year at Bell Beach will be a special one. The waiting period gets underway this weekend, and our man Peter "Joli" Wilson will be on hand documenting it all, so stay tuned.