"I'll be back," said Jacob Trette. "I love that wave."
Grabbing a burrito at a greasy-spoon taco stand in San Clemente, Calif., you'd never guess a couple months ago Trette was waking up in an intensive care unit after surviving a nearly life-ending two-wave hold down at Maverick's. He admits his hair has gone a little salt and pepper since then, but otherwise there are no lasting effects. He's your typical work-a-day, mid-30s surf dad grabbing a quick carne asada bite before getting back to life.
2011 Billabong XXL Big Wave Awards gallery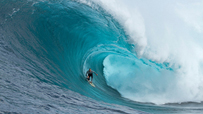 WIDTH="203" HEIGHT="114" BORDER="0" ALT="">
Here are some of the nominees for this year's XXL Awards. Gallery

Trette's not nominated for anything at this year's Billabong XXL Awards, but his spirit, resiliency and relative anonymity speak to the modus operandi of most big-wave riders. It's a realm in which deeds speak much, much louder than words. Even considering all the publicity and tributes surrounding Sion Milosky's tragic drowning at Maverick's just a couple of months after Trette's incident, the Kauaian charger epitomized the blue-collar, underground ethos that encapsulates so many of this year's nominees.
As per the annual tradition, last night the XXL judging panel gathered at Billabong headquarters on Waterworks Drive in Irvine, calipers and rulers were brandished with the usual wit and criticism, lumps of raw ocean were analyzed and scrutinized. Comprised of XXL mastermind Bill Sharp, Surfline mastermind Sean Collins, Dave Gilovich, Sam George, Mike Parsons and several other media types, they bantered back and forth about the merits of height versus girth, where the bottom of some waves really began, and at one point it was deduced that even a kook can be a contender. They also marveled at how Women's Performance nominee Jamilah Star's figure could actually wipe somebody out at the big wave Mecca of Oahu's Waimea Bay.
But this year, maybe more than any other in the XXL's 12-year history, mortality's the issue. The near-drowning of Trette and the loss of Milosky, and even to a lesser extent the passing of Andy Irons, which put a black veil on an already glum North Pacific forecast, forced everybody to take a step back and re-evaluate what they're doing and why they're doing it.
"It's something we all have to come to grips with," said former XXL winner Greg Long. "You rationalize it in your own way, but it's always there."
That's not to say that this season hasn't been without its high points. Both Shane Dorian and Mark Healey paddled into waves that have to be seen to be believed. And the slabs of Australia and Tasmania continue to entertain, impress and defy rational expression. David Scarred's miracle tube at 18-foot Cloudbreak in Fiji is terrifyingly dreamy, while it's the luck of the Irish that saves Eric Rebiere from certain annihilation at Ireland's Mullaghmore Head.
But as with any fate-tempting pursuit, it would seem only a matter of time before somebody gets their face ripped off on the reef at Tahiti's Teahupoo, or another friend and fellow waterman doesn't come up.
In Susan Casey's 2010 book "The Wave," chiseled icon Laird Hamilton talks about his disdain for the XXL Awards, that it's "dangerous," "wreckless." That may be the case. It may inspire those unqualified to take their lives in their hands in the name of fortune and glory. But my contention is that there are a lot more Jacob Trettes or Sion Miloskys out there than Garrett McNamaras, or for that matter, Laird Hamiltons. Underfunded and driven only by passion, it's not media exposure, movie projects or book deals they're after. They simply want an opportunity to ride a giant.
On Friday night, the XXL Awards will take place at the Grove in Anaheim (it will also be webcast live). A dozen years ago I attended the first of these awards, and I can tell you that no night brings the big-wave community together like this one. There are pre- and post-barbeques, party buses fill the parking lot, and for one night a year this noble pursuit is celebrated and rewarded. It's not the solemn opening ceremony of the Eddie, not an exclusive paddle session at Jaws, in it's own commercial and overly glossy way, the XXL Awards is, to use a bad cliché, a gathering of the tribe -- and as we'll all see Friday, being part of that tribe is eternal.
FIVE BILLABONG XXL RIDE OF THE YEAR AWARD NOMINEES
(Surfer prize $50,000. plus a year lease on a 2012 Toyota Tacoma truck. Video prize $5,000.)
Michael Brennan (Hobart, Tasmania, Australia) at Shipstern Bluff, Tasmania on April 10, 2010. (Video by Tim Bonython.)
Danilo Couto (Bahia, Brazil) at Jaws, Maui, Hawaii on Feb. 8, 2011. (Video by Elliot Leboe.)
Mark Healey (Sunset Beach, Hawaii) at Outer Reef, Oahu, Hawaii on Jan. 20, 2011. (Video by Ariel Willeford.)
Benjamin Sanchis (Hossegor, France) at Mullaghmore Head, Ireland on Feb. 13, 2011. (Video by Yannock Lousouarn.)
David Scard (Caloundra, Queensland, Australia) at Cloudbreak, Fiji on Sept. 20, 2010. (Video by Talon Clemow.)
FIVE MONSTER PADDLE AWARD NOMINEES
(Surfer prize $15,000. Photo/video prize $4,000.)
Danilo Couto (Bahia, Brazil) at Jaws, Maui, Hawaii on Feb. 8, 2011. (Photos by Eric Aeder, Tracy Kraft and Batel Shimi. Video by Justin Clark, Giora Koren and Elliot Leboe.)
Shane Dorian (Kona, Hawaii) at Jaws, Hawaii, on March 15, 2011. (Photos by Eric Aeder, Bob Bangerter, Tracy Kraft, Bruno Lemos, Mike Neal and Batel Shimi. Video by Frank Berthuot, Giora Koren and Bruno Lemos.)
Mark Healey (Sunset Beach, Hawaii) at Maverick's, California on Nov. 2, 2010. (Photos by Mike Jones, Don Montgomery and Fred Pompermayer. Video by Chris Killen.)
Sion Milosky (Sunset Beach, Hawaii) at Outer Reef, Oahu, Hawaii on Feb. 8, 2011. (Photo by Daniel Russo. Video by Larry Haynes.)
Mark Yazbeck (Newcastle, New South Wales, Australia) at Waimea Bay, Hawaii on Jan. 20, 2011. (Photos by Bruno Lemos, Al Mackinnon and Terry Reis. Video by Bruno Lemos.)
FIVE BILLABONG XXL BIGGEST WAVE AWARD NOMINEES
(Surfer prize $15,000. Photo/video prize $4,000.)
Eric Akiskalian (Gig Harbor, Wash.) at South Reef, Lincoln City, Ore., on Nov. 2, 2010. (Photos by Dave Colllyer and Richard Hallman.)
Dan Corbett (Dunsborough, Western Australia) at Outer Bombie, Margaret River, Western Australia on Oct. 4, 2010. (Photo by Jamie Scott.)
Rodrigo "Koxa" Augusto Espirito de Santo (Guaruja, San Paulo, Brazil) at Punta Docas, Chile on Aug. 18, 2010. (Photo by Alexandre Akiwas. Video by Rodrigo Pelado.)
Francisco Porcella (Sardnina, Italy) at Jaws, Maui, Hawaii, on Nov. 2, 2010. (Photos by Giora Koren, Mike Neal and Batel Shimi. Video by Tormod Martines.)
Benjamin Sanchis (Hossegor, France) at Belharra, France on Feb. 16, 2011. (Photo by Bastien Bonnarme. Video by Julien Roulland.)
FIVE MONSTER TUBE AWARD NOMINEES
(Surfer prize $5,000. Still photography prize $2,000.)
Shane Dorian (Kona, Hawaii) at Jaws, Maui, Hawaii, on March 15, 2011. (Photos by Bruno Lemos, Mike Neal and Batel Shimi.)
Tom Dosland (Haiku, Hawaii) at The Right, Western Australia on Oct. 6, 2010. (Photo by Calum Macaulay.)
James Hollmer-Cross (Hobart, Tasmania, Australia) at Shipstern Bluff, Tasmania on April 10, 2010. (Photo by Andrew Chisholm.)
Mark Mathews (Maroubra, New South Wales, Australia) at The Right, Western Australia on Oct. 6, 2010. (Photo by Calum Macaulay.)
Eric Rebiere (Hossegor, France) at Mullaghmore Head, Ireland on Feb. 13, 2011. (Photo by Bastien Bonnarme.)
FIVE SURFLINE BEST PERFORMANCE AWARD NOMINEES
(Surfer prize $5,000.)
Kohl Christensen (Kailua, Hawaii)
Danilo Couto (Bahia, Brazil)
Mark Healey (Sunset Beach, Hawaii)
Sion Milosky (Sunset Beach, Hawaii)
Benjamin Sanchis (Hossegor, France)
FIVE BILLABONG GIRLS BEST PERFORMANCE AWARD NOMINEES
(Surfer prize $5,000.)
Easkey Britton (Rossnowlagh, Ireland)
Maya Gabeira (Rio de Janeiro, Brazil)
Keala Kennelly (Honolulu, Hawaii)
Mercedes Maidana (Buenos Aires, Argentina)
Jamilah Star (Santa Cruz, Calif.)
FIVE VERIZON WIPEOUT OF THE YEAR AWARD NOMINEES
(Surfer prize $2,000 and a Samsung Tab by Verizon. Video prize $1,000.)
Tiago Candelot (Rio de Janeiro, Brazil) at Jaws, Maui, Hawaii, on Jan. 20, 2011. (Video by Tony Adams.)
Mark Mathews (Maroubra, New South Wales, Australia) at Shipstern Bluff, Tasmania on April 6, 2010. (Video by Andrew Chisholm.)
Everaldo "Pato" Teixeira (Florianopolis, Brazil) at Shipstern Bluff, Tasmania on April 6, 2010. (Video by Andrew Chisholm.)
Laurie Towner (Angourie, New South Wales, Australia) at Cloudbreak, Fiji on Sept. 20, 2010. (Video by Elliot Leboe.)
Ben Wilkinson (North Narrabeen, New South Wales, Australia) at Maverick's, Calif., on Nov. 2, 2010. (Video by Greg Browning.)