Preview
Day 1
Day 2
Day 3
Day 4
Day 5
On Sunday morning Kolohe Andino, Evan Geiselman, Luke Davis and a few other friends were out toying around in a two-foot beachbreak wedge in San Clemente. Surfing against each other in a mock heat, they debated the scores they were giving each other, counted down the time left on their watches, and kept pushing to go faster down the line and punt higher. It's a critical crew, but then that's what makes them so dangerous.
2011 Nike 6.0 Lowers Pro Preview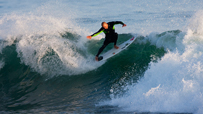 WIDTH="203" HEIGHT="114" BORDER="0" ALT="">
Who to watch this week at Lowers. Gallery

This week the Nike 6.0 Lowers Pro comes to Southern California, and Andino and friends are anxiously waiting. With Kelly Slater, Dane Reynolds, Jordy Smith and a slew of other top-rated surfers coming to town, this is their chance to begin to assert their next-generationness on a global level.
The contest starts tomorrow, and the boys have been rolling around Southern California all weekend. The ASP has granted wildcards to Slater (guess those World Tour points are about as transferable as frequent flyer miles) Dane Gudauskas, and Santa Barbara youngster, Conner Coffin. Additionally, Andino, the number one junior in the country, and France's Charly Martin, will receive Nike's wildcard slots.
But quite frankly, the name everyone is watching for is that of Dane Reynolds. Reynolds, as we all know, tweaked his knee in Hawaii last December. He went under the knife in January and has missed the first two events of the World Tour.
When it was announced that he was still recovering and would not surf the Rip Curl Pro at Bells, Reynolds' manager, Blair Morgan assured the world that he would be back to form for the Nike. Sure enough, he's slated in heat 13, with Gony Zubizarreta, Kekoa Bacalso, and Coffin.
Being a Prime event in the industry's breadbasket, everyone wants in on Trestles. Last year, Gabe Kling beat Jordy Smith, Andy Irons, and Chris Davidson to win, and it helped him get the final spot on Tour for 2011. This year's event is loaded with Australian talent with a solid helping of Brazzos.
Coinciding with this event is the Oakley Pro Junior, a $25,000 5-star junior event. This serves as a qualifier for the the Oakely World Pro Junior, the second stop on the ASP's Junior World Championship Tour. Andino, of course, is a favorite.
The surf is small today, but looks to pick up to a contestable size for the start of the event tomorrow with trademark Southern California weather. Don't expect anything stellar this week. A new southwest pulse could show by the weekend.