Carlos Burle's Big Thrills
onClick="window.open('http://www.espn.com/action/surfing/gallery?id=5193015','Popup','width=990,height=720,scrollbars=no,noresize'); return false;">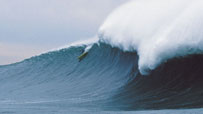 width="203" height="114" border="0" alt="Carlos Burle Gallery">
At 42 years old, Carlos Burle is a veteran of the big-wave arena, and as you can see in the following collection of photos, he's all business when the surf pushes 30 feet. onClick="window.open('http://www.espn.com/action/surfing/gallery?id=5193015','Popup','width=990,height=720,scrollbars=no,noresize'); return false;">Gallery »
In April, Brazil's Carlos Burle was named the first-ever Big Wave World Champion. Most people don't even realize that there's now a Big Wave World Tour, a series of paddle-in events held in maxing conditions at famed big-wave spots throughout the world, which has been 12 years in the making thanks primarily to the efforts of surf and shaping legend Gary Linden. Linden's stated goal is to organize and promote big wave surfing the way the ASP does for performance surfing, in an effort to create a more defined career path for aspiring big wave surfers the world over. In that sense, the tour couldn't ask for a better spokesman than the 42-year-old Burle, who spent decades legitimizing what he does and why he does it throughout his home country before breaking out on the international stage. Now he has the power, the pulpit and a historic title to his credit.
Does winning the inaugural Big Wave World Champion title put you in a unique place, historically?
Oh yes, but what's more important than anything is how the big-wave surfing community and our sport will benefit from it. It's very important to reaffirm that this special moment could only be achieved with a life-long dedication of our mentor Gary Linden. He and guys like Greg Long, Peter Mel, Grant Baker, Chris Bertish, Mark Healey, Jamie Sterling, Danilo Couto, Ramon Navaro and Kohl Christiansen committed themselves to make it happen by showing up at all the big swells and events the entire year, and the list keeps going on because our community is about camaraderie, and it doesn't matter if there's an event out there or not, there'll always be guys charging it.
There's this movement going towards the roots of big-wave paddling now. This is the perfect time for the Big Wave World Tour to happen. We want to step on the professional side of it. To achieve it at its apex demands a lot of commitment, and only the best guys can succeed. Three hundred and sixty five days a year we're ready to show up anywhere in the world at the last minute and face huge waves. By putting a tour together, we can choose the best guys by rating them instead of using an invite list. That scenario is much more fair. Bring on the most talented guys out there with the sponsors to back it all, and we'll put on the show.
Can you explain how the big-wave world tour works so the average surf fan could understand it?
The Big Wave Tour consists of a number of big-waves events around the world with the same format and judging criteria, which is very important. What makes a big difference here is that the bigger the waves, the higher is the rating points for the event. It has to be over 15-foot plus to happen, and the bigger it gets, the more points are added to the final rating. It's a fair scenario for a tour to crown the surfer that charges it the most during the season.
Is this just the beginning of a bigger, more visible big-wave world tour?
It's the professional evolution of big-wave paddling. There'll be more sponsors involved and this atmosphere will bring the level up. I see it as the Formula 1 of car racing or the Ultimate Fighting of combat sports: The extreme of all, only the toughest guys on earth will be able to step in.
This past season was arguably the biggest, most consistent season ever. Did you feel like you were prepared going into all the madness?
It was a long and intense year. I had two magic boards shaped by Jeff Clark, and that made a big difference. I was focused on the events, but at the same time put a lot of attention on my physical preparation. For the first time in my life, I brought my trainer from Brazil to spend two months with me in Hawaii, so I was feeling very confident. By the last two events of the season -- Maverick's and Todos -- I was feeling super fit. I was super consistent because I trained hard. I know that I'm not a fast paddler anymore, so I kept myself fit and applied all the experience that 42 years and many, many big waves can offer. I'm not a young guy anymore, and I can't fool around.
You've been riding big waves for a long time. Would you consider the Big Wave World Tour title to be the crowning achievement of your career?
For sure. I devoted my life to this sport and to become the first champ of the Big Wave Tour in history at my age it is much more than I expected. It's like, right now, more than ever, I can rest in peace. This achievement is highly linked to this moment of my life. I'm focused on giving back to the sport and our community and there is a lot work to do out there.
What advice would you give to a kid who was just starting to get interested in riding big surf?
First of all, do it from the heart. If you want to do it for the fun of it, please respect yourself, the others and the ocean and put time in practicing. It's so serious out there that you can't walk away without a good lesson.
What kind of sacrifices have you had to make over the years to put your self in the position to ride some of these waves?
Since I stepped into surfing in the early '80s in the city of Recife in the state of Pernambuco in Brazil, I had to overcome the prejudice of my parents, family and the whole society to keep surfing. The sport itself lacked an infrastructure, money and most of all, it didn't have the respect and support like in others areas. I had to leave my town and look for a brighter future in the southeast and south of Brazil. By that time I had proved to my family that I was talented, however, that didn't mean that I would be able to make a living from it. As a professional surfer, I was doing pretty good on average contests. I was fifth on the Brazilian national ranking at the age of 20 and had a sponsor. Was I all set? No way. I didn't like to spend the whole year at contests with poor surfing conditions. By that time, with a couple Hawaiian seasons and some trips to good places behind me, I was already addicted to the rush of the big surf. There wasn't money for going big, but I thought it could be a good start, because to approach the big surf it must be from the heart.
How could I keep my passion alive with this scenario? I had to overcome many hard situations. I got to the point that I had no money and no sponsors. So I kept the dream alive by going to Hawaii every single season. I sold every single thing that I could and at one point I was selling boards while in Europe, getting the money to go to Bali, and then selling Balinese garments in Brazil to go to Hawaii. A few years later, I started to become a respected big-wave surfer. So I opened my own PR agency -- with Marcio Bacana my partner -- with the objective of getting the big surf into Brazilian mainstream media.
Years later I was giving lectures to big companies about my life and our sport. I've also started a salad-dressing business with my name on the products. Today, I run different businesses and manage to keep it all together.
What we do is life-threatening, and in talking about risks, I had also to overcome many injuries related to surfing big waves. But again, this was nothing compared to the original scenario in Brazil when I started -- but I would do it all again.
After all this, what's the best thing about doing what you do?
Getting to do what I love, travel the world, knowing different cultures, values, climates and people. Life, it is very beautiful when you get to know yourself, understand your surroundings, and have the best interaction between these two points.