And so, after nine events, 10 months of surfing, globe trotting and parties, the 2010 ASP World Tour is pulling into its last stop: the 2010 Billabong Pipeline Masters. And it most certainly has been a year not to be forgotten. Kelly Slater was anointed the winningest surfer in the sport's history, a bold new generation -- spearheaded by the likes of Jordy Smith and Dane Reynolds -- seized the limelight, Aussie upstart Owen Wright's a shoo-in for Rookie of the Year honors, and sadly, this year the tour also lost one of its own in Andy Irons -- a four-time Pipeline Master himself.
Billabong Pipeline Masters Preview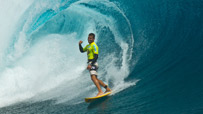 WIDTH="203" HEIGHT="114" BORDER="0" ALT="">
Pipeline might be the most photogenic wave on the World Tour. Here's proof.
Gallery

Historically speaking, this is the 39th event held at Pipeline as part of the ASP World Tour. In its nearly four decades 371 different surfers have competed in the previous 38 events, and 10 of the last 17 Pipeline Masters have been won by either Irons or Slater. This year marks Slater's 19th start, in which he'll surpass Luke Egan on the all-time list. Last year, Slater surpassed Sunny Garcia and Mark Occhilupo, who both have 17 starts. Derek and Michael Ho, and Gerry Lopez are all at 16.
So who are the favorites this year? Slater, duh. In his 18 starts he's made 15 final series appearances, including six wins and three runner-up finishes. In his first visit here in 1991 he finished with a 5th, then from '92 to '96 he had four firsts and a runner-up. Only Rory Russell's run from '74 to '78 compares, but he had two wins and three runner-ups. He boasts the highest winning percentage out of anybody, and like a lot of other tour stops around the world, is hands down the winningest surfer to ever paddle out.
New Format Breakdown
And when you talk about Slater you also have to talk about Andy Irons. Will he be missed? In a word, yes. More so than any other event anywhere. A.I's record at Pipeline was phenomenal. He attended the event 12 times and competed in 7 final series for four wins and three 5ths. From 2002 to 2006 he won four out of the five Pipeline titles. He will be missed for a long time to come.
Last year, in declining swell, Taj Burrow won the Pipe Masters. He has a better record in Brazil than he does Hawaii, so was this a fluke? Maybe. It was only his 3rd final series in 10 visits to Pipeline. He also has a string of seven bad results here. But he is the current Pipeline Masters champ and world number 4, so he will always be dangerous.
And then there's Mr. Parkinson. Parko started off his Pipeline career with a 9th in 2002, and was runner-up the year after that. He had a 4th in 2007, but otherwise has some ordinary results. He's currently leading the Triple Crown ratings, and after sitting out most of the year is eager to have a go at it. This will be his 9th start at Pipe.
Note: In 2001 when the Dream Tour was cancelled at the halfway point of the season due to Sept. 11. The Pipeline Masters vent was not held as a WCT event, it was held as a Specialty event which was won by Bruce Irons. Kelly Slater and several others in this year's field did compete in this event, but it is not recorded into their Dream Tour records. Bruce's event win is listed in the ASP historical files as a Specialty event win not WCT. So although this is Slater's 20th start in the event, officially it is his 19th World Championship Event.
2010 Hurley Pro Event Rankings
A Surfers Ratings Explained:
Add the sum of events surfed to the number of final 16 heats surfed. Divide that number by the surfer's average event result. Then add bonus points for heats surfed in the final 16 (1st = 1.0, 2nd = 0.5, 3rd = 0.25, 5th = 0.1).
SAMPLE: Kelly Slater
(9 events + 13 finals = 22)
(22 / 7.67 ave result = 2.868)
(2.868 + 3.50 bonus points = 6.370)