Billabong Pro Preview Gallery
onClick="window.open('http://espn.go.com/action/surfing/gallery?id=5359083','Popup','width=990,height=720,scrollbars=no,noresize'); return false;">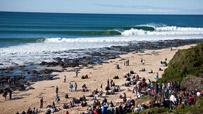 WIDTH="203" HEIGHT="114" BORDER="0" ALT="Billabong Pro Preview">
Hear from Slater, Smith, Taj, and more in our J-Bay preview gallery. onClick="window.open('http://espn.go.com/action/surfing/gallery?id=5359083','Popup','width=990,height=720,scrollbars=no,noresize'); return false;">Gallery »
For all you ASP wonks out there, we present our fourth 2010 ASP World Tour preview by ESPN Surfing's own statistician, Mike Newman. He'll help you break down and understand the competitive landscape for each stop of the tour by compiling each surfer's competitive history at the venue, averaging their results and ranking them first through 45th. It's our hope that you find this info helpful, informative and interesting. We also hope it helps you win a few bets with your friends. In any case, enjoy, and let us know what you think in the "Comments" section.--Editors
"J-Bay is a hard place to crack!" says Australian Jake Paterson. Paterson should know -- a two-time winner at the famed right point break ('00/'01), Paterson is a member of the elite eight surfers to hoist the trophy in the 14 times the site has hosted a World Tour event. "It's such a fun place to free surf, but when you surf it in a heat, it's like a game of chess. You have to work out your competitor, and work out your strategy, and play them to death. My strategy was to ride a little longer board to deal with the speed and do all your turns out on the face -- never get caught up in the pocket too much or you'll get caught behind the wave."
2010 Billabong Pro Jeffreys Bay Event Rankings
A Surfers Ratings Explained:
Add the sum of events surfed to the number of final 16 heats surfed. Divide that number by the surfer's average event result. Then add bonus points for heats surfed in the final 16 (1st = 1.0, 2nd = 0.5, 3rd = 0.25, 5th = 0.1).
SAMPLE: Kelly Slater
10 events + 19 finals = 29
29 / 4.50 ave result = 6.44
6.44 + 4.95 bonus points = 11.394
2010 Billabong Pro J-Bay Rookies (Current ASP Rank):
Jadson Andre (4)
Owen Wright (11)
Pat Gudauskas (28)
Dusty Payne (31)
Mat Wilkinson (31)
Tanner Gudauskas (31)
Brett Simpson (31)
Adam Melling (41)
Nathan Yeomans (41)
Blake Thorton (41)
Marco Polo (41)