Billabong Pro Tahiti Finals Gallery
onClick="window.open('http://www.espn.com/action/surfing/gallery?id=5530918','Popup','width=990,height=720,scrollbars=no,noresize'); return false;">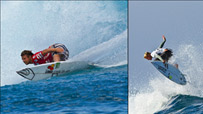 WIDTH="203" HEIGHT="114" BORDER="0" ALT="">
It was a long, emotional week at "the end of the road," and the final day delivered. onClick="window.open('http://www.espn.com/action/surfing/gallery?id=5530918','Popup','width=990,height=720,scrollbars=no,noresize'); return false;"> Gallery

Today reality hit the ASP World Championship Tour and it fell like a guillotine. With another marathon 22 heats completed in the Billabong Pro Tahiti, surfing careers got the chop.
Cut-off, reshuffle, the chop -- whatever you call it, you've been hearing about it since last year. This contest was nominated as the cut-off for the Top 45 to be reduced to the Top 32 in order to make contests shorter, more concise and ensure better waves. Everyone has known about it all year, but it seemed a far off abstraction. Even at the start of this event, it still didn't seem real.
Top 45 Rookies Nate Yeomans, Tanner Gudauskas and Blake Thornton are off the big boys' tour. Vets like Dean Morrison, Michael Campbell, Drew Courtney, Jay Bottle Thompson, Neco Padaratz, Kekoa Bacalso, Tom Whitaker, and Ben Dunn are now staring at the prospect of going back to the Star and Prime events or a career change.
Dean Morrison, who lost to Tiago Pires, has decided to chase big waves around the planet. He's a nut and already follows swells at the drop of a weather map. Maybe his life won't change much, but for the others it will be a certain period of adjustment.
If talk around the dinner table tonight is any indication, then not everyone amongst the surfers were convinced it was a good idea to minimize.
One line repeated around the various camps over the last couple of days was that guys like Jordy Smith would have been bumped off the tour in his rookie year. The Hobgoods wouldn't have made the cut, and there are probably a host of notables who struggled in their rookie year.
Of course, there are two sides to the story and if the lively discussion tonight was anything to go by, there will never be a consensus. In a backhanded way, it might make the Primes more interesting than the new Top 32 World Title race. A 96 guy format with all the crew flaring up vs. 32 guys run in a couple days with safe surfing. Either way, it's safe to say that Tanner Gudauskas does not have to become a shoe salesman.
The Billabong Pro has about a day of heats left to run. It could finish tomorrow or the ASP might wait till Friday. It all depends who you are talking to. The final Top 32 is still undecided as guys like Pat Gudauskas and Marco Polo still have to surf their Third Round heats. Gudauskas is the only surfer who came into the event tide with 5750 points to stay alive. Polo, who ousted returning champ Bobby Martinez, must make the quarters to stay on. The Hurly Pro at Trestles will be the test for this great experiment, on display for the world to see September 8th to the 12th. We wont have to wait very long to see how it works.
And then there was the contest. Kelly Slater sat in the channel waiting for his heat to start as one of his Tahiti nemeses nailed Jordy Smith. In an event where wildcards are seasoned killers, Manoa Drollet is the wildest. Just ask Andy Irons or Slater, both of whom Drollet has axed out of past contests. Kelly had a little smile on his face as the battle unfolded, and he watched the 2010 World Title race open up again. Taj was out earlier, Parko is out completely, Mick Fanning is still in the event and Kelly rode a foam ball barrel or a, "get out of jail free card," as he called it later for an 8.80 to win against local Heiarii Williams. You have to imagine he was happy it had been Jordy and not him against Drollet.
Among the highlights (or lowlights, depending on your perspective) was a controversial call between CJ Hobgood and Padaratz. Hobgood is known to have an uncanny knowledge of Teahupoo. After a few sixes, he sat deeper and found what he hoped would be a longer barrel for a better score. But by Padaratz's estimate, Hobgood was too deep to seriously consider coming out and went. The Brazilian vet got a decent score, but was given the interference and ultimately, his pink slip (for the fourth time, mind you) from the Tour.
Quiet Hawaiian Freddy Patachia wasn't so quiet today, posted the highest score thus far of the Billabong Pro for a deep tube followed by a turn that was as on-rail as it gets for a 9.57. The highest single score of the event went to rookie Adam Melling. Making up for a mental error, he nailed a 9.8 to advance.
Catch Billabong's live webcast here. Today's forecast is dicey, but if event directors decide to run, the finals could be today. Start time might be as early as 12:30 P.M. East Coast time and 9:30 in California.
BILLABONG PRO TAHITI REMAINING ROUND 2 RESULTS:
Heat 7: Jay Thompson (AUS) 14.50 def. Taylor Knox (USA) 7.77
Heat 8: Chris Davidson (AUS) 9.77 def. Drew Courtney (AUS) 8.60
Heat 9: C.J. Hobgood (USA) 15.50 def. Neco Padaratz (BRA) 7.00
Heat 10: Andy Irons (HAW) 15.06 def. Tanner Gudauskas (USA) 5.20
Heat 11: Adam Melling (AUS) 14.44 def. Mick Campbell (AUS) 14.40
Heat 12: Travis Logie (ZAF) 14.16 def. Kieren Perrow (AUS) 6.33
Heat 13: Patrick Gudauskas (USA) 12.20 def. Roy Powers (HAW) 10.74
Heat 14: Dean Morrsion (AUS) 17.23 def. Tom Whitaker (AUS) 15.10
Heat 15: Matt Wilkinson (AUS) 15.83 def. Kekoa Bacalso (HAW) 10.17
Heat 16: Dusty Payne (HAW) 12.77 def. Brett Simpson (USA) 11.93
BILLABONG PRO TAHITI REMAINING ROUND 3 RESULTS:
Heat 1: Dane Reynolds (USA) 18.00 def. Blake Thornton (AUS) 12.67
Heat 2: C.J. Hobgood (USA) 9.84 def. Luke Munro (AUS) 4.37
Heat 3: Tiago Pires (PRT) 16.03 def. Dean Morrison (AUS) 15.66
Heat 4: Adriano de Souza (BRA) 13.10 def. Joan Duru (FRA) 11.00
Heat 5: Owen Wright (AUS) 16.33 def. Jay Thompson (AUS) 2.17
Heat 6: Fredrick Patacchia (HAW) 18.50 def. Travis Logie (ZAF) 14.07
Heat 7: Jeremy Flores (FRA) 16.87 def. Luke Stedman (AUS) 5.07
Heat 8: Manoa Drollet (PYF) 15.10 def. Jordy Smith (ZAF) 12.36
Heat 9: Kelly Slater (USA) 15.73 def. Heiarii Williams (PYF) 15.64
Heat 10: Adam Melling (AUS) 17.83 def. Dusty Payne (HAW) 6.84
Heat 11: Adrian Buchan (AUS) 16.13 def. Nate Yeomans (USA) 15.77
Heat 12: Michel Bourez (PYF) 9.17 def. Ben Dunn (AUS) 4.50
BILLABONG PRO TAHITI REMAINING ROUND 3 MATCH-UPS:
Heat 13: Mick Fanning (AUS) vs. Tamaroa McComb (PYF)
Heat 14: Andy Irons (HAW) vs. Matt Wilkinson (AUS)
Heat 15: Damien Hobgood (USA) vs. Marco Polo (BRA)
Heat 16: Chris Davidson (AUS) vs. Patrick Gudauskas (USA)