Anyone who thinks professional surfing competitions lack drama need only tune in for the upcoming Billabong Pro Tahiti to have their minds changed. The fifth event of the 2010 ASP World Tour is the proverbial "End Of The Road" for 13 of the tour's traditional 45-man roster. After this event, it will be a 36-man tour, and crushed dreams will abound. It's also the first left-hand wave of the season, meaning the goofy foots are finally laughing. In addition, this is a consensus pick for one of the heaviest waves on the planet, and the forecast is formidable -- just ask the Von Zipper trialists who recently felt the wrath of the reef in their bids to make the big show.
Billabong Pro Tahiti Preview Gallery
onClick="window.open('http://espn.go.com/action/surfing/gallery?id=5458595','Popup','width=990,height=720,scrollbars=no,noresize'); return false;">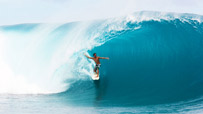 WIDTH="203" HEIGHT="114" BORDER="0" ALT="">
Photos from Teahupoo invariably look a little similar, but they never stop being awe-inspiring and a little terrifying. onClick="window.open('http://espn.go.com/action/surfing/gallery?id=5458595','Popup','width=990,height=720,scrollbars=no,noresize'); return false;"> Gallery

Surprisingly, this being the first left of the year does not seem to have impacted the tour's goofy-footers as much as one might have guessed. In fact, only two of the tour's goofy-footers (Mick Cambell and Nate Yeomans) have struggled. Ten of the 12 goofy-footers on tour sit inside the current top 32 -- the cutoff point for the mid-year adjustment -- and out of that, six are safe inside the top 15. All told, depending on how things go, we could see 12 goofy-footers ranking in the top 32, or 37.5 percent of the new field compared to the current 26 percent.
But when it comes to left or right foot forward, who really has the advantage at Teahupoo? "At 6- to 8-foot it's better on your backhand because you can put your whole backside into the wave, almost like a fin, and get your board more at an angle," explains former Teahupoo champ CJ Hobgood. "That cuts down the steepness or transition of the wave, allowing for more committed drops. Plus, the barrels are open enough that both backsiders and frontsiders can let go and start pumping."
But when the surf drops to a more manageable 3- to 4-foot the advantage shifts back to the goofy-footers. "Frontsiders have an advantage when it's more mid-sized," continues Hobgood. "They can sit further up the reef, get in the smaller barrels, and still be able to pump through them."
So, with the cutoff in mind, who's in and who's out? To be honest, it's a wide-open race. Considering that Marco Polo and Blake Thornton haven't won a heat this year but aren't mathematically eliminated, the scenarios are practically endless. But it's safe to say the rookie class has to do something special here if they're to carry on. Brett Simpson, Dusty Payne and Matty Wilkinson are all knotted at 24th in the world, and then there's Adam Melling sitting at 19th and Tanner Gudauskas sitting at 33rd. None of them have ever surfed a heat at Teahupoo. Historically speaking, that doesn't bode well for them.
Meanwhile, as Kelly Slater starts to really consider going for a 10th world title, he's entering familiar waters. In his career Slater holds three Teahupoo titles and a winning percentage of 81. He also is the proud owner of the record for the two highest heat scores at Teahupoo -- one being a perfect 20-point heat in 2005, the other a nearly perfect 19.93 score in '04. Meanwhile, this is Jordy Smith's first-ever event as the No. 1 ranked surfer in the world. He's proven he can handle pressure well. Slater's proven he can never be counted out.
As they say at the fights in Vegas, "Lets get it on."
2010 Billabong Pro Tahiti Event Rankings
A Surfers Ratings Explained:
Add the sum of events surfed to the number of final 16 heats surfed. Divide that number by the surfer's average event result. Then add bonus points for heats surfed in the final 16 (1st = 1.0, 2nd = 0.5, 3rd = 0.25, 5th = 0.1).
SAMPLE: Kelly Slater
(9 events + 13 finals = 22)
(22 / 7.67 ave result = 2.868)
(2.868 + 3.50 bonus points = 6.370)
2010 Billabong Pro Tahiti Rookies (Current ASP Rank):
Jadson Andre (9)
Owen Wright (11)
Adam Melling (19)
Dusty Payne (24)
Mat Wilkinson (24)
Brett Simpson (24)
Tanner Gudauskas (33)
Nathan Yeomans (40)
Blake Thorton (44)
Marco Polo (44)