2010 Hurley Pro Day 1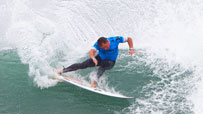 WIDTH="203" HEIGHT="114" BORDER="0" ALT="">
With perfect three- to four-foot A-frame peaks on offer, Lower Trestles didn't disappoint for Day One of the Hurley Pro ... and neither did the surfers. Gallery »
Of all the ways to start a Sunday morning, the dawn of today's Sabbath was a bit different than most. Had I known who was going to come and sit in front of me I may have thought twice about asking for extra bacon on my breakfast burrito, and I certainly would have been more strategic about my application of Tapatillo hot sauce, but how could I have known Pamela Anderson would stroll up and sit down? Yes, that Pamela Anderson -- star of "Borat." I guess you never quite know what to expect when the contest is in town, but Pamela on site at 8:30? Apparently she was just getting there early to get a good seat for Jimmy Slade's heat. Being a good husband, I sent a text to my loving wife telling her about my proximity to Pamela. Her reply: "How do her b---- look?" Bless her heart.
Moving on, the main talking point of the day was the surf. Crisp, clean and absolutely punishable, it was classic four-foot Lowers. And the performances followed accordingly. With the exception of Dane Reynolds stumbling against Chris Davidson, the heavy-hitters came out swinging. World title hunters Mick Fanning, Taj Burrow, Jordy Smith and Kelly Slater all breezed through their heats.
Caught up in the spirit of it all Jordy's mom brought her vuvuzela over from Durban to cheer on the South African contingent. But rightly worried about the annoying instruments reception, she hardly mustered up the courage to give it more than a hoot or two during Travis Logie's heat ... which may or may not be why Logie failed to get past Fanning and Taylor Knox.
Amidst the Hollywood weirdness and world title frenzy, for a moment let us talk about Mr. Andy Irons. Continuing on with his winning ways, the three-time world champ was downright filthy today. The talk going into the contest was that Lowers would be a real test for him; that his ability to perform in waves of consequence at a place like Teahupoo was one thing, but his ability to stay interested in the small stuff was the real issue. And to be honest, since his win here in 2000 and his semifinal result at the Nike 6.0 Lowers Pro earlier this season, his record at the cobblestone point has been average at best. Lord knows more than one board has been sacrificed at his hands after hard-to-take heat losses.
But that was the old Irons. This is the new Irons. Right? With each event this year his surfing has progressively improved and grown sharper -- accented today by a powerful 8.87 during his Round 1 heat. Plus, he seems to be enjoying himself for the first time in a long time. He was still down at the contest hours after his heat, joking in the athlete area with a hobbled Joel Parkinson. Combine his steady improvement with the fact that his wife is due with their first child this December, and today we were looking at a new man. Don't call it a comeback yet, but he's worlds away from where he was, and that's a very good thing for world tour surfing.
And as for the new format? We'll see what kind of confusion comes up when we get to Rounds 4 and 5, but for today, I didn't have to sit through any Drew Courtney heats ... which is nice.
By day's end the contest had finished all of Round 1 and nearly half of Round 2. The only major upset thus far would have to be Bobby Martinez falling to Gabe Kling -- who, being the diehard fan that he is, spent most his afternoon watching the Jacksonville Jaguar game on his computer. It's touch and go as to whether or not things will run tomorrow. There are two and a half days of competition left and the swell forecast for the end of the waiting period is looking pretty good, so the smart money is on the boys not surfing again until Thursday or Friday ... but I've been wrong before.
HURLEY PRO TRESTLES ROUND 1 RESULTS:
Heat 1:Chris Davidson (AUS) 13.33, Dane Reynolds (USA) 12.94, Luke Munro (AUS) 10.33
Heat 2:Adriano de Souza (BRA) 14.50, Adam Melling (AUS) 14.46, Brett Simpson (USA) 13.83
Heat 3:Mick Fanning (AUS) 14.40, Taylor Knox (USA) 13.30, Travis Logie (ZAF) 13.04
Heat 4:Taj Burrow (AUS) 16.10, Gabe Kling (USA) 12.67, Patrick Gudauskas (USA) 11.70
Heat 5:Jordy Smith (ZAF) 15.16, Rob Machado (USA) 11.47, Kai Otton (AUS) 9.67
Heat 6:Kelly Slater (USA) 13.27, Luke Stedman (AUS) 10.10, Kolohe Andino (USA) 8.43
Heat 7:Matt Wilkinson (AUS) 13.50, Bede Durbidge (AUS) 13.26, Jeremy Flores (FRA) 12.93
Heat 8:Michel Bourez (PYF) 16.24, Daniel Ross (AUS) 15.23, Bobby Martinez (USA) 13.33
Heat 9:Jadson Andre (BRA) 17.03, C.J. Hobgood (USA) 11.46, Dusty Payne (HAW) 8.10
Heat 10:Andy Irons (HAW) 15.04, Tiago Pires (PRT) 12.57, Tom Whitaker (AUS) 5.23
Heat 11:Adrian Buchan (AUS) 14.47, Owen Wright (AUS) 13.66, Roy Powers (HAW) 8.50
Heat 12:Damien Hobgood (USA) 12.93, Kieren Perrow (AUS) 12.67, Fredrick Patacchia (HAW) 11.26
HURLEY PRO TRESTLES ROUND 2 RESULTS:
Heat 1:Dane Reynolds (USA) 17.70 def. Kolohe Andino (USA) 11.10
Heat 2:Bede Durbidge (AUS) 12.33 def. Rob Machado (USA) 10.77
Heat 3:Gabe Kling (USA) 12.17 def. Bobby Martinez (USA) 11.44
Heat 4:C.J. Hobgood (USA) 12.16 def. Travis Logie (ZAF) 9.93
Heat 5:Brett Simpson (USA) 10.93 def. Fredrick Patacchia (HAW) 10.77
HURLEY PRO TRESTLES REMAINING ROUND 2 MATCH-UPS:
Heat 6:Owen Wright (AUS) vs. Luke Munro
Heat 7:Tiago Pires (PRT) vs. Daniel Ross (AUS)
Heat 8:Jeremy Flores (FRA) vs. Dusty Payne (HAW)
Heat 9:Adam Melling (AUS) vs. Tom Whitaker (AUS)
Heat 10:Taylor Knox (USA) vs. Roy Powers (HAW)
Heat 11:Patrick Gudauskas (USA) vs. Kieren Perrow (AUS)
Heat 12:Kai Otton (AUS) vs. Luke Stedman (AUS)