2010 Hurley Pro Day 2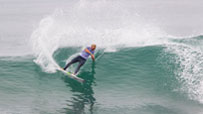 WIDTH="203" HEIGHT="114" BORDER="0" ALT="">
Swell and performances start to rise as a quick Day 2 started and finished at the Hurley Pro. Here's the shots in case you missed it. Gallery »
As posed by Jon Coen this morning, could Belmar blow doors on Lowers? Could that whirling bastard Igor turn the surf spotlight 180 degrees east?
Sure. It could. Stranger things have emerged from over there. Look at "Jersey Shore." But in this case it's not likely.
Round 2 may have been slow this morning (and that's being generous considering they had to restart the Taylor Knox/Roy Powers heat twice), but the arrival of fresh southern hemi swell often starts as a slow, painful trickle. And while Igor may prove to be a wham-bam-thank-you-mam affair, the long period, long interval ground swell that's filling in at Lowers as I type this will serve as a dramatic backdrop for what's setting up to be a pretty remarkable world title race.
Lowers is one of the most predictable spots to forecast, and considering the amount of humans claiming the impending swell, you can pretty much be guaranteed the surf's going to be there. As of their 5:00pm forecast yesterday afternoon, Surfline's calling for four- to six-foot surf with plus sets on Saturday. And the conditions? Clean with maybe a hint of west wind for the afternoons. In other words, pretty much perfect.
And now, with the remaining six heats of Round 2 dusted today before noon, there are some brilliant match-ups to look forward to in Round 3. Reliving the U.S. Open final, Jordy Smith is set to square off against Brett Simpson, only this time there's world title implications. In a goofy-vs-goofy duel Damien Hobgood goes up against Jadson "Check out my air reverse" Andre, and showcasing the finest in rail-to-rail power surfing, Taylor Knox has drawn Bede Durbidge. But what might be one of the best of all is the scrap between surfing animals Andy Irons and Chris Davidson. Talk about two guys who wear their hearts on their sleeves, that's just a straight up war right there.
"I think we're all ready to do this thing," said Mick Fanning today, who as one of the surfer's reps helped make the call to postpone things until the swell filled in further. "It looks like the waves could be really solid, so now it's just a matter of waiting for them. I think it's going to be good."
Things should get underway promptly at 8:00am tomorrow. Fanning and Dusty Payne are first in the water, so make sure to set you're alarm. And if you're heading down to the contest, leave early, parking's a bear.
HURLEY PRO TRESTLES REMAINING ROUND 2 RESULTS:
Heat 6: Owen Wright (AUS) 11.00 def. Luke Munro 10.60
Heat 7: Tiago Pires (PRT) 12.16 def. Daniel Ross (AUS) 9.26
Heat 8: Dusty Payne (HAW) 13.50 def. Jeremy Flores (FRA) 12.00
Heat 9: Adam Melling (AUS) 12.40 def. Tom Whitaker (AUS) 6.34
Heat 10: Taylor Knox (USA) 14.50 def. Roy Powers (HAW) 7.83
Heat 11: Kieren Perrow (AUS) 13.60 def. Patrick Gudauskas (USA) 9.17
Heat 12: Luke Stedman (AUS) 12.70 def. Kai Otton (AUS) 11.60
HURLEY PRO TRESTLES ROUND 3 MATCH-UPS:
Heat 1: Mick Fanning (AUS) vs. Dusty Payne (HAW)
Heat 2: Andy Irons (HAW) vs. Chris Davidson (AUS)
Heat 3: Adriano de Souza (BRA) vs. Kieren Perrow (AUS)
Heat 4: C.J. Hobgood (USA) vs. Adam Melling (AUS)
Heat 5: Owen Wright (AUS) vs. Tiago Pires (PRT)
Heat 6: Kelly Slater (USA) vs. Gabe Kling (USA)
Heat 7: Jordy Smith (ZAF) vs. Brett Simpson (USA)
Heat 8: Damien Hobgood (USA) vs. Jadson Andre (BRA)
Heat 9: Bede Durbidge (AUS) vs. Taylor Knox (USA)
Heat 10: Dane Reynolds (USA) vs. Luke Stedman (AUS)
Heat 11: Adrian Buchan (AUS) vs. Michel Bourez (PYF)
Heat 12: Taj Burrow (AUS) vs. Matt Wilkinson (AUS)