The best thing to come from the Billabong Pro Tahiti, save the resurrection of Andy Irons, was the thickening of the world title plot. And while Kelly Slater may not have been able to best Irons in the battle for Teahupoo, he may well be on his way to winning the war for a record tenth world title. And where else should it happen but Lower Trestles.
2010 Hurley Pro Preview
onClick="window.open('http://espn.go.com/action/surfing/gallery?id=5551916','Popup','width=990,height=720,scrollbars=no,noresize'); return false;">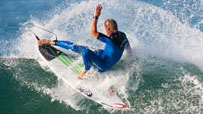 WIDTH="203" HEIGHT="114" BORDER="0" ALT="">
As the 2010 ASP World Title race tightens, here's a few humans to keep an eye on as the action heats up at Lowers. onClick="window.open('http://espn.go.com/action/surfing/gallery?id=5551916','Popup','width=990,height=720,scrollbars=no,noresize'); return false;">Gallery »
Plainly put, Slater owns Lowers. Not only was it the site of his breakout win at the 1991 Body Glove Surfbout, but in the nine years since the San Clemente pointbreak has been on the Dream Tour calendar he's never missed an event. From 2004-2008 he never even missed a final. He owns three titles and a win ratio of 85 percent. He also holds the record for the highest heat score at Trestles. Need we say more?
And then there's the contender, Jordy Smith. The argument could be made that since moving to Newport he's spent a lot more time out at Lowers. To that we say Slater's girlfriend is a San Clemente native, and when the champ's not out surfing, he can be found playing rounds of golf on the muni with her old man, so yeah, he knows the ins and outs of town. Breaking down his World Tour showing at Lowers, Smith won two heats in both his first two starts, then last season lost his Rounds 1 and 2 heats by a combined total of 1.06 pts to finish 33rd.
Advantage Slater.
New ASP World Tour Format:
But Slater and Smith are hardly the only two in the hunt. Halfway through the season Taj Burrow, Dane Reynolds, Mick Fanning and even Andy Irons are still very much in this thing if they can get some momentum going. And to make it all just a little more interesting we're looking at a slightly upgraded format, and a forecast that's looking a little more then promising.
Based on gossip and forecast models, expect Round 1 to commence on Sunday, Sept. 19 in moderate conditions, then come Sept. 16-18 a proper southern hemisphere swell shows up and we could be looking at some highly contestable conditions. Put it this way, when the guys at Surfline start getting excited about the impending show, you know it's going to be good.
Format wise, welcome to the era of the "Dane heat." Technically it's Round Four, which is a three-man heat in which the winner goes directly into the quarters and the two losers go into Round 5. The idea here being that this adds another level of elimination, so even if your favorite surfer loses you have multiple opportunities to watch them surf. And the boys on tour have dubbed it the "Dane heat" because there's not a lot to lose and guys will be surfing like Dane Reynolds most of the time: going for "two's or ten's."
It's the first event since the World Tour field was cut down from 45 to 34. Change has been implemented. Welcome to the Greatest Show in Surf 2.0.
2010 Hurley Pro Event Rankings
A Surfers Ratings Explained:
Add the sum of events surfed to the number of final 16 heats surfed. Divide that number by the surfer's average event result. Then add bonus points for heats surfed in the final 16 (1st = 1.0, 2nd = 0.5, 3rd = 0.25, 5th = 0.1).
SAMPLE: Kelly Slater
(9 events + 13 finals = 22)
(22 / 7.67 ave result = 2.868)
(2.868 + 3.50 bonus points = 6.370)
2010 Billabong Pro Tahiti Rookies (Current ASP Rank):
Owen Wright (10)
Jadson Andre (12)
Adam Melling (20)
Patrick Gudauskas (22)
Dusty Payne (24)
Mat Wilkinson (24)