"What does Michel Bourez mean to Tahiti?" replied Raimana Van Bastolaer when I posed the question. "Oh, you know brother, he's the guy out there on the front lines, representing Tahiti against the world's best surfers. He's a hero."
Being the ambassador to Tahiti that he is, Bastolaer's words have resonance. Bourez is the first Tahitian surfer to contend on the World Tour since Vetea "Poto" David nearly 20 years ago, which has his native country -- where life literally takes place on the water -- excited.
"The Spartan" Gallery
onClick="window.open('http://www.espn.com/action/surfing/gallery?id=5001830','Popup','width=990,height=720,scrollbars=no,noresize'); return false;">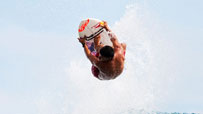 WIDTH="203" HEIGHT="114" BORDER="0" ALT="The Spartan">
A few thousand words worth of Tahiti's favorite native son: onClick="window.open('http://www.espn.com/action/surfing/gallery?id=5001830','Popup','width=990,height=720,scrollbars=no,noresize'); return false;">Gallery »
"I don't really think about it," Bourez confessed. "I just focus on doing as good as I can because at the end of the day if I get a good result everyone in Tahiti will be happy. I just focus on the task at hand."
Raised in the coastal community of Taohotu, a quiet corner of Tahiti somewhat removed from the madness of the island's most famous wave, Teahupoo, Bourez emerged seemingly out of nowhere. Three years ago he was granted a wild card in to the Quiksilver Pro France, where he promptly went out and beat Kelly Slater -- postponing the arrival of Slater's ninth world title. But flukes happen in surf contests, and one heat win over the champ does not a career make. So, when he was granted another wild card to the same event in 2008, he made another statement by beating Bede Durbidge and Joel Parkinson in back-to-back heats. Over the course of one year he had defeated three out of the top five surfers in the world. That's no fluke.
In 2008, Bourez was selected to be part of Red Bull Rising, a program designed to help aspiring up-and-comers graduate to the World Tour.
Bourez's Tour Perspective
"I could tell from the first time I saw him surf how much potential there was," explained Rising coach Andy King, who's helped usher Bourez along. "He's so powerful in the water, and so focused on doing what he needs to do to succeed. He's asserting himself as one of the best surfers in the world."
In '08 he went on to win the first stop of the Vans Triple Crown, the Reef Hawaiian Pro in near-flawless Haleiwa, thus locking in a spot for himself on the '09 Dream Tour. And while his freshman results weren't anything to write home about, he did well enough to re-qualify and live to fight another season.
"Going into my second year on tour makes a big difference, because in my mind I now have a better understanding of how the tour works," Bourez explained. "Last year I made a lot of mistakes, but I've learned from those mistakes so this time around I know what to do and I can be more successful."
One thing that can confound tour rookies is their equipment. Fellow rookie Jordy Smith struggled with it mightily his first year on tour, causing many an unfavorable result. But hoping to alleviate this issue, during the offseason Bourez signed on with Firewire, the same company that's building Taj Burrow's boards. "One thing I've been working a lot on is my boards," he explained. "I've definitely learned that having the right board at the right time is very important to surf your best in the changing conditions around the world."
Bourez is known as "The Spartan" because of his warrior-like instincts in the water, although his chiseled physique is Spartan-esque in its own right. Logically, elevating his fitness level is another big component of Bourez's preparation this year. Taking a page out of the Mick Fanning playbook, when the waves aren't up to par he's been logging serious time with the trainer, strengthening the core, adding even more power to his already powerful attack. "Surfers are starting to realize that if you want to get to that other level you have to put in the extra work," remarked Red Bull's Andy Walshe, who's been tailoring a workout program specific to Bourez's needs.
But besides all the success and the performance-enhancing programs, Bourez hasn't strayed far from his roots. Deep down he's still an island kid, one who's thoroughly enjoying every minute of this ride. "Everything is amazing, I am living my dream," Bourez said. "After the Pipe Masters in December, I went straight back home with my girlfriend to enjoy the offseason with all the people I love. I just relaxed, cruised with my brothers and enjoyed the Tahitian life. The waves were pumping, so I surfed a lot with my friends and played poker when it was flat."
All things considered, Bourez lives a charmed life, "leading the charge for Tahiti," as Bastolaer would say.