When dawn broke on Thursday, Jan. 20, hundreds of spectators had already gathered along 300-foot cliffs on the north shore of Maui. Days earlier, a major storm in the Pacific had triggered a forecast calling for mammoth swells headed toward Hawaii. Surfers from around the world raced to arrive first, making their way to the offshore reef at Jaws, where when the waves are right, teams using Jet Skis take turns towing each other past walls of water.
The New Jaws Lineup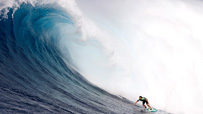 WIDTH="203" HEIGHT="114" BORDER="0" ALT="">
A look at the surfers who are bringing the average age of the Jaws lineup down. Gallery

As the day wore on, the crowds on the cliffs watched a scene with approximately 20 Jet Skis, three helicopters, several boats with film crews in the channel, and a guy attempting to catch 30-foot waves on water skis. A half-dozen skinny teenagers had ditched school to be there, too, ripping on some of the biggest surf of the day. They included 16-year-old Tyler Larronde; Joao Marco Maffini, 15; and the youngest, a 4-foot-10, 100-pound eighth-grader named Chaz Kinoshita.
For two decades, Jaws, also known as Pe'ahi, has been a destination where grown men prove their mettle and make their reputation in the perilous surf. But during the stormy El Niño winter season of 2009-10, the iconic spot became a playground for a group of local groms, too. Naturally, their presence spurred debate about safety, preparation and the appropriate age to ride massive waves. Yet veteran surfers studying their moves acknowledge that with another winter swell season underway, this group is part of a new generation that, with more experience, will redefine big-wave performance.
"[They] are killing it, man," said Pete Cabrinha, who surfed a 70-foot tower of green water at Jaws into the Guinness Record Book in 2004, about the performances of some of the older teens last season. "I've seen some really solid barrel rides already. Where some of the established guys duck and weave around those, these guys are pulling in."
In the early 1990s Cabrinha joined a seasoned group of mostly Maui-based watermen in pioneering tow surfing at Jaws, riding waves 50 feet and larger that moved too fast to be caught by conventional paddling. In teams of two, a driver on a Jet Ski towed his partner at speeds up to 30 mph, whipping him into looming crests, and rescuing him following a wipeout. Foot straps kept the surfers fixed to their boards in the rough conditions. Led by Laird Hamilton, a 6-foot-3, square-jawed alpha figure, they rode larger, more dangerous waves, deeper than anyone ever had before. In the most rarefied ranks of surfing, they were sort of like the special operations forces.
src="http://assets.espn.go.com/i/story/design07/dropQuote.gif" />
They'll position themselves to put it all on the line. Their first few waves, their first couple of swells, were so much more significant than our first few waves and our first couple of swells.
src="http://assets.espn.go.com/i/story/design07/dropQuoteEnd.gif" />
--Dave Kalama
But by the time Cabrinha rode his record wave, Jaws had become a battleground on big days. And members of the old guard -- now middle-aged and weary of fighting crowds of wannabes -- mostly moved into new life phases (Cabrinha prefers kite surfing and Hamilton moved from Maui to Kauai with his wife and kids). In the meantime, supersize swells were scarce as Mother Nature failed to deliver for four seasons, beginning in 2005.
All of which provided entrée for a group of local kids to practice their Jet Ski and surfing skills, so that when the seas awakened again last winter, they were ready to strut their stuff.
"They want to push it," says Dave Kalama, 46, Hamilton's longtime tow partner. "They'll position themselves to put it all on the line. So in that sense, they are very aggressive. Their first few waves, their first couple swells, were so much more significant than our first few waves and our first couple swells. Their jumping off point is a lot further up the mountain."
But some wonder whether the youngest, often towed into waves by their fathers, are ready.
Tyler Larronde, a junior surfing champion from Maui, rides with his dad, Michel. After learning to surf on France's storm-whipped Bay of Biscay, Michel fetched up on Maui 25 years ago and began towing at Jaws during the formative days, before anyone used life vests.
Michel Larronde has come under criticism for towing Tyler at Jaws. A debate on French-language SurfSessions.com centered on how it's irresponsible for parents to permit groms to attempt outsize surf. "Michel is crazy to take his son to Jaws, blah, blah, blah," he says about his critics.
"He's got it in the blood," Michel explains in his Basque accent. "He goes big. He fades big, and he gets barrels. I never knew he would have the guts or the desire to go out there so early."
A renowned board shaper and mentor for much of Maui's young talent over the years, Matt Kinoshita began towing his son Chaz, a local boys surfing champion on Maui, and his friend Joao Marco Maffini last winter. Chaz Kinoshita was 13 and Maffini was 14.
"Surfing Jaws is totally Chaz's idea," says Kinoshita who has been riding there for two decades. "I would never push someone to go out there. In fact, it is so dangerous I would rather not take people out there at all."
Seasoned surfers marvel that no one has died yet.
"These kids coming up, while a lot of them are pretty serious and have good guidance from their parents, it's just the nature of the numbers that someone is going to make a mistake," says Kalama, who attributes the fact no one has drowned to the life vests all the tow surfers now wear.
Still, even with flotation, the worst can happen.
"That wave can definitely end a life real fast," says Billy Kemper, 20, a local who last season launched a professional surfing career with a hair-raising barrel ride in 50-foot surf in which he barely escaped a bone-crushing wipeout.
Matt Kinoshita agrees. "It's lucky that no one has died yet," he says. "It's going to happen."
But Kinoshita is determined that it won't happen on his watch. A firefighter, he brings his first-aid kit out on his Jet Ski and positions Chaz and Moffini on less critical parts of the wave to lessen the chance that they'll be crunched by the cascading lip. So far Kinoshita has a track record of safely developing talent: He began towing Ian Walsh when he was 15 years old. Now 27, Walsh is one of the undisputed top dogs during a major swell.
Likewise, Kalama and Hamilton teamed up to take a 17-year-old Maui kid named Kai Lenny out to Jaws in 2009. Kalama is a longtime friend of Lenny's family and has mentored the talented young waterman in windsurfing, stand up paddling, and tow surfing.
"Personally, I'd take Kai out there over 98 percent of the people out there any day because I know how much work he puts in to be physically prepared to handle anything," he says.
Still, even the most experienced have suffered close calls.
In December 2009, some of the biggest swells in history rolled through Jaws. A German named Sebastian Steudtner rode a 66-foot face (the largest of the year, according to the Billabong XXL Awards) and the following day featured a harrowing hold-down when a veteran surfer named Jason Polakow fell on a massive wave. Sucked over the falls, the wave's violent energy plunged him deep. Three waves and nearly a minute passed before Polakow finally bobbed to the surface.
In an interview, he described a sense that, deprived of oxygen, his brain had begun shutting down underwater.
"I'm so lucky to be here," he says, his voice cracking with emotion.
Matt Meola and the rest of the Maui surfing community knew what had happened to Polakow. A wiry wizard in small surf, Meola, 21, grew up in Haiku, a sleepy town of old pineapple canneries, watching the gargantuan waves and the men who rode them.
When his friends, including Kemper, Albee Layer and Marlon Lewis, began towing at Jaws several years ago, Meola joined them. "I wasn't going to watch my friends have fun without me," he says.
With a combination of courage and small-wave sensibilities, Meola and his teenage mates became the vanguard of the new generation last year. For some of them, their first big swell arrived on Christmas morning, 2009, an episode that sums up the recent progression and peril at Jaws.
Like last week, dozens of Jet Skis and boats lined the channel and a helicopter whirred overhead as 50-foot surf marched into the impact zone, sending up great plumes of mist.
"The minute we pulled up, we see one of the worst wipeouts in history -- ever," recalls Kemper. "It was one of our idols that we look up to in big waves, which is Greg Long."
A 27-year-old from San Clemente, Calif., Long is one of the all-time best big-wave riders (weeks earlier he had won the prestigious Quiksilver in Memory of Eddie Aikau big wave contest on Oahu). At Jaws, zipping down the face of a towering wave, Long suddenly fell face-first and was sucked into the curl.
"You could see him," Kemper says. "It was like slow-motion. We all kind of looked at each other, like, 'Holy s---!' Seeing that on the first wave of the day, I thought there was a good chance he could have died on that wave, and I was just like, 'Whoa!'"
On his first wave Lewis fell and was pummeled, too. His board shot to shore where it was dashed against the rocks, ending his day. Meola demonstrated his small wave skills, doodling lines on the foam-streaked faces.
Layer tucked deep into a 40-footer before emerging triumphant. Kemper answered with a yawning barrel, disappearing for a few beats behind the veil before blasting free, kicking out, and pointing at the heavens in a tribute to his deceased brother, Eric.
As the morning wound down, Kemper gambled. Fading deep, the wave thundered onto his back, tossing him like loose change in a washing machine. "I felt like my limbs were going to get ripped off," he says.
Coughing up seawater and blood, his head throbbing a jungle rhythm, Kemper and his friends motored back to Maliko Gulch, where they had launched their Jet Skis that morning. Meola phoned his mother to say he'd returned safely.
Nancy Meola had been watching from the cliffs, where she phoned a report to a friend, who happened to be Tyler Larronde's mother. With news that Meola had been out, Tyler wanted his first share of towering waves, too. By early afternoon, with the swell fading, he and his father were making their way from Maliko Gulch to the launch zone.
"It's like lemmings jumping off the cliff," Kalama says. "As soon as one goes, the whole bunch goes. As soon as you get one young guy out there, it's like, 'All right, it's OK, young guys can go.'"
"They honestly believe," Kalama continues, "and for good reason, 'If he can do it, I can do it. And not only can I do it, I can do it better.'"
So far this season, Larronde, Lewis, Moffini and Kinoshita have ridden some of the largest waves of the season at Jaws, all on Nov. 2. Shots of each of them are early entries for the Billabong XXL Biggest Wave Award.
But the mid-January swell was largely a bust. The waves were coming from the wrong direction and wakes from Jet Skis in the channel made a mess of their faces.
"It was definitely the most crowded I've seen it," Tyler Larronde says. "There was a helicopter. You couldn't even hear. I was getting frustrated."
For the moment, there are no more monumental swells forecast. But even on smaller days the next generation will be out at Jaws. Layer has begun experimenting with aerials. Many of the youngsters find inspiration testing the upper limits for paddling into large waves. And when another superlative swell rises on the horizon, bringing all the possibilities for peril and a sublime ride, the next generation will be waiting.
"By the time they're 20-something, they've already got more experience than anybody," Matt Kinoshita says. "We're out at Jaws every single swell."
Erik Aeder contributed reporting from Maui.