2010 Quiksilver Pro France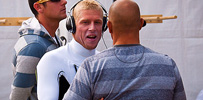 WIDTH="203" HEIGHT="114" BORDER="0" ALT="">
Mick Fanning wins his second Quik Pro France title in a row over Kelly Slater, leading in to a crucial world title race for the end of the season. As he said himself, "Game On." Gallery »
European life is about siestas, the leisurely break between long lunches and late dinners. The Quiksilver Pro France lived up to it's European reputation when they got under way today at 3 p.m., finishing up as the sun sunk into the ocean around 8 p.m.
Who's ever heard of a surfing contest starting at 3? I've been to some Spanish events that don't start till around midday, but 3 p.m. seemed to be pushing it. In reality, the late start didn't have anything to do with the Euro lifestyle, more about Mother Nature, winds and the radical tidal swings.
The new west swell was showing at 8 a.m. this morning, but the winds were wrong and the tide too high. Both improved as the day progressed and a few contest calls later, it was on.
27-year-old Luke Monro, of Currumbin, Australia, decided he's more of an afternoon competitor. Against Andy Irons, (three time world champ and three time Quik Pro France winner) he pulled into a throbbing green barrel and threaded his way across the bank for a 9.87. He backed it up with a 7 to beat Irons 16.97 to 11.
"I felt pretty comfortable out there from get go," Munro said. "It's sort of like home at Straddy (Stradbroke Island) so my plan was to go out and get a lot of waves. I think on my 9.87 I got a little greedy. I probably could have hung in there a second longer, but I wanted to make sure I could get out too."
"The guys in the early heats got all the good waves," said Kieren Perrow after surviving his heat against Luke Stedman, "It was heavy out there, I creased my board on a big floater. I was so lucky it didn't break and I was able to ride it out. It was my best score and I wouldn't have got it if the board had snapped."
Perrow was in the second to last heat of the day that ran after 6 p.m.
Conditions deteriorated as the sun fell. Matt Willonson nearly broke himself, chasing Jadson Andre's aerial performance.
Dusty Payne, who was still in pain after pulling a muscle during yesterday's free surf, and Chris Davidson had been in the previous heat and were being swept all over the place by the rip and washing machine conditions.
"I thought I was going to be washed to Spain," laughed a relieved Davidson after winning the heat, "I thought I was going to end up with two one-point waves the way I was going. It was all over the place and I couldn't figure out where I was or what was happening. Dusty was the same, we were both being taken to Spain by the current."
This bank, "Culs Nus," is getting a reputation for more than nude sunbathers. On Sunday, guys were either getting eight point waves or two point waves. Today was the same story. If the west swell continues Lady Luck could decide the winner of this event.
The most highly anticipated Round Three heat is Kelly Slater vs. Julian Wilson. Slater is looking for a tenth world title and has the best record of anyone at the Quiksilver Pro France. Wilson took some time off competitive surfing and then was injured for part of 2010. While his film "Scratching the Surface" tours the world, showing his "next level" surfing, he's had some solid results this year. The only time the two have met, Wilson got the best of the match at the Gold Coast Pro in 2009.
Tomorrow (Friday) is shaping up as the best day in the remaining waiting period so it could be a long day, contrary to the Euro lifestyle -- no time for a lunch time siesta and we could be watching heats go down as the sun goes down into the ocean.
Salut.
QUIKSILVER PRO FRANCE REMAINING ROUND 2 RESULTS:
Heat 4: Damien Hobgood (USA) 11.17 def. Travis Logie (ZAF) 9.50
Heat 5: Luke Munro (AUS) 16.87 def. Andy Irons (HAW) 11.00
Heat 6: Daniel Ross (AUS) 10.77 def. Bobby Martinez (USA) 5.17
Heat 7: Tom Whitaker (AUS) 14.50 def. Tiago Pires (PRT) 8.10
Heat 8: Jadson Andre (BRA) 13.83 def. Matt Wilkinson (AUS) 5.67
Heat 9: Michel Bourez (PYF) 9.10 def. Roy Powers (HAW) 2.33
Heat 10: Chris Davidson (AUS) 8.00 def. Dusty Payne (HAW) 6.84
Heat 11: Kieren Perrow (AUS) 10.60 def. Luke Stedman (AUS) 7.47
Heat 12: Taylor Knox (USA) 11.67 def. Adam Melling (AUS) 10.03
QUIKSILVER PRO FRANCE ROUND 3 MATCH-UPS:
Heat 1: Taj Burrow (AUS) vs. Daniel Ross (AUS)
Heat 2: Damien Hobgood (USA) vs. Taylor Knox (USA)
Heat 3: Dane Reynolds (USA) vs. Brett Simpson (USA)
Heat 4: Owen Wright (AUS) vs. Patrick Gudauskas (USA)
Heat 5: Michel Bourez (PYF) vs. Chris Davidson (AUS)
Heat 6: Kelly Slater (USA) vs. Julian Wilson (AUS)
Heat 7: Jordy Smith (ZAF) vs. Gabe Kling (USA)
Heat 8: Jadson Andre (BRA) vs. Jeremy Flores (FRA)
Heat 9: Adrian Buchan (AUS) vs. Kai Otton (AUS)
Heat 10: C.J. Hobgood (USA) vs. Tom Whitaker (AUS)
Heat 11: Fredrick Patacchia (HAW) vs. Kieren Perrow (AUS)
Heat 12: Mick Fanning (AUS) vs. Luke Munro (AUS)