2010 Quiksilver Pro France Final Day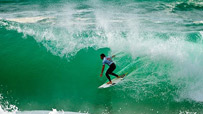 WIDTH="203" HEIGHT="114" BORDER="0" ALT="">
Mick Fanning just won his second Quik Pro France title in a row over Kelly Slater, leading in to a crucial world title race for the end of the season. As he said himself, "Game On." Gallery »
Today belonged to Mick Fanning and the incredible, or rather "incroyable'" surf. Fanning looked like a prize fighter getting ready for his final heats of the Quiksilver Pro France. All he needed was a big hooded robe to go with his routine. He was suited up, headphones firmly in place, and bouncing from foot to foot. This happened before each heat and nobody would go near him while he was in the "zone."
Kelly Slater broke the routine just before they both went to pick up their jerseys for the final. Mick looked a little surprised as they hugged and shook hands. Then Slater walked off as Mick gave him some parting words.
"Game on," was all he said with a wry smile.
A Quiksilver Pro France web commentator had walked into the competitors' area after the contest was all over saying, "We couldn't have written a better script."
The comment brought whimsical stares from Slater's entourage and somebody finally said, "Oh yes we could. Kelly could have won!"
The webcast guy hung his head and continued walking. Kelly has never won the Quiksilver Pro in France despite being in about five finals. There was a throwaway line dropped during the presentation that Kelly would have to come out of retirement to win next year's event. Maybe they know something we don't?
On the other hand, if the script had Mick Fanning, a.k.a. "White Lightning" winning back-to-back Quiksilver Pro's then yes, it had been written out and they'd got it all right.
I must admit, Mick's from my home town, so there is a big soft spot. But then, I shot Kelly's first WCT win here in Hossegor in 1992 and have documented his incredible career ever since.
This particular final is not one that anyone will soon forget. By the time Slater had ousted Brett Simpson with a perfect 10 and Fanning had brushed off Adian 'Ace' Buchan, conditions were simply harrowing -- huge drops to dramatic barrels, very few of which were makeable. Both the price of taking a lip on the head and the rewards were high.
Fanning had Slater in a precarious situation with several minutes to go when someone turned the drama dial all the way up. Fanning got molested by an errant set and dragged out of position. This gave Slater a chance to find a shallow barrel while Fanning was on the inside unable to get back out, even with jet-ski assistance. With Slater out the back, it was just the type of situation you never want to leave the nine-time world champ in.
Somehow, Fanning got back outside and immediately pitched himself into a tunnel of froth, coming out with an exited claim. Slater wasn't able to find another corner and fished with as bad a pounding on the scoreboard as Fanning had gotten from the rouge wave.
When I was talking to Fanning later, he explained, "Mate, I was just so stoked. I think it is the first event ever where I didn't care about the other guy. I just wanted to go and surf. I had a heat with Ace [Buchan] and I had an 8 and a 9, and I could have gone and sat on him but I went, 'stuff that.' I just want to get barreled. So that was my whole plan this contest. Every time I paddled out, wherever I thought I was going to get barreled is where I went. And I did. That's what happened in the final against Kelly. He went up the beach at the start, while I figured the best barrels were straight out in front. I got so flogged when I broke my leggie but those barrels were insane."
Jordy Smith watched most of the final. He knew that if Slater had won, his World Title hopes would vanish. But if Mick won, then the whole year would open up again. When Mick nailed his second bomb of the final and the result was without a doubt going Mick's way, Team Smith grabbed the seven boards that they'd brought to the event and left the beach. They plan to drive to Portugal tonight and start getting a feeling for the beach breaks around Peniche to get Jordy's world title tilt back on track.
Mick Fanning is a very happy man, very relaxed and focused, just like he was this time last year. Beware of the man they call White Lightning -- he's ready to strike again.

QUIKSILVER PRO FRANCE FINAL RESULTS:
1 Mick Fanning (AUS) 16.90 def. Kelly Slater (USA) 6.74
QUIKSILVER PRO FRANCE SEMIFINAL RESULTS:
SF 1: Kelly Slater (USA) 15.13 def. Brett Simpson (USA) 3.00
SF 2: Mick Fanning (AUS) 17.67 def. Adrian Buchan (AUS) 11.40
QUIKSILVER PRO FRANCE QUARTERFINAL RESULTS:
QF 1: Brett Simpson (USA) 14.67 def. Daniel Ross (AUS) 10.77
QF 2: Kelly Slater (USA) 17.43 def. Michel Bourez (PYF) 9.33
QF 3: Adrian Buchan (AUS) 16.93 def. Kieren Perrow (AUS) 4.27
QF 4: Mick Fanning (AUS) 14.00 def. Jordy Smith (ZAF) 8.76
CURRENT ASP WORLD TITLE RACE TOP 5 (After Quiksilver Pro France):
1. Kelly Slater (USA) 48,000 pts
2. Jordy Smith (ZAF) 40,750 pts
3. Mick Fanning (AUS) 39,500 pts
4. Taj Burrow (AUS) 32,250 pts
5. Dane Reynolds (USA) 32,000 pts