For all you ASP wonks out there, we present our first 2010 ASP World Tour preview by ESPN Surfing's own statistician, Mike Newman. He'll help you breakdown and understand the competitive landscape for each stop of the tour by compiling each surfer's competitive history at the venue, averaging their results, and ranking them, first through 45th. It's our hope that you find this info helpful, informative, and interesting. We also hope it helps you win a few bets with your friends. In any case, enjoy, and let us know what you think in the "Comments" section.
Quiksilver Pro Preview Gallery
onClick="window.open('http://espn.go.com/action/surfing/gallery?id=4936893','Popup','width=990,height=720,scrollbars=no,noresize'); return false;">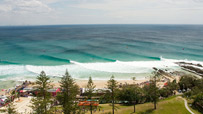 WIDTH="203" HEIGHT="114" BORDER="0" ALT="Quiksilver Pro Preview">
Not a number cruncher? Here's some pretty pictures instead: onClick="window.open('http://espn.go.com/action/surfing/gallery?id=4936893','Popup','width=990,height=720,scrollbars=no,noresize'); return false;">Gallery ».
2010 marks the ninth time the Quiksilver Pro on Australia's Gold Coast has been a stop on the World Tour. Over the years, there have been a total of 43 days contested, and the majority of them (27) have been at Snapper Rocks. Other venues that have hosted heats are Duranbah (8), Rainbow Bay (3), Burleigh Heads (2), and Kirra, Coolangatta Beach, and Greenmount (one day each). The venues are consistently rippable and rarely critical, which perhaps explains why this event is, on average, the highest scoring event on tour.
This year, 34 of the 45 surfers on tour have competed on the Gold Coast at the World Tour level. Based on the event ratings below, it's clear that 11 of the 34 have shared the biggest points over the years. The Australian contingent is led by Joel Parkinson and Mick Fanning, both of whom have won the event twice. Taj Burrow, Bede Durbridge, and Tom Whitaker have each taken major points here as well. For the visiting surfers, Kelly Slater has two wins, while Adriano De Souza, Andy Irons, Jordy Smith, Taylor Knox, and Jeremy Flores have all performed well here.
Australians have won the event six times, U.S. surfers twice, and all but one champion have been regular footed -- must have something to do with the long, drawn-out right walls on offer at each venue. The lone goofy foot champ, Mick Lowe (2004), is no longer on tour. Of the goofy footers competing this year, Adrian Buchan is highest rated at twelfth. He is followed by the Hobgood twins at fourteenth and fifteenth, and Bobby Martinez at seventeenth.
2010 Quiksilver Pro Australia Event Rankings
By counting up all the points a surfer has taken from a location and divide that number by the number of times a surfer has surfed at that location, this rates all surfers who have surfed at that location: a surfers "average event points."
Highest Combined Heat Scores at the Quiksilver Pro:
38.63: Mick Fanning 19.53 defeats Josh Kerr 19.10, Quarterfinal 2007
38.13: Bede Durbidge 19.40 defeats Kelly Slater 18.73, Semifinal 2007
38.07: Mick Fanning 19.60 defeats Taj Burrow 18.47, Quarterfinal 2003
37.59: Joel Parkinson 19.93 d Mick Fanning 17.66, Semifinal 2009
Highest Scores Posted at the Quiksilver Pro:
19.93: Joel Parkinson, Semi final 2009
19.83: Kelly Slater, Round 3, 2007
19.63: Andy Irons, Quarter Final, 2004
19.60: Mick Fanning, Quarter Final 2003
19.53: Mick Fanning Quarter Final 2007
19.50: Chris Ward, Round 2, 2005
Lowest Scores Posted at the Quiksilver Pro:
2.34: Tom Whitaker, Semifinal, 2004
3.90: Damien Hobgood, Round 3, 2007
4.37: Marcello Nunes, Round 3, 2004
4.37: C.J. Hobgood, Quarterfinal, 2009
4.43: Nathan Hedge, Round 1, 2003
4.83: Tom Whitaker, Round 2, 2003
4.83: Mick Lowe, Round 1, 2004
4.93: Aritz Aranburu, Round 1, 2009
5.00: Taylor Knox, Round 4, 2007
2010 Quiksilver Pro Australia Rookies:
Patrick Gudauskas (USA)
Jadson Andre (BRA)
Adam Melling (AUS)
Owen Wright (AUS)
Nathan Yeomans (USA)
Dusty Payne (HAW)
Brett Simpson (USA)
Matt Wilkinson (AUS)
Tanner Gudauskas (USA)
Marco Polo (BRA)
Blake Thornton (AUS)