For all you ASP wonks out there, we present our second 2010 ASP World Tour preview by ESPN Surfing's own statistician, Mike Newman. He'll help you break down and understand the competitive landscape for each stop of the tour by compiling each surfer's competitive history at the venue, averaging their results and ranking them first through 45th. It's our hope that you find this info helpful, informative and interesting. We also hope it helps you win a few bets with your friends. In any case, enjoy, and let us know what you think in the "Comments" section.
Rip Curl Pro Preview Gallery
onClick="window.open('http://espn.go.com/action/surfing/gallery?id=5025706','Popup','width=990,height=720,scrollbars=no,noresize'); return false;">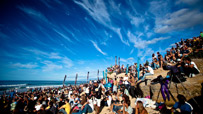 WIDTH="203" HEIGHT="114" BORDER="0" ALT="Rip Curl Pro Preview">
Not a number-cruncher? Here are some pretty pictures instead: onClick="window.open('http://espn.go.com/action/surfing/gallery?id=5025706','Popup','width=990,height=720,scrollbars=no,noresize'); return false;">Gallery »
The Rip Curl Pro, Bells Beach in Australia is the longest-running contest in surfing, dating back to 1962, and has been a stop on the World Tour since the tour's inception in 1976. The iconic bell trophy is among the most coveted in surfing, and among the most difficult to earn. The list of surfers who have failed is nearly as impressive as those who have won: Rabbit Bartholomew, Gary Elkerton, Hans Hedeman, Derek and Michael Ho, and more recently CJ Hobgood, Bobby Martinez and Bede Durbidge.
"It's about endurance, being strong," says veteran competitor and surf journalist Nick Carroll. "It's a cold, wet, raining location, and you have to surf in all conditions. It's exhausting, and only the mentally tough win at Bells."
As for the current favorites, the obvious Aussie contingent is very much in play. Joel Parkinson has two wins and two second-place finishes; Mick Fanning has one win and two third-place finishes, and Taj Burrow -- the form surfer of the early season so far -- has one win, one second-place finish and two thirds. And of course Kelly Slater, with three wins, is a threat. But interestingly, if Slater's not winning, he's not necessarily placing well at Bells. In 15 years at the event, his second-best result is a fifth (three times).
On paper, Andy Irons has the best Bells résumé in the field. He's won the event twice, finished second twice and third twice. He's made it to at least the quarterfinal in his past eight starts and has won 12 of 18 heats in the quarterfinal or beyond. Of course, Irons can't surf this event on paper, and his equal seventeenth last month on the Gold Coast proved that the sport has not stood still in his absence.
2010 Rip Curl Pro Australia Event Rankings
By counting up all the points a surfer has taken from a location and divide that number by the number of times a surfer has surfed at that location, this rates all surfers who have surfed at that location: a surfer's "average event points."
Highest Combined Heat Scores at the Rip Curl Pro:
38.60: Andy Irons 18.30 def Luke Egan 18.30, Round 4 2004
36.09: Andy Irons 18.96 def Cory Lopez 17.13, Semifinal 2005
35.76: Dane Reynolds 18.73 def C.J Hobgood 17.03, Round 3 2008
34.43: Trent Munro 18.70 def Bede Durbidge 15.73, Round 3 2005
Highest Scores Posted at the Rip Curl Pro:
19.50: Joel Parkinson, Semifinal 2004
19.00: Trent Munro, Quarterfinal 2005
18.96: Andy Irons Semifinal 2005
18.83: Mick Occhilupo, Round 3 2006
18.73: Dane Reynolds Round 2 2008
18.73: Dane Reynolds Round 3 2008
Lowest Scores Posted at the Rip Curl Pro:
2.43: Tom Whitaker Round 3 2006
2.60: Marcello Nunes Round 3 2006
2.80: Andy Irons Quarterfinal 2008
3.43: Bobby Martinez Round 3 2009
3.47: Tim Reyes Round 1 2008
4.00: Sunny Garcia Round 4 2003
4.17: Trent Munro Round 1 2007
4.46: Daniel Wills Round 1 2008
4.50: Bobby Martinez Semifinal 2008
2010 Rip Curl Pro Australia Rookies:
Jadson Andre (BRA)
Adam Melling (AUS)
Nathan Yeomans (USA)
Dusty Payne (HAW)
Brett Simpson (USA)
Tanner Gudauskas (USA)
Marco Polo (BRA)
Blake Thornton (AUS)