Preview
Day 1
Day 2
Day 3
Day 4
Day 5
Day 6
Day 7
Rip Curl Pro Portugal Final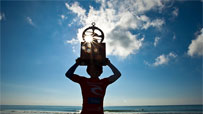 WIDTH="203" HEIGHT="114" BORDER="0" ALT="">
Kelly Slater and Jordy Smith slugged it out in an action-packed final day at the Rip Curl Pro. Here's a few of the more memorable moments.
Gallery

It was the dream final today at the Rip Curl Pro in Portugal as the two remaining world title contenders battled it out in consistent four-to five-foot Supertubos. Kelly Slater versus Jordy Smith. World title on the line. Hype beyond compare. In other words, a promoter's dream.
Slater pulled out the win, bringing him one step closer to ten world titles in the tenth month of the year 2010. The man loves to play numbers games, and he enjoys the synchronicity of this whole run he's had. Slater holds virtually every record in pro surfing, and over the past few years it's been all about new digits: number of contest wins, number of heat wins, number of conquered events that he hadn't previously won. Want more numbers? Today's Rip Curl Pro trophy was a stylized Portuguese navigator's compass, used by early sailors to navigate the seas with the help of vast numbers of stars. It seems even the symbolic numbers are falling into place for Slater.
Speaking of numbers, here's another strange fact about this year's 10th month: There are five Saturdays and five Sundays this October, and rumor has it that something like that will not to happen for 800-plus years. I told Slater about this oddity after the presentation. "Holy sh-t," he said. "No way. That adds up to ten days too."
While Slater does the numbers, Smith can still hold his head up high. The final was tight. Slater has been nervous all week while Smith told me yesterday that he wanted "tough heats" to keep the pressure on him. He got what he wished for, but not the result he wanted. He was pretty disappointed after it was all over. He sat for a long time listening to his coach and manager Garth Tarlow re-hash the strategy of the final.
But Smith can take some solace in knowing that while his career is just getting going, Slater's is coming to a close. "I have to try and keep up with these young guys," said Slater. "He's a great surfer and he's got it all ahead of him."
Praise from Slater was taken graciously, but there wasn't a lot of spark in Smith's eyes. Maybe he'll feel better when he gets some Portuguese food in him. In J-Bay he won eating Wimpy hamburgers, and here he's into the Pop Tarts. I wonder if there is a particular junk food in Puerto Rico that will appeal to his taste sensations? Smith could be dangerous if there is, but right now Slater is reaching for the stars.
RIP CURL PRO PORTUGAL MEN'S FINAL RESULTS:
1. Kelly Slater (USA) 13.33
2. Jordy Smith (ZAF) 11.43
RIP CURL PRO PORTUGAL MEN'S SEMIFINAL RESULTS:
SF 1: Kelly Slater (USA) 16.03 def. Chris Davidson (AUS) 12.20
SF 2: Jordy Smith (ZAF) 14.00 def. Jeremy Flores (FRA) 10.57
RIP CURL PRO PORTUGAL MEN'S QUARTERFINAL RESULTS:
QF 1: Chris Davidson (AUS) 9.50 def. Adrian Buchan (AUS) 7.50
QF 2: Kelly Slater (USA) 15.24 def. Damien Hobgood (USA) 12.56
QF 3: Jeremy Flores (FRA) 14.17 def. Owen Wright (AUS) 13.67
QF 4: Jordy Smith (ZAF) 13.70 def. Patrick Gudauskas (USA) 12.50
RIP CURL PRO PORTUGAL MEN'S ROUND 5 RESULTS:
Heat 1: Chris Davidson (AUS) 11.84 def. Michel Bourez (PYF) 9.94
Heat 2: Damien Hobgood (USA) 11.10 def. Matt Wilkinson (AUS) 10.83
Heat 3: Owen Wright (AUS) 13.40 def. Travis Logie (ZAF) 9.73
Heat 4: Patrick Gudauskas (USA) 15.00 def. Jadson Andre (BRA) 8.16