Rip Curl Pro Portugal Preview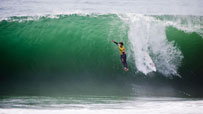 WIDTH="203" HEIGHT="114" BORDER="0" ALT="">
After Mick Fanning's win in France, we have a world title race on our hands. Here are a few of the players.
Gallery

Seeing as we've talked about the world title scenarios already this week, let's get right down to the facts about the inaugural Rip Curl Pro Portugal. Twenty four of the 35 listed Dream Tourists in 2010 have competed in Portugal previously, 11 others are first timers. The World Tour pulled through Portugal in 1989, '90, '96, '97, 2000, '02 and last year with the Rip Curl Search. The '02 contest was called off due to a lack of consistent swell, and 16 surfers were awarded equal ninth place -- it then took seven years for the Tour to return.
As far as this year's top contenders, Mick Fanning -- last year's event winner -- is keen to repeat his efforts and make a move up the ladder into contention. He may be too far back in the title race to be World Champ in 2010, but there are still a lot of points left on the board and a strong finish here increases the likelihood that the race will come down to Pipeline in November.
New Format Breakdown
Unfinished business is the theme for Owen Wright. Last year he put up the best wildcard performance of the season when he finished equal third. In an event that included a 10-point ride (in Round 3 heat against Dane Reynolds), he let the world know he would be on Tour soon enough and immediately be a threat, which he's proved this season. In a very closely fought win in his quarterfinal against Damien Hobgood he took a heavy wipeout and couldn't take his place in the semis ... unfinished business.
Taj Burrow was the runner-up here in 2000 when he lost to Rob Machado. He then received an equal ninth with 15 others in '02 when the event stalled and was canceled after Round 4. Last season he placed ninth after starting his losing heat with a 16.90 before falling to Damien Hobgood in a high scoring affair. I am backing him in.
And as for Kelly Slater, his record here is poor, but he's still Slater and I think he will look at his Portugal record and want to change things. A similar dynmaic exists for Andy Irons. His record here isn't good, but if it is big at Supertubos he will rule it. He missed this event last year, and I think he'll be looking to make up for that.
2010 Hurley Pro Event Rankings
A Surfers Ratings Explained:
Add the sum of events surfed to the number of final 16 heats surfed. Divide that number by the surfer's average event result. Then add bonus points for heats surfed in the final 16 (1st = 1.0, 2nd = 0.5, 3rd = 0.25, 5th = 0.1).
SAMPLE: Kelly Slater
(9 events + 13 finals = 22)
(22 / 7.67 ave result = 2.868)
(2.868 + 3.50 bonus points = 6.370)
2010 Billabong Pro Tahiti Rookies (Current ASP Rank):
Owen Wright (10)
Jadson Andre (12)
Adam Melling (20)
Patrick Gudauskas (22)
Dusty Payne (24)
Mat Wilkinson (24)