When the the curtain fell on the Movistar Peru Classic in June, Brazilian surfer Silvana Lima beat Aussie Sally Fitzgibbons for her first win on the ASP Women's World Tour. It was a breakout event for the 25-year-old and the third consecutive second-place finish for Fitzgibbons, who's proving in her second year on Tour that she's a serious title contender. But no title contender is more serious than three-time and reigning world champ, Stephanie Gilmore. The Australian missed making her fourth final in five tries by just .77 points, and her equal-third finish only served to solidify her lead atop the rankings.
Rip Curl Pro Women's Preview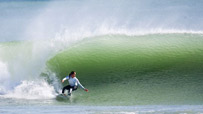 WIDTH="203" HEIGHT="114" BORDER="0" ALT="">
With so much time off on their hands, how did the top women on tour deal with the break? Gallery

And then ... silence. While the men knocked down events at J-Bay, Teahupoo, and Trestles, the women went into hibernation. When the curtain rises on the Rip Curl Pro Portugal on Wednesday, it will have been four months since the best women surfers in the world surfed a heat with world title implications. That's a lot of time to do ... well, what exactly? We talked to several of the tour's top competitors to find out how they spent their summer vacations.
"I do sessions with Jan Carton at CHEK training when I'm home," says Gilmore. "It's good to check in with Jan and see where I'm at with fitness. I mostly stretch and free surf though, its a pretty relaxed approach to the whole training thing."
Fitzgibbons, currently ranked second in the world, agrees that the time off is good for her training. She's been in her homeland of Australia enjoying her time in the water.
"The time off is also good," she says. "Having time to search for amazing waves and work on certain areas of my surfing in warm water is always so fun."
Like most of the girls, Coco Ho is often traveling the world for other projects and media appointments. Ho tried to use what free time she did have to prepare for Portugal.
"Having a break between events is always a good time for me to try new equipment and schedule out my next half of the year. It definitely doesn't feel like a break since I've been pretty non-stop," Ho said.
With things swinging back into action, Ho -- and everyone else on tour -- can get back to focusing on the world title race. Gilmore's currently about 500 points ahead of Fitzgibbons -- a healthy but by no means insurmountable lead.
"Steph is sitting at number one, so you would have to say her performance is pretty good so far this year," Fitzgibbons says. "Everyone is beatable and everyone has weaknesses but it is better to concentrate on one's strengths. For me I don't focus on my competitor, just on the task at hand and what waves I have in front of me."
No matter what the waves hold in Portugal -- and the beaches around the event site of Peniche can offer everything from mushy windswell to a heaving barrel called Supertubos that is favorably compared to Hawaii's Pipeline -- it will be nice to get back to talking about what the women of the World Tour are doing, as opposed to what they're not doing.