Preview
Day 1
Day 2
Day 3
Day 4
Day 5
"I won't be backing down," said Dylan Graves, referring to his impending Round 3 heat against Kelly Slater. In lumpy, tricky four-foot surf, Graves, the local trials winner, handily dispatched Ace Buchan today to continue on in the Rip Curl Pro Search, and as fate would have it, potentially play the role of spoiler to Slater's much hyped bid for a tenth world title.
Rip Curl Pro Search Final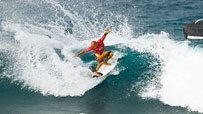 WIDTH="203" HEIGHT="114" BORDER="0" ALT="">
Slater claimed his tenth title, and then went on to win the 2010 Rip Curl Search. Gallery

"This means so much to the people of Puerto Rico," he continued, referring to the massive ovation he received after beating Buchan. "We've never had an event like this here, or at least one that anybody can remember, so it's a pretty big deal around here. I feel good. I grew up surfing this spot, and am feeling really comfortable out here."
And just to add a little intrigue, allegedly Slater, while spending a fair amount of time in Puerto Rico over the years, has never surfed Middles, where the event was held today, which means Heat 6 of Round 3 should be definitely worth tuning in for.
But alas, Graves and Slater were hardly the only stories in play today. Dusty Payne slid through his Round 2 heat as Andy Irons was forced to withdraw due to an illness that he reportedly contracted in Portugal. After winning the Billabong Pro Tahiti everybody assumed that the former world champ was clicking back into form, but he's since followed that up with a string of dismal results, and after failing to paddle out in Round 1 and 2 of this event, one has to wonder how he's holding up. On the bright side, after this the tour heads to Hawaii where Irons is most comfortable and has had the most success.
In even brighter news, Stephanie Gilmore took one step closer to capturing her fourth world title when she sent France's Pauline Ado packing. The women are down to the Quarterfinal, and judging by the Surfline forecast that was updated this evening, it should finish tomorrow, and conceivably Gilmore will be hoisting the world title trophy. She'll have to get through a tough heat against the sponsorless Melanie Bartles who's been surfing tack sharp here in Puerto Rico.
And speaking of the Surfline forecast, The Search could not have picked a more fickle place to predict surf for. Not 24 hours ago, the forecast called for diminishing surf throughout the day Monday. As of Sunday evening, they're calling for solid shoulder-to-head high combo swell to continue through Monday. And making things even more intriguing is the presence of Hurricane Tomas to the south, which has potential to light up the island's northwest corner with a rare southwest swell. So for now, as long as there are waves and the conditions stay relatively clean look for this thing to just keep running.
There's a 6:30 call tomorrow morning with a probable 7:00 a.m. start. Stay tuned as Gilmore tries to lock down her fourth world title and Slater faces his next hurdle that stands between him and number 10.
RIP CURL PRO SEARCH PUERTO RICO ROUND 2 RESULTS:
Heat 1: Taj Burrow (AUS) 14.77 def. Dillon Perillo (USA) 9.40
Heat 2: Dylan Graves (PRI) 13.10 def. Adrian Buchan (AUS) 11.03
Heat 3: Gabe Kling (USA) 12.83 def. Damien Hobgood (USA) 10.50
Heat 4: Chris Davidson (AUS) 11.80 def. Luke Munro (AUS) 10.07
Heat 5: Roy Powers (HAW) 12.10 def. Jadson Andre (BRA) 8.64
Heat 6: Bobby Martinez (USA) 13.93 def. Travis Logie (ZAF) 4.66
Heat 7: Dusty Payne (HAW) Advances Past Andy Irons (HAW)*
Heat 8: Fredrick Patacchia (HAW) 12.10 def. Luke Stedman (AUS) 10.86
Heat 9: Taylor Knox (USA) 13.84 def. Kai Otton (AUS) 9.43
Heat 10: Matt Wilkinson (AUS) 10.33 def. Patrick Gudauskas (USA) 9.93
Heat 11: Brett Simpson (USA) 14.43 def. Tom Whitaker (AUS) 14.23
Heat 12: Daniel Ross (AUS) vs. Adam Melling (AUS)
* Andy Irons formally withdrew from the Rip Curl Pro Search Puerto Rico today, citing an illness contracted from the previous event in Portugal. Dusty Payne automatically advances to Round 3.
RIP CURL PRO SEARCH PUERTO RICO ROUND 3 MATCH-UPS:
Heat 1: Taj Burrow (AUS) vs. Dusty Payne (USA)
Heat 2: C.J. Hobgood (USA) vs. Taylor Knox (USA)
Heat 3: Dane Reynolds (USA) vs. Matt Wilkinson (AUS)
Heat 4: Adriano de Souza (BRA) vs. Tiago Pires (PRT)
Heat 5: Jeremy Flores (FRA) vs. Bobby Martinez (USA)
Heat 6: Kelly Slater (USA) vs. Dylan Graves (PRI)
Heat 7: Jordy Smith (ZAF) vs. Gabe Kling (USA)
Heat 8: Chris Davidson (AUS) vs. Fredrick Patacchia (HAW)
Heat 9: Owen Wright (AUS) vs. Brett Simpson (USA)
Heat 10: Bede Durbidge (AUS) vs.
Heat 11: Michel Bourez (PYF) vs. Kieren Perrow (AUS)
Heat 12: Mick Fanning (AUS) vs. Roy Powers (HAW)
RIP CURL WOMEN'S PRO SEARCH PUERTO RICO ROUND 3 RESULTS:
Heat 1: Lee Ann Curren (FRA) 7.56 def. Sofia Mulanovich (PER) 7.03
Heat 2: Chelsea Hedges (AUS) 10.67 def. Rosanne Hodge (ZAF) 10.60
Heat 3: Melanie Bartels (HAW) 11.94 def. Paige Hareb (NZL) 11.70
Heat 4: Stephanie Gilmore (AUS) 15.57 def. Pauline Ado (FRA) 12.26
Heat 5: Sally Fitzgibbons (AUS) 14.83 def. Nikita Robb (ZAF) 7.40
Heat 6: Coco Ho (HAW) 13.17 def. Rebecca Woods (AUS) 8.06
Heat 7: Carissa Moore (HAW) 10.00 def. Claire Bevilacqua (AUS) 7.87
Heat 8: Silvana Lima (BRA) 12.73 def. Bruna Schmitz (BRA) 9.17
RIP CURL WOMEN'S PRO SEARCH PUERTO RICO QUARTERFINAL MATCH-UPS:
QF 1: Lee Ann Curren (FRA) vs. Chelsea Hedges (AUS)
QF 2: Melanie Bartels (HAW) vs. Stephanie Gilmore (AUS)
QF 3: Sally Fitzgibbons (AUS) vs. Coco Ho (HAW)
QF 4: Carissa Moore (HAW) vs. Silvana Lima (BRA)