Preview
Day 1
Day 2
Day 3
Day 4
Day 5
Updated 12:36 p.m. local time
Clinching her fourth world title in as many years, Stephanie Gilmore's morning started with a flurry of news-making activity and never let up. By mid-day she'd not only been named ASP World Champion, but she'd keep the streak alive by winning the 2010 Rip Curl Pro Search outright.
"I had a little champagne this morning, it was good but kind of warm," she joked before her coronation. "But I think we'll be having a little party tonight."
Rip Curl Pro Search Final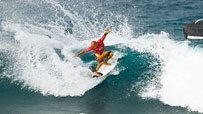 WIDTH="203" HEIGHT="114" BORDER="0" ALT="">
Slater claimed his tenth title, and then went on to win the 2010 Rip Curl Search. Gallery

Starting with the first heat of the day, the pedal was pinned firmly to the floor. With tricky chest- to shoulder-high surf on offer, Lee Ann Curren (daughter of Tom Curren) faced off against Chelsea Hedges, who's coming of a gold-medal performance at last week's ISA World Surfing Games, started the day off. And while the surf wasn't exactly frenetic at 7:00 a.m., it was a hard fought heat that Hedges eventually won.
Up next was the Steph Gilmore/Melanie Bartels match. By now we all know how that ended, but just the same, it was a neck-and-neck affair, that had more than a few people on the beach wondering if Gilmore got a little push from the judges. Some would contend that the last wave that Bartels caught warranted a higher score, which would have carried her into the lead, but that's just the way things go sometimes.
Met on the beach by Mick Fanning, Rip Curl's Neil Ridgeway and a horde of shutter-snapping photographers, Gilmore was obviously elated. "This is just so amazing," she smiled. "It's a long year, and you put so much energy, time and work into it, this feeling just never gets old. You'd think I'd be prepared and know what to expect, but every title's been so different, and this one is just so special."
On the other side of the draw Coco Ho fell to a tack-sharp Sally Fitzgibbons, while the ever-innovative Silvana Lima didn't have enough airs in her arsenal to get past Carissa Moore, who was arguably the most in-form surfer of the contest up until this point.
Gilmore breezed past Hedges in the first semifinal of the morning, and then in a match-up we're sure to see play out with all sorts of varying plotlines over the next decade, rookies Carissa Moore and Sally Fitzgibbons were paired up in the second semi. Fitzgibbons controlled the heat throughout and seemed bound for a bout with Gilmore, but with time winding down Moore locked into a 9.60 to take a late, but commanding lead. She wouldn't look back, and for the second event in a row she found herself advancing on into the final.
And so it would be, Carissa Moore, a girl who's expected to amass a horde of world titles over the course of her career, versus the newly crowned four-time world champ Stephanie Gilmore. But there was no denying it, this was Gilmore's day, and from the opening horn she applied an immense amount of pressure. As the clock ticked down Moore grew more and more desperate, paddling all over the lineup in search of the seven-point ride that would push her into the lead. It was all for not. Gilmore won handily.
"Steph's such an amazing surfer, and I'm so happy for her today," told Moore, still dripping wet after the final. "I feel like I was surfing really well, but just couldn't find the wave I needed. Steph's an amazing surfer, she's a great ambassador for women's surfing, and this is her day. Congratulations to her for everything she's accomplished."
Nevertheless, with stand-out performances by both Fitzgibbons and Moore it's already looking like Gilmore's bid for a fifth consecutive title is going to be considerably more arduous. "It's going to get a lot tougher going forward," affirmed Gilmore. "The girls coming up are so good and have so much talent. This run I've been on has been absolutely amazing, I never could have dreamed it, but there's no question girls like Carissa and Sally are the future."
They may be the future, but Gilmore's the present, and at present she's maintained a four-year stranglehold on the ASP Women's World Title.
The men are off for the day as contest organizers and Surfline forecasters try to make sense of the swell outlook. Hurricane Tomas continues to spin in the Caribbean. It could potentially set up some massive swell for the very end of the waiting period next week, but weather could play a factor. More than likely, based on what contest director Damien Hardman said today, they're looking at a bump in trade swell for Thursday/Friday and are hoping to run the remainder of the men's event then. Of course, as Sean Collins told me, when it comes to forecasting surf here you almost have to predict the swell before it even happens, which means monitoring weather charts and making educated guesses. The fact is that nobody is quite sure what's in store for the remainder of the event, other than Kelly Slater's date with destiny, of course.
RIP CURL WOMEN'S PRO SEARCH PUERTO RICO FINAL RESULTS:
1. Stephanie Gilmore (AUS) 13.80
2. Carissa Moore (HAW) 11.10
RIP CURL WOMEN'S PRO SEARCH PUERTO RICO SEMIFINAL RESULTS:
SF 1: Carissa Moore (HAW) 16.93 def. Sally Fitzgibbons (AUS) 15.54
SF 2: Stephanie Gilmore (AUS) 16.60 def. Chelsea Hedges (AUS) 12.50
RIP CURL WOMEN'S PRO SEARCH PUERTO RICO QUARTERFINAL RESULTS:
QF 1: Chelsea Hedges (AUS) 9.53 def. Lee Ann Curren (FRA) 6.87
QF 2: Stephanie Gilmore (AUS) 13.87 def. Melanie Bartels (HAW) 13.77
QF 3: Sally Fitzgibbons (AUS) 15.90 def. Coco Ho (HAW) 11.66
QF 4: Carissa Moore (HAW) 13.33 def. Silvana Lima (BRA) 9.67
CURRENT ASP WOMEN'S WORLD TITLE RACE TOP 5(After Puerto Rico):
1. Stephanie Gilmore (AUS) 6528 pts
2. Sally Fitzgibbons (AUS) 4980 pts
3. Carissa Moore (HAW) 4644 pts
4. Sofia Mulanovich (PER) 4344 pts
5. Silvana Lima (BRA) 4164 pts
RIP CURL PRO SEARCH PUERTO RICO ROUND 3 MATCH-UPS:
Heat 1: Taj Burrow (AUS) vs. Dusty Payne (USA)
Heat 2: C.J. Hobgood (USA) vs. Taylor Knox (USA)
Heat 3: Dane Reynolds (USA) vs. Matt Wilkinson (AUS)
Heat 4: Adriano de Souza (BRA) vs. Tiago Pires (PRT)
Heat 5: Jeremy Flores (FRA) vs. Bobby Martinez (USA)
Heat 6: Kelly Slater (USA) vs. Dylan Graves (PRI)
Heat 7: Jordy Smith (ZAF) vs. Gabe Kling (USA)
Heat 8: Chris Davidson (AUS) vs. Fredrick Patacchia (HAW)
Heat 9: Owen Wright (AUS) vs. Brett Simpson (USA)
Heat 10: Bede Durbidge (AUS) vs. Dan Ross (AUS)
Heat 11: Michel Bourez (PYF) vs. Kieren Perrow (AUS)
Heat 12: Mick Fanning (AUS) vs. Roy Powers (HAW)