Preview
Day 1
Day 2
Day 3
Day 4
Day 5
Seems that surf forecasting in Puerto Rico is considerably more difficult than most other places in the world. Last night after asking a dozen different surfers and contest officials when the Rip Curl Pro Search would run again a dozen different scenarios were offered up. Ironically, the only consensus that was reached was that the contest wouldn't run today, that the swell was on the decline. In other words, the thickening of the world title plot would have to wait.
Rip Curl Pro Search Final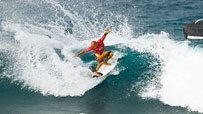 WIDTH="203" HEIGHT="114" BORDER="0" ALT="">
Slater claimed his tenth title, and then went on to win the 2010 Rip Curl Search. Gallery

But like I said, this place isn't easy to figure out. By 10:00 a.m. the call was made. The contest was on. Round 3 began promptly at 10:30, and true to form, there were, in fact, waves. Actually it was looking pretty good, four-foot and glassy. Plus, with the tide on the decline the waves started to hit the reef more and it just got better and better.
"We could be crowning a world champ today," told ASP CEO Brodie Carr, giddy with excitement.
After taking several days off to morn the loss of Andy Irons and come to grips with the tragedy, everybody seemed anxious to get going. And as noted by Carr, a world title hung in the balance. In heat six world number one Kelly Slater was matched up against local trials winner Dylan Grave. Needless to say, Puerto Rican flags were vigorously waving up and down the beach. Slater opened up with a solid 7.67, throwing down two huge turns to take a commanding lead straight away. Graves answered back with a 7.0, and followed up with a succession of average scores. Slater patiently waited out the back. Drawing on 20 years of ASP experience the nine-time world champ waited, knowing full well that all he needed was one good wave to advance on. He got it, and then he got the score, and then the horn sounded and he was into Round 4.
"That's the heaviest heat I've ever had in terms of local support," Slater said after. "I mean, I have a lot of support down here, but Dylan has the entire island backing him. It was really tough, and he was surfing really well. It wasn't an easy heat at all, but he went out and made Puerto Rico proud."
In the heat immediately after Jordy Smith, who had to win today if he wanted to keep his bid for a first world title alive, faced off against Florida's Gabe Kling. It wasn't nearly as close as the Slater/Graves heat. Smith dominated from beginning to end, very much looking like the world title contender that he is.
"I'm just trying to prove that I can surf pretty well," said Smith. "I think we all learned a lesson from Andy: never have a down moment, always smile and enjoy what you do. I'm having fun and surfing the way I want to. I'm not really thinking about what Kelly is thinking, but I'm here to make him work for it."
"I've always had it in my head that Jordy is going to win this contest so I need at least a third," said Slater. "He's been the most consistent guy all year and he's in really good form. I'm not thinking about Jordy losing at all. I'm just focused on what I have to do."
It'd be great to tell you that we'll know the outcome of all this drama tomorrow, but the fact is, there are five days left in the waiting period and nobody knows exactly when the boys will surf again. But then I guess that's why they call it "The Search."
RIP CURL PRO SEARCH PUERTO RICO ROUND 3 RESULTS:
Heat 1: Taj Burrow (AUS) 13.16 def. Dusty Payne (USA) 9.00
Heat 2: Taylor Knox (USA) 14.10 def. C.J. Hobgood (USA) 11.73
Heat 3: Dane Reynolds (USA) 16.04 def. Matt Wilkinson (AUS) 15.70
Heat 4: Adriano de Souza (BRA) 10.70 def. Tiago Pires (PRT) 9.90
Heat 5: Jeremy Flores (FRA) 15.06 def. Bobby Martinez (USA) 12.84
Heat 6: Kelly Slater (USA) 14.50 def. Dylan Graves (PRI) 13.07
Heat 7: Jordy Smith (ZAF) 15.83 def. Gabe Kling (USA) 11.43
Heat 8: Chris Davidson (AUS) Advances Over Fredrick Patacchia (HAW) N/S
Heat 9: Owen Wright (AUS) 17.50 def. Brett Simpson (USA) 10.27
Heat 10: Bede Durbidge (AUS) 13.37 def. Dan Ross (AUS) 11.80
Heat 11: Michel Bourez (PYF) 15.33 def. Kieren Perrow (AUS) 14.54
Heat 12: Mick Fanning (AUS) 14.60 def. Roy Powers (HAW) 12.10
RIP CURL PRO SEARCH PUERTO RICO ROUND 4 RESULTS:
Heat 1: Dane Reynolds (USA) 18.57, Taj Burrow (AUS) 14.23, Taylor Knox (USA) 13.70
Heat 2: Kelly Slater (USA) 13.20, Adriano de Souza (BRA) 11.42, Jeremy Flores (FRA) 9.60
Heat 3: Jordy Smith (ZAF) 14.80, Owen Wright (AUS) 14.26, Chris Davidson (AUS) 8.16
Heat 4: Mick Fanning (AUS) 13.70, Bede Durbidge (AUS) 13.53, Michel Bourez (PYF) 12.30
RIP CURL PRO SEARCH PUERTO RICO ROUND 5 MATCH-UPS:
Heat 1: Taj Burrow (AUS) vs. Jeremy Flores (FRA)
Heat 2: Adriano de Souza (BRA) vs. Taylor Knox (USA)
Heat 3: Owen Wright (AUS) vs. Michel Bourez (PYF)
Heat 4: Bede Durbidge (AUS) vs. Chris Davidson (AUS)