He never took his eyes off the ocean. But he wasn't lost in the distant, glassed-over gaze of someone overwhelmed by the grandeur of the seas. He looked more like a grad student grinding through a complex text, studiously waiting for the answer to reveal itself, all too aware that morning brought test time. It was Dec. 8, 2009, and Sion Milosky was watching the swell steadily increase along Oahu's North Shore.
Remembering Sion Milosky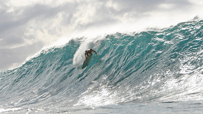 WIDTH="203" HEIGHT="114" BORDER="0" ALT="">
Few charged as hard as Kauai's Sion Milosky, he will be missed. Gallery

From a beachfront perch above surf breaks Log Cabins and Off The Wall he watched the ocean churn. Despite sitting with Kauai cohorts Danny Fuller, Rico Jiminez, Dustin Barca, Aamion Goodwin and Sebastian Zietz -- all surfers whose force of personality was exceeded only by their abilities on a board -- only the occasional "Did you see that one?" was said. They were like soldiers preparing for battle. Forecasts were calling surf to rival the historic Swell of '69, the fire department had closed down the Kam Highway and police guarded Haliewa in anticipation. Milosky tried to rationalize what he was seeing.
That night the Waimea session was heavy. Tom Carroll snapped his femur, and Shane Dorian stroked into what he later called one of the biggest waves of his not-too-pint-size career. The following day Greg Long won the Eddie. Milosky was right in the middle of the maelstrom -- and loving every minute of it. From washed up competitive longboard surfer to nail-bangin' construction Joe to rising big-wave superstar, things were looking up for Milosky.
Almost a year and a half later and Milosky is gone, given to the passion he so vehemently pursued. In that brief window of time he'd ridden arguably the biggest paddle-in wave ever, caught the bomb of the winter at Pipeline, been invited as an alternate to the Eddie, nominated for an XXL Award and, tragically, become the second person to lose their life while surfing Maverick's -- Mark Foo's fatal 1994 wipe-out being the first.
Foo's famous line -- which has now become cliché -- was, "if you want the ultimate thrill you have to be willing to pay the ultimate price." And as 35-year-old Milosky leaves behind a loving wife and two young daughters, that's the only solace one can take from his passing: He died doing what he loved.
Foo and Milosky -- two Hawaiians who were eager to tempt fate in the colder Northern California waters -- both understood the risks they undertook, but that doesn't mean they were supposed to go out the way they did, and that's a hard thing for a lot of people to reckon with. It's what was so shocking about Foo's death then and Milosky's death now.
src="http://assets.espn.go.com/i/story/design07/dropQuote.gif" />
His spirit of Aloha was unmatched.
src="http://assets.espn.go.com/i/story/design07/dropQuoteEnd.gif" />
--Volcom
News of Milosky's drowning spread like only news can in the world of social media in which we live. Twitter was aflutter almost immediately. From heartbroken friends in Hawaii to world tour pros to the meager fan, the outpouring of emotion was instantaneous, if not overwhelming.
"Sion was a very good friend, the most fearless big-wave surfer I've ever seen, and most importantly an awesome husband and father of two beautiful girls," Mark Healey poignantly summed up on Facebook.
Within 48 hours of his passing, Volcom, Milosky's main sponsor, set up a fund to help his wife and kids.
"Sion's first passion was his wife and kids and surfing giant waves was his second," read the memorial on Volcom.com. "Never before had we seen such an amazing surge of coverage from any surfer in a period of less than two years. If Sion set out to do something he would do it, no questions asked. His spirit of Aloha was unmatched and whenever you were around him you couldn't help but feel good in his presence. Our sincere condolences go out to Sion's family and friends."
Vans has also stepped up. Recently a recipient of a $25,000 "scholarship" from Vans, the shoe and apparel company now plans to donate the money to his family.
"In December, Sion won $25,000 through the Vans and Surfing Magazine North Shore Underground program with the intention of financing future surf trips," announced Vans' Chris Overholser. "Vans will contribute the entire amount to a fund to assist the Milosky family. Our deepest condolences go out to Sion's family and friends."
For Milosky it was never about the money. It was always about the surfing -- and the friends and family that came with it. He was an easy person to like; not a chest-pounding giant slayer, not an over-octaned tow bro, just humble, gentle and stoic. A man that led by actions rather than words. He embodied what a big-wave rider should be. He also embodied what a father should be, which is ultimately more telling -- and more important.
"My wife, my daughters, they're what I live for," he said in an interview with ESPN Surfing in December. He said he'd give it all up for them if he had to. Sadly, he'll never face that dilemma.